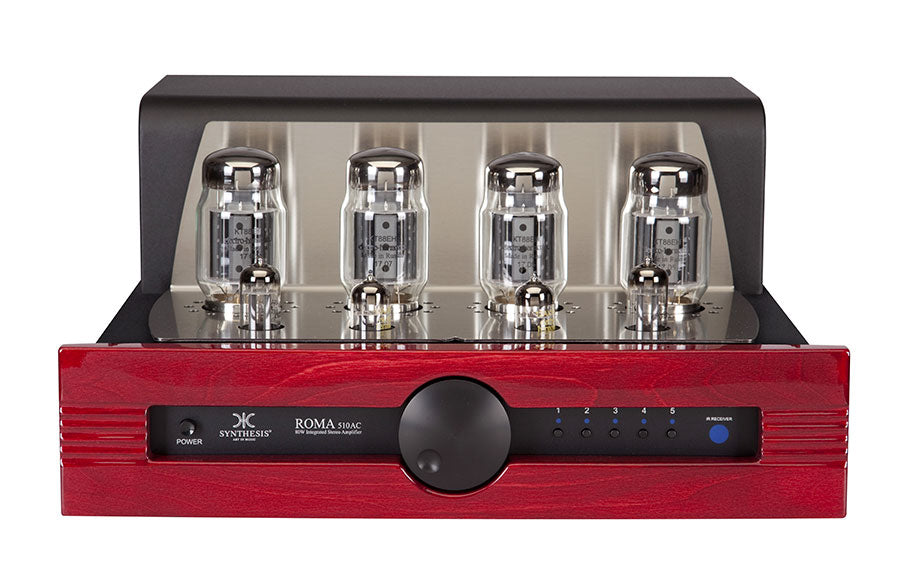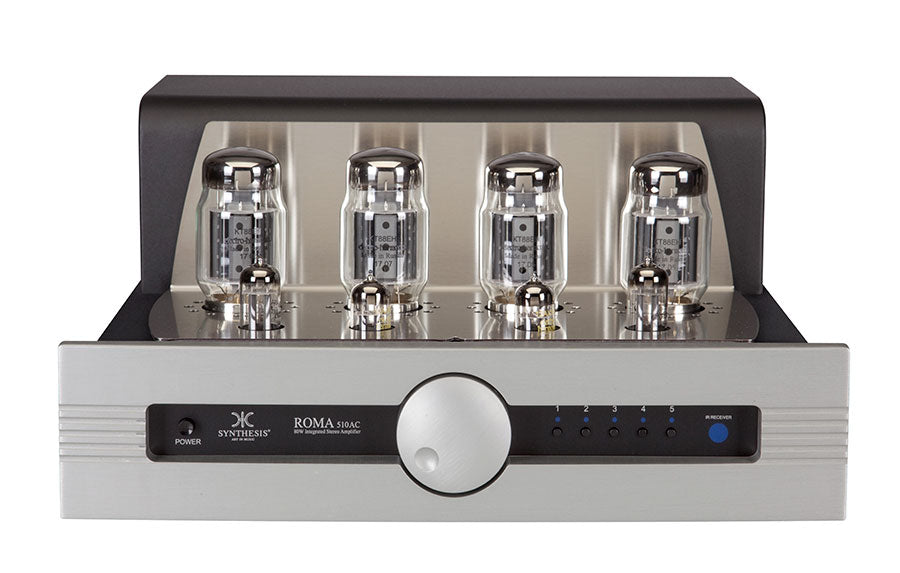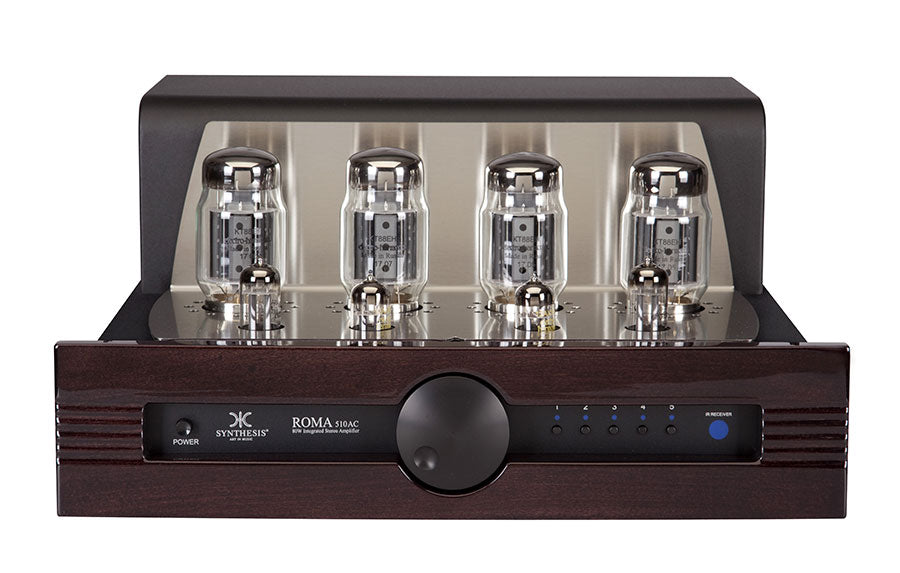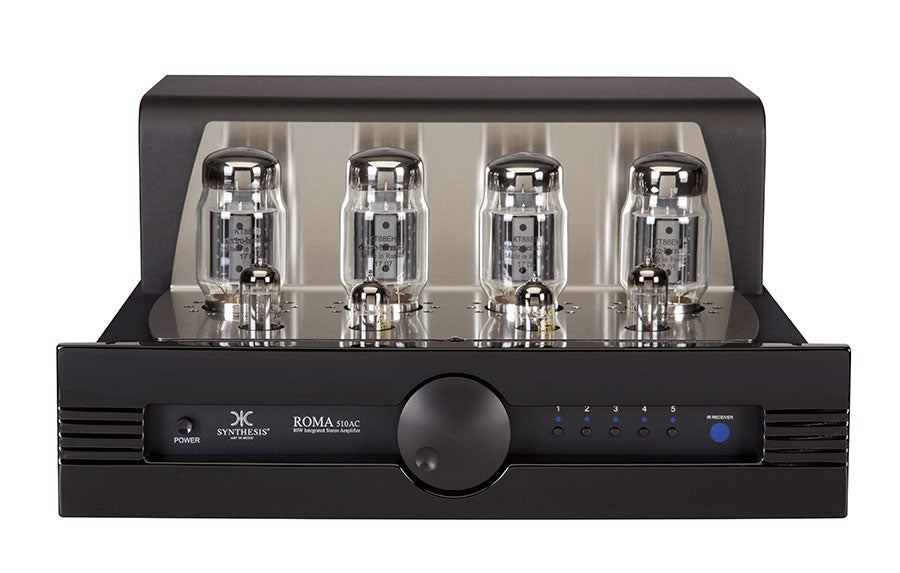 Synthesis Roma 510AC 80W Integrated Stereo Tube Amplifier
FREE Ground shipping on any order over $600.00! (Some exceptions apply)
If item is in stock, it will ship within 2 business days, please contact the store to ensure availability.
905-881-7109
Info@audioexcellence.ca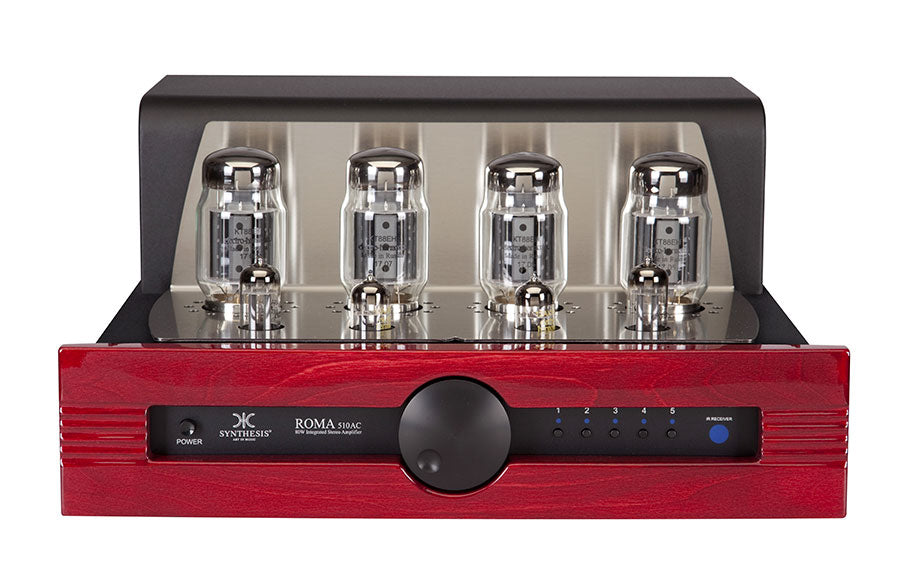 Synthesis Roma 510AC 80W Integrated Stereo Tube Amplifier
Experience Sonic Perfection with the ROMA 510AC

Prepare to be mesmerized by the ROMA 510AC Integrated Amplifier—an extraordinary blend of artistry and technology. Its striking design will leave you breathless, while its performance is nothing short of remarkable. Crafted for those who are passionate about exceptional sound, this amplifier delivers a staggering 80 watts of pure pentode output per channel, driven by a combination of double triode 12AX7 and 12BH7 tubes in the input and a pair of KT88/6550 power tubes in a push-pull configuration. The result is a sound that's exquisitely detailed, delicate, and dynamically powerful.

Innovative Features, Unrivaled Sound

The ROMA 510AC boasts a range of cutting-edge features, from DC-powered tube heaters that reduce hum to near silence to a high-grade output transformer that faithfully reproduces the original recording. A robust mechanical chassis, intuitive remote control, precision feet, and premium connectors further elevate your listening experience. Every component is handpicked for its sonic influence, and each tube is meticulously selected and matched for a perfect balance. Immerse yourself in a world where sound reaches new heights of perfection with the ROMA 510AC Integrated Amplifier.
Features
DC Powered Tube Heater

All tubes, except KT88/6550, feature DC stabilized heater circuits to reduce hum noise to a near inaudible minimum.
Output Transformer

The Output transformer uses Hi-Grade Iron-Silicon for superb frequency reproduction and width.
This custom-designed output transformer achieves highly delicate and precise sound reproduction faithful to the original recording.
Mechanical Chassis Construction

The power supply and output transformers are held in an extremely rigid structure, eliminating unwanted vibrations and reducing noise to the tubes.
Remote Control

Features a soft-button design that perfectly matches the aesthetics of the "ROMA" series.
Provides control over volume, mute, and source selection.
Feet

Four aluminum feet with strong rubber inserts minimize vibrations, isolating the amplifier from its surroundings.
Binding Posts

Gold-plated professional binding posts ensure a continued oxidation-free connection, enhancing sound refinement.
Sockets

Gold-plated ceramic sockets provide a continued oxidation-free connection, further improving sound quality.
Components

Carefully selected components throughout the Roma 510AC, with a focus on the best available options.
Each component undergoes an exhaustive analysis of its sonic influence before final selection.
Selected Tubes

All tubes are meticulously chosen after a 2-stage warm-up process.
A fully computer-monitored machine controls the selection process, choosing perfect tubes that are then matched for a flawless balance.
Weight & Dimensions
POWER STAGE (1 CH.)

2 X KT88

INPUT STAGE (1 CH.)

1 X 12AX7/ECC83

DRIVER STAGE (1 CH.)

1 X 12BH7

INPUT IMPEDANCE

50KOhm

INPUT SENSITIVITY

400mV RMS

OUTPUT TAP

6 Ohm

CONFIGURATION

Push-Pull pentode

POWER OUTPUT
(1 CH., THD < 1%)

80W RMS @ 6Ohm

FREQUENCY RESPONSE

from 20Hz to 20KHz ± 0.5dB

DISTORTION (MAX POWER)

1% @ 1KHz

S/N RATIO

>90dB "A" weighted

INPUTS

5 line inputs

OUTPUTS

Pre out (variable level)

BIAS SETTING

Manual adjustment, independent for each power tube

DIMENSIONS (W,D,H)

410x503x235mm

WEIGHT

25Kg

LINE POWER

117, 230, 245 Vac, 50/60 Hz, (see rear label)

FUSE

See rear label

POWER CONSUMPTION

300W Max

REMOTE CONTROL

BODY

Anodized black aluminium

TRANSMISSION TYPE

Infrared

PROTOCOL

RC5

FUNCTIONS

Volume, mute, input selection, st-by

BATTERIES

2 x CR2032

WEIGHT

200g