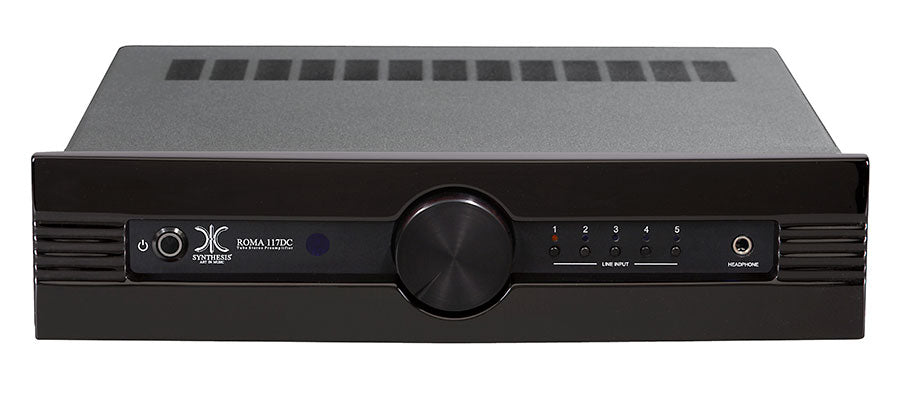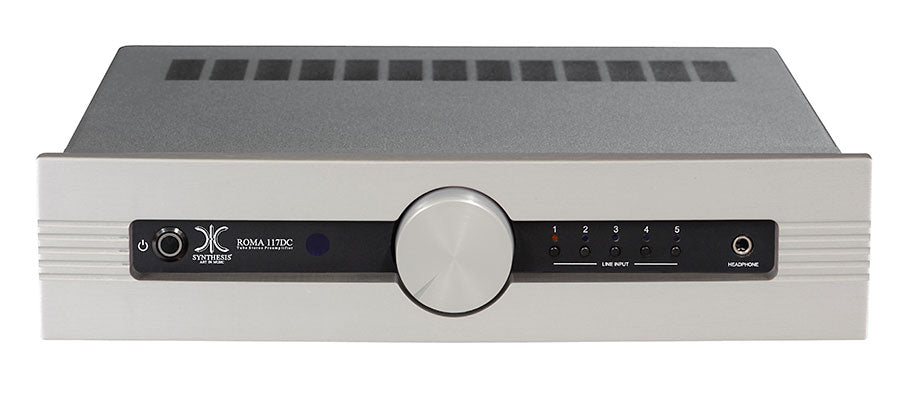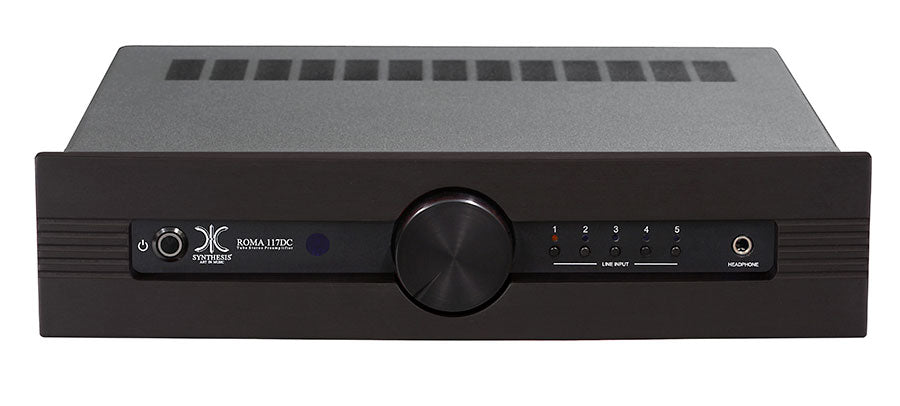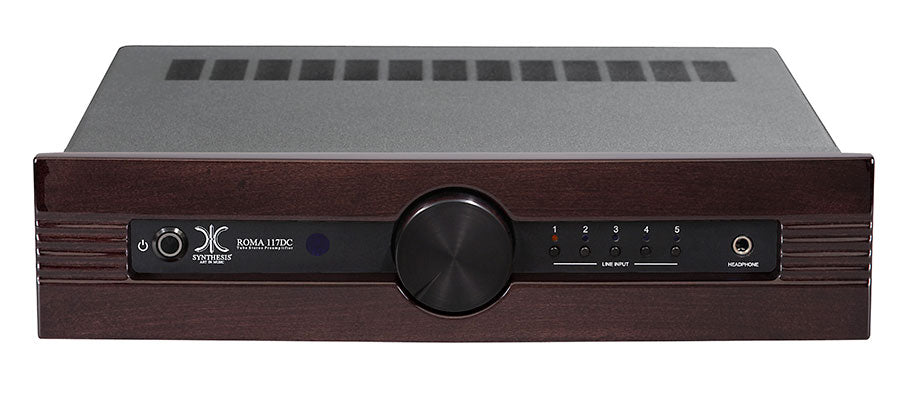 Synthesis Roma 117DC Stereo Tube Preamplifier
FREE Ground shipping on any order over $600.00! (Some exceptions apply)
If item is in stock, it will ship within 2 business days, please contact the store to ensure availability.
905-881-7109
Info@audioexcellence.ca
Synthesis Roma 117DC Stereo Tube Preamplifier
For over three decades we have been dedicated to the research of audio excellence.
Mr. Luigi Lorenzon and his team is dedicated to creating audio components that honour musical performances.
Through careful design, careful selection of the best components available and meticulous attention to construction, we have created what we believe to be an unrivalled line preamplifier in its class.

The new ROMA117DC tube line preamplifier with its great tonal balance and refined reproduction is the perfect combination with the ROMA98DC mono power amps.
The ROMA117DC matches the simple and elegant design of the rest of the ROMA Series.
A product of great musicality for the most demanding music lovers.

The audio circuit consists of a two-stage amplification incorporating two Pairs of 6922 / ECC88 Tubes.
The balanced and balanced inputs are managed through the use of an input tube.
The output stage of the amplifier is made using an output transformer.
A low output impedance makes the ROMA117DC extremely flexible in the choice of interconnect cables for connection to the final stages of power amplifiers.
The frequency response is extremely linear and extended enough to reach 5 Hz - 40KHz at -3dB.
The power supplies of both the filaments and the anodic are electronically regulated with a regulation better than 0.1%.

Features a remote control that allows for volume adjustment and source selector.
Electronic switches are located near the input connectors, keeping signal paths very short to minimize crosstalk between channels.
In the audio circuit, only precision resistors a metal film and polypropylene capacitors are used. The tubes have been selected to ensure quality and minimize noise and microphonics.
Weight & Dimensions
INPUTS

4 x unbalanced (RCA)
1 x balanced (XLR)

INPUT SENSITIVITY

5V RMS Max

INPUT IMPEDANCE

100 kΩ balanced (XLR)
47 kΩ unbalanced (RCA)

TUBES

4 x 6DJ8/ECC88

OUTPUTS
(TRANSFORMER COUPLING)

1 × balanced (XLR)
2 × unbalanced (RCA)
1 × unbalanced REC OUT (RCA)

OUTPUT IMPEDANCE

1 KΩ balanced (XLR)
470Ω unbalanced (RCA)

OUTPUT LEVEL

36 V RMS balanced (XLR)
18 V RMS unbalanced (RCA)

GAIN

+ 22,5 dB balanced (XLR)
+ 16,5 dB unbalanced (RCA)

FREQUENCY RESPONSE

5 – 40 KHz (– 3 dB)

DISTORTION

< 0,1% (20 Hz – 20 kHz @ 1V RMS)

S/N RATIO

> 90 dB "A" weighted

CROSSTALK

> 80dB

LINE POWER

100, 117, 230, 245 Vac +-10%, 50/60 Hz (see rear label)

FUSE

See rear label

CONSUMPTION

60W Max (< 0,5 W St-by)

HEADPHONE OUTPUT

INPUT IMPEDANCE

> 16ohm, high fidelity driver

POWER OUTPUT

>300mW (32ohm)

FREQUENCY RESPONSE

5 – 40 KHz (– 3 dB)

DISTORTION

< 0,1% (20 Hz – 20 kHz)

S/N RATIO

> 95dB, A weight

GAIN

+ 22,5 dB

DIMENSIONS (W,D,H)

410×390×95mm

WEIGHT

10Kg

REMOTE CONTROL

BODY

Anodized black aluminium

TRANSMISSION TYPE

Infrared

PROTOCOL

RC5

FUNCTIONS

Volume, mute, input, selection, st-by

BATTERIES

2 x CR2032

WEIGHT

200g