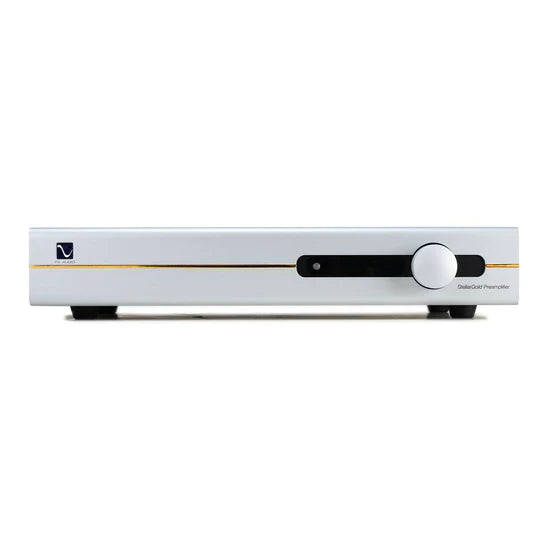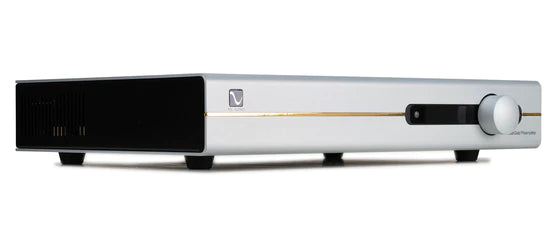 PS Audio StellarGold Preamplifier
FREE Ground shipping on any order over $600.00! (Some exceptions apply)
If item is in stock, it will ship within 2 business days, please contact the store to ensure availability.
905-881-7109
Info@audioexcellence.ca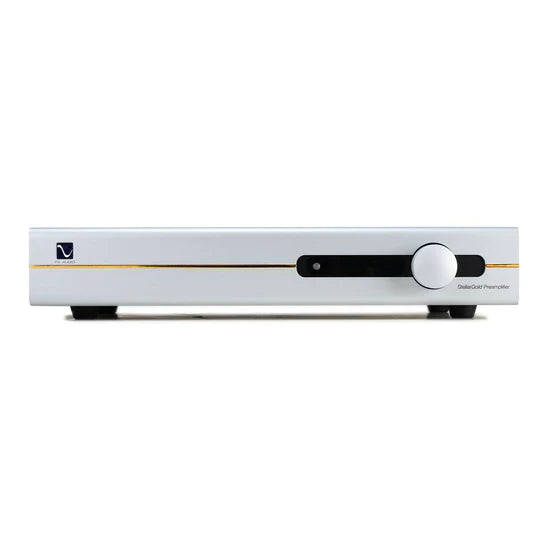 PS Audio StellarGold Preamplifier
Design
The StellarGold Preamplifier features two hand crafted discrete audio amplification stages, both enjoying extremely high slew rate, high bandwidth, low distortion signal handling capabilities that honor the music. Based on a combination of JFET and BJT devices along with hand-selected purist components, the musical signal is delivered without the interference of capacitors in the signal path. Each amplification stage is based on a minimal global feedback design that achieves its low distortion status through careful balancing and high current design choices. Lastly, its high current class A output stage is more than capable of driving long cable lengths without compromise so that your power amplifier enjoy all the benefits StellarGold Preamplifier has to offer.

Application
Preamplifiers are the heart of any standalone audio system, controlling musical sources like DACs, phono preamps, and tuners. Bridging these sources to your power amplifier without adding any kind of sonic thumbprint is a challenge the StellarGold preamplifier takes on without any hesitation. Life, energy, and a sweet analog presentation are at the heart of this remarkable piece of equipment's performance. The StellarGold Preamplifier features 4 identical balanced and single ended inputs, and converts all input signals into a balanced signal for the lowest possible distortion, and can be used in a two-channel audio system or as part of a home theater system.
Specifications
Class A pure analog amplification
JFET and BJT discrete architecture
Fully balanced from input to output
Purist audio components throughout
Low global feedback
4x RCA single ended inputs
4 XLR balanced inputs
2 XLR balanced outputs per channel
2 RCA single ended outputs per channel
High slew rate amplification stage
Near perfect transient response
Extreme frequency limits from near DC to 200kHz
Darren Myers design
Oversized power supply
Multiple stage regulation
Volume and balance by precision stepped attenuation
2x output triggers
Weight & Dimensions
Physical:
Unit Weight 24.1 lbs or 10.9 kg
Unit Dimensions 17"W x 3.3"H x 13"D (with knob, without knob 12"D)
[43.18 cm x 8.38 cm x 33.02 (with knob, without 30.48 cm)]
Shipping Weight 27.6 lbs or 12.5 kg
Shipping Dimensions 22"W x 8"H x 17"D
[55.88 cm x 20.32 cm x 43.18 cm]
Power Requirements:
Input Power Model specific 100VAC, 120VAC, or 230VAC 50 or 60Hz
Power Consumption 15W
Connectors:
Audio Inputs RCA / Single-Ended: 2 pair
XLR / Balanced: 2 pair
Audio Outputs RCA / Single-Ended: 2 pair
XLR / Balanced: 2 pair
Trigger Output 2
USB For USB firmware update only
Performance:
Max Gain 12.6dB
Frequency Response 15Hz-150kHz, +/- 0.1dB
Input Impedance 50K Ω RCA / Single-Ended
100K Ω XLR / Balanced
Bandwidth 5Hz-500kHz, -3dB
THD < .0002% @ 1kHz, 1VRMS input
THD+N < .0003% @ 1kHz, 1VRMS input
IMD .0005% @ 1VRMS input, CCIF, 20kHz mean, 1kHz difference
Crosstalk -115dB, One channel driven
Output level 10VRMS Single-ended / 20VRMS Balanced @ 1% THD+N
Output Impedance 100Ω