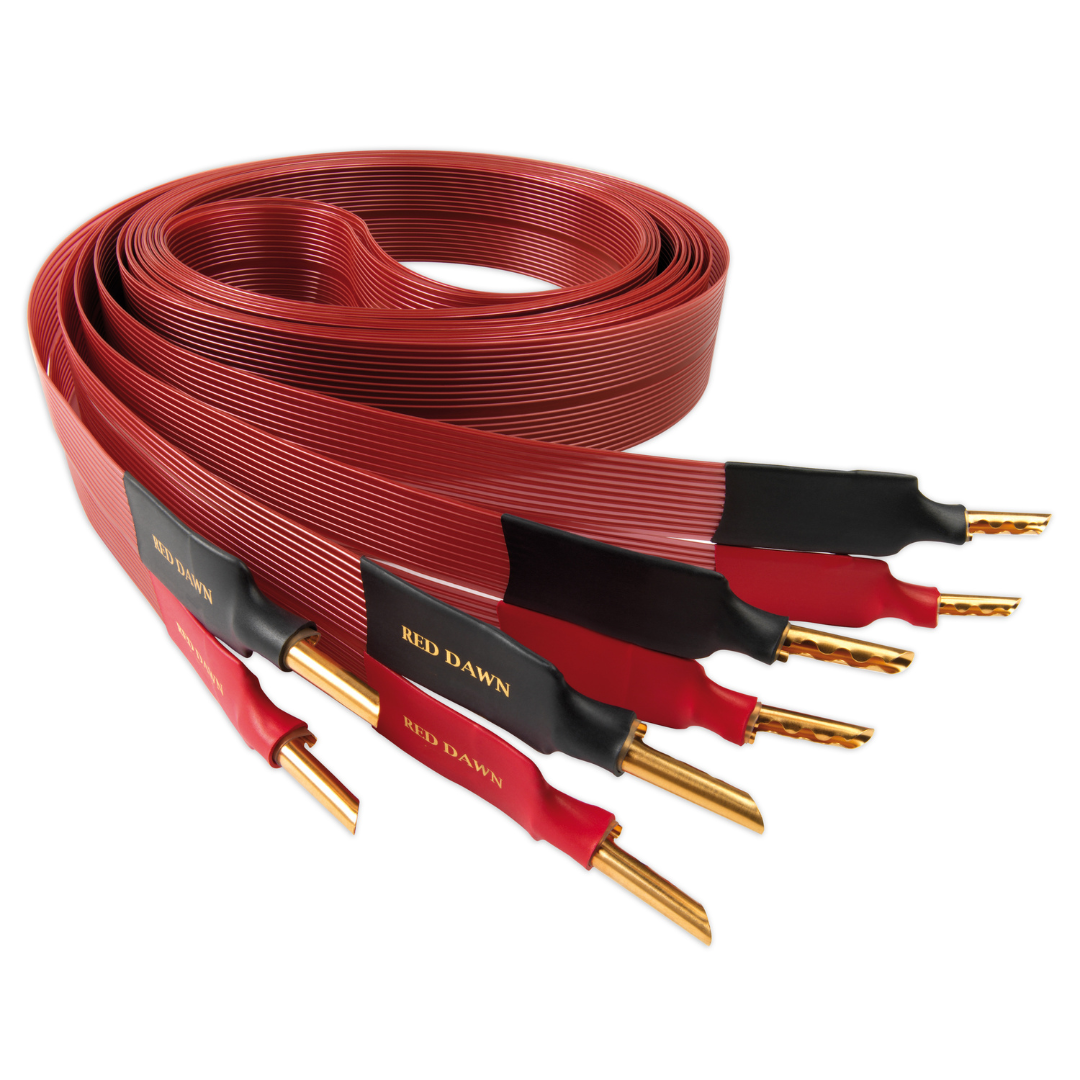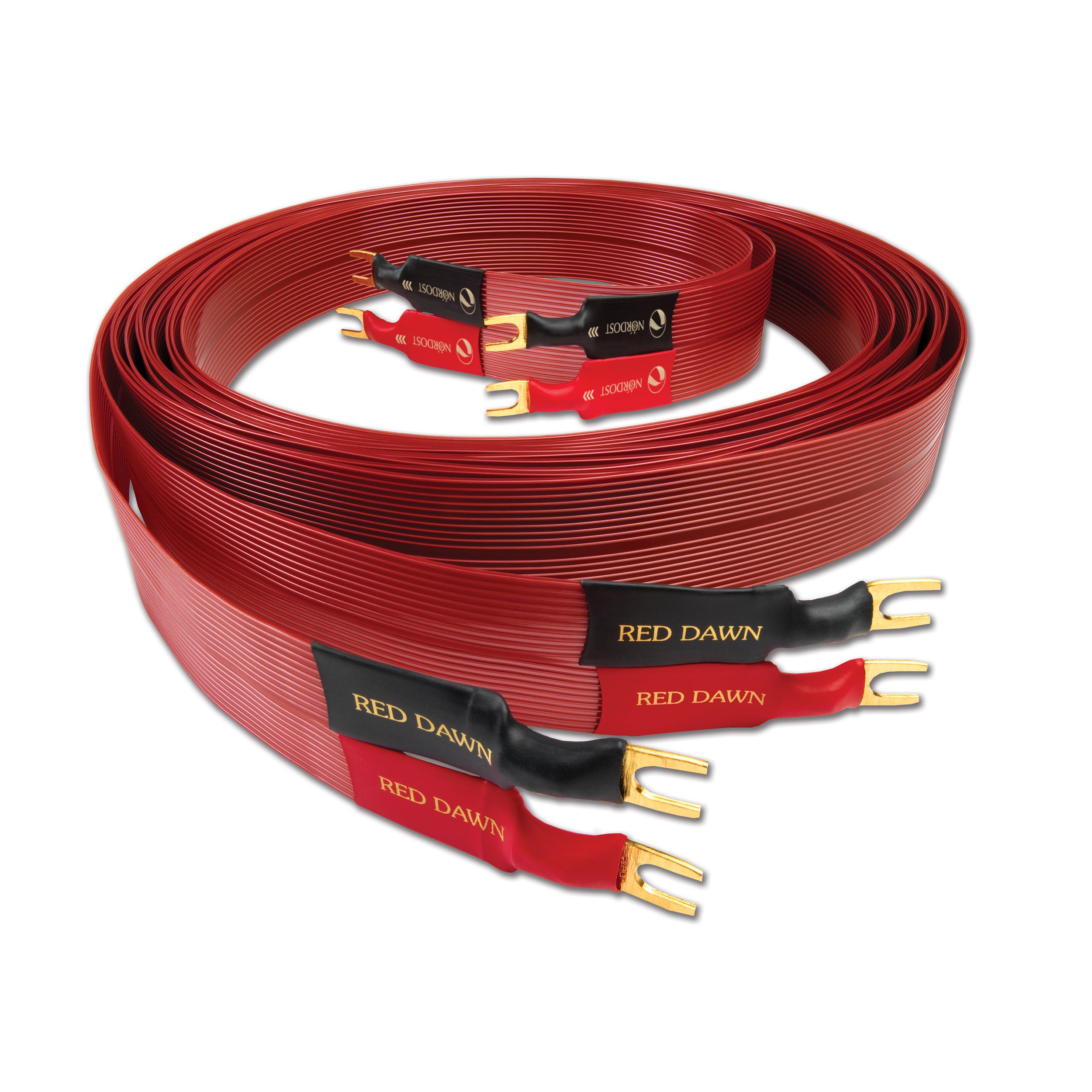 Nordost Red Dawn Speaker Cable - Sold as a Pair
FREE Ground shipping on any order over $600.00! (Some exceptions apply)
If item is in stock, it will ship within 2 business days, please contact the store to ensure availability.
905-881-7109
Info@audioexcellence.ca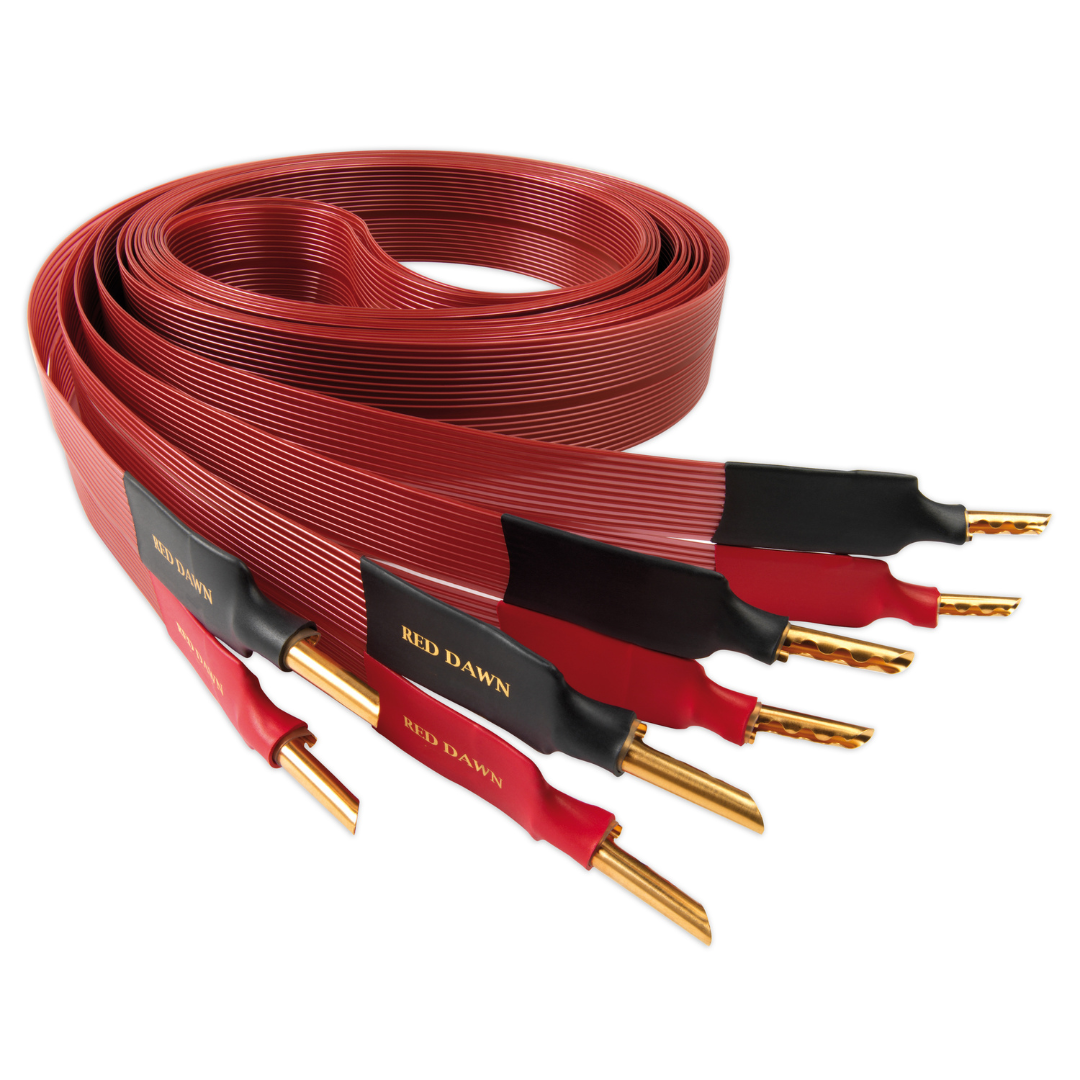 RED DAWN SPEAKER CABLES
*SOLD AS A PAIR*

Nordost's original Flatline loudspeaker cable introduced the audio world to an entirely new level of performance and a unique production technique. Our proprietary, extruded FEP cables, with their thin, flat profile don't just look different - their deceptive simplicity is a uniquely elegant answer to the conflicting requirements for low resistance, capacitance and inductance that limit the performance of more conventional cable configurations. Now, the Red Dawn LS takes the benefits even further. By reducing dielectric effects still further as well as optimizing the physical spacing of the 20 heavy-gauge 26 AWG, silver-plated OFC solid core conductors, we have produced a cable capable of phenomenal phase accuracy and detail, speed and dynamic range. From the quietest, most delicate note to the power of a thundering orchestral crescendo or driving rock track, the Red Dawn LS Speaker Cable spans the range with effortless grace and deft control, allowing music to seduce when it wants to, or be savage when it must. Sitting at the top of the Leif Series, Red Dawn LS bears comparison with competing cables irrespective of price. The Red Dawn Speaker Cable yields the best performance possible from a speaker cable without using Micro Mono-Filament/TSC cable design.
Features
"When I hooked up the Red Dawn cables between my First Watt J2 power amplifier and Zu Druid V speakers the stereo soundstage expanded, treble was clearer and the midrange was more natural-sounding than I get from my Zu Libtec speaker cables. Even though I didn't touch my preamp's volume control when I swapped between the Red Dawn and Libtec cables, the music seemed louder, more energetic and livelier with Red Dawn."– Steve Guttenberg, Cnet
Product Specifications
Insulation:
Fluorinated Ethylene Propylene (FEP)
Construction:
Mechanically tuned spacing
Conductors:
20 x 26 AWG
Material:
Silver-plated 99.9999% solid core OFC
Capacitance:
10.0pF/ft
Inductance:
0.155μH/ft
Velocity of Propagation:
95%
Termination:
Gold-plated Spade or Z-plug Banana