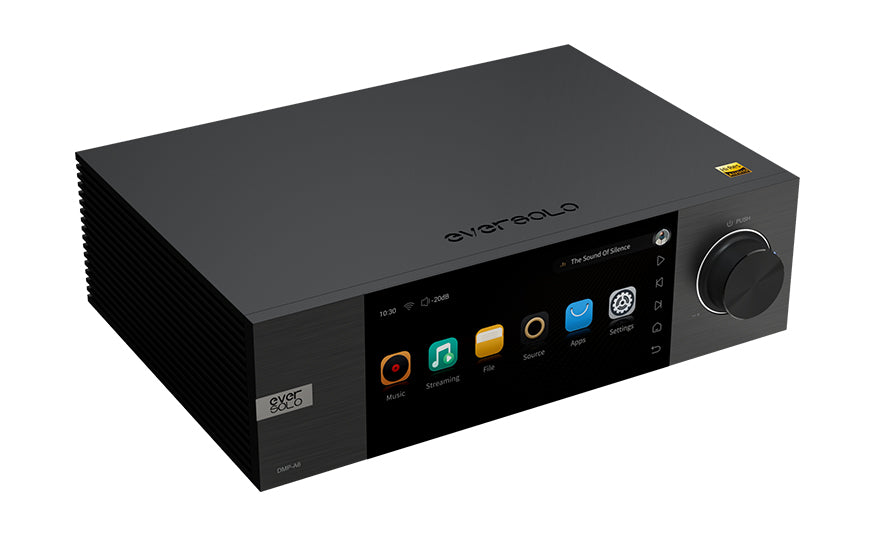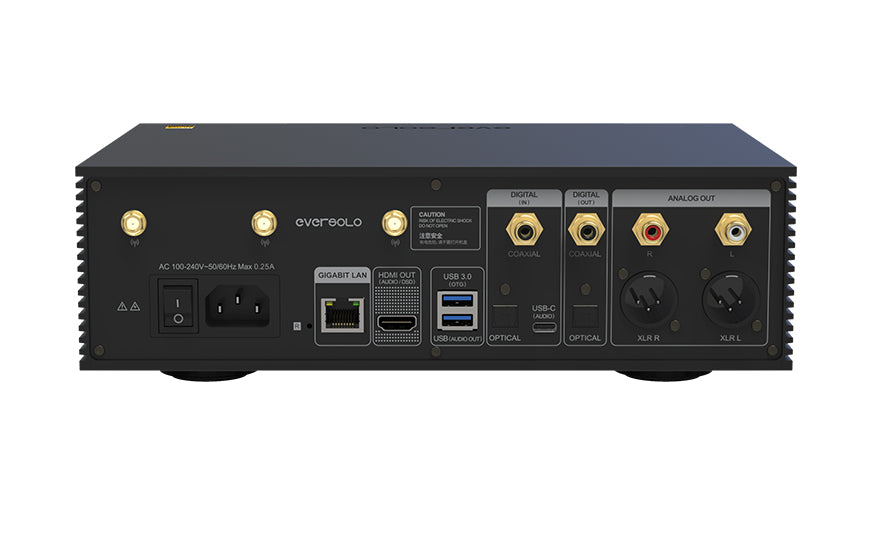 EverSolo DMP-A6 Streamer with DAC
FREE Ground shipping on any order over $600.00! (Some exceptions apply)
If item is in stock, it will ship within 2 business days, please contact the store to ensure availability.
905-881-7109
Info@audioexcellence.ca
Eversolo DMP-A6 Streamer with DAC
Unleash the full potential of your audio journey with the EverSolo DMP-A6, a masterpiece meticulously crafted to redefine your sonic encounters. With its solid aluminum alloy chassis adorned by a brushed panel, this exceptional device not only captivates the eyes but also delivers an unrivaled auditory spectacle. Prepare to embark on an audio adventure like never before.

"The success lies not with its D/A conversion abilities (though that aspect certainly is formidable) but rather in the unique software experience, combined with the highly capable hardware platform and comparably reasonable price. While there are plenty of devices out there which accomplish (most of) the same tasks (on paper) I have yet to experience one that nails everything quite like Eversolo does." -DARKO AUDIO

"…the sound quality on offer here is absolutely exceptional at this price point…" -HIFI AND MUSIC SOURCE

Powerful Performance, Exceptional Processing:

Featuring a Quad-core ARM Cortex-A55 professional processor, the DMP-A6 ensures seamless and lightning-fast operation.
Navigate effortlessly through your audio landscape with the intuitive 6" large LCD color touchscreen, putting control at your fingertips.
Innovation Meets Android 11:

Based on Android 11, the deeply tailored system delivers an optimized and fluid experience, enhancing the way you interact with your audio world.
An impressive 4GB DDR4 + 32GB eMMC memory empowers your device to handle masses of applications with ease.
Expand Your Horizons with SSD:

Elevate your storage capabilities with support for M.2 NVME 3.0 SSD (not included), accommodating up to a staggering 4TB.
Unparalleled Stereo Decoding:

Experience audio authenticity with 2x ES9038Q2M DACs dedicated to independent stereo decoding.
Enjoy support for DSD512 Native, PCM768KHz@32Bit, and full MQA decoding, as your music comes to life in breathtaking detail.
Cutting-edge Processing:

Harness the power of the 3rd generation XU316 for higher performance and unprecedented processing speed.
The low-jitter dual clock synchronous processing with higher accuracy guarantees an unparalleled audio experience.
Balanced Elegance:

Immerse yourself in sonic purity with a fully balanced circuit, featuring both XLR balanced and RCA single-ended hi-fi pre-outs.
Seamless Multi-Channel Experience:

Immerse yourself in cinematic audio with 2x DOH chips, supporting HDMI DSD Native and D2P multi-channel output (Up to 5.1).
Bluetooth Brilliance:

Stay connected with the Qualcomm QCC5125 Bluetooth 5.0 module boasting APTX HD capabilities.
Pure Power for Pure Sound:

Experience audio excellence with low noise, high-quality power supply, ensuring a pristine power source for your audio circuits.
Versatile Playback and Support:

Unlock the potential of mastering audio formats, supporting DSD, APE, FLAC, WAV, MQA, and more.
Revel in 2-channel and multi-channel gapless playback for FLAC and WAV formats.
Unrivaled Control and Connectivity:

Seamlessly manage your music with personalized music management, lyric matching, and music data matching.
The EOS audio engine, developed by Eversolo, globally bypasses SRC restrictions, taking your audio to new heights.
A World of Compatibility:

Embrace direct audio in 3rd party apps, such as Apple Music hi-res direct output.
Enjoy full decoding and rendering support for MQA on Optical, Coaxial, USB input, and more.
Seamless Integration and Access:

Revel in USB, Optical, Coaxial, and HDMI digital audio bit-perfect output, opening doors to versatile audio connectivity.
Discover the convenience of an external USB optical drive for CD disc playback and CD ripping.
Explore a World of Music Services:

Dive into a sea of music services, including Tidal, Qobuz, Highresaudio, Amazon, and more.
Seamlessly integrate with Roon Ready and Tidal Connect, while also supporting music playback from DLNA.
Embrace Your Network:

Access storage devices shared in the LAN with support for NFS, SMB, WebDAV, and UPnP protocols.
Share local media effortlessly with the built-in SMB network media sharing service.
Empowering Mobile Control:

Take command of your audio journey with an exclusive mobile app designed for Android/IOS mobile phones and tablets.
Elevate your audio experience beyond imagination with the EverSolo DMP-A6. Transform your soundstage and immerse yourself in a world of sonic perfection. Experience audio like never before.
Features
Display: 6" LCD touchscreen
Internal Memory: 4GB DDR4 + 32GB eMMC
DACs: Dual ES9038Q2M
Audio Processor: XMOS XU316
Op-amp Chip: OPA1642
Power Supply: Low noise, high-quality switching power supplies
SSD: M.2 NVME 3.0 2280 protocol, up to 4TB
USB-A Ports: USB3.0*2
Ethernet: RJ-45 (10/100/1000Mbps)
WiFi: WiFi 2.4G+5G dual band
Playback and DAC Decoding: Support up to stereo DSD512, PCM 768KHz 32Bit, MQA
Music Services: Tidal, Qobuz, Highresaudio, Amazon, WebDAV, UPnP
Streaming: Air Play, DLNA, Spotify, Tidal Connect, Qobuz Connect, etc.
Bluetooth Audio Input: Bluetooth BT5.0, support SBC/AAC/aptX/aptX LL/aptX HD/LDAC
USB-C Audio Input: USB Audio Compatibility - Windows (7, 10), Mac, Android, IOS
Support up to stereo DSD512, PCM 768KHz 32Bit, MQA
Optical/Coaxial Audio Input: Support up to stereo PCM 192KHz 24Bit, DSD64 Dop, MQA
Optical/Coaxial Audio Output: Support up to stereo PCM 192KHz 24Bit, DSD64 Dop, MQA
HDMI Audio Output: DSD64 Native multi-channel/PCM192KHz multichannel raw output (Up to 5.1)
Control Method: Mobile App, Touch screen control
XLR Output Audio Characteristics:
Output level: 5.2V
Frequency response: 20Hz~20KHz (±0.15dB)
Dynamic range: > 128dB
SNR: > 128dB
THD+N: < 0.00009% (-120dB) @ A-wt
Crosstalk: > -125dB
RCA Output Audio Characteristics:
Output level: 2.6V
Frequency response: 20Hz~20KHz (±0.2dB)
Dynamic range: > 124dB
SNR: > 124dB
THD+N: < 0.00011% (-119dB) @ A-WT
Crosstalk: > -124dB
Power Supply: AC 110~240V 50/60Hz
Rated Power: 13W
Dimensions: L 187mm * W 270mm * H 90mm
Packing List: Power cable1, USB cable1, Screwdriver1, User manual1
Weight & Dimensions
14kg/ctn
4 units/ctn
36x34x14cm/ctn