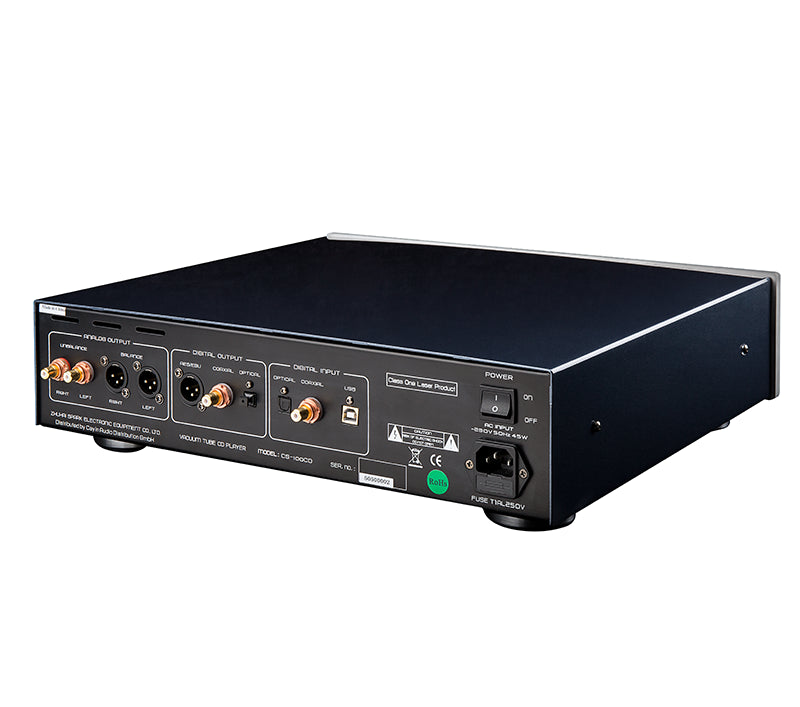 Cayin CS-100CD Tube CD with DAC Inputs
FREE Ground shipping on any order over $600.00! (Some exceptions apply)
If item is in stock, it will ship within 2 business days, please contact the store to ensure availability.
905-881-7109
Info@audioexcellence.ca
Cayin CS-100CD Tube CD with DAC Inputs
Experience exceptional audio quality with our product, which incorporates two advanced PCM1792A DAC chips from the renowned TI company. These chips provide superior digital filtering and digital-to-analog conversion capabilities. The output circuit is designed in a fully balanced manner, ensuring optimal performance.

For the Low pass Filter and I/V converter circuits, we have employed dedicated high-quality Op-Amps, delivering remarkable sound quality. The audio output is enhanced by the presence of four 6922EH vacuum tubes and audio-grade capacitors. The balanced and unbalanced outputs have separate tube circuits, further enhancing the audio experience.

To ensure a superb power supply for the tube audio circuit, we have included a 12DT5 tube for regulation. This guarantees consistent and reliable power delivery.

Our product offers versatile digital output options, allowing you to choose between Optical, Coaxial, or AES/EBU connections. Additionally, it supports multiple input sources, including USB Audio, Optical, Coaxial, and AES/EUB.

With support for Coaxial and Optical digital inputs, our product can handle audio signals with up to 24-bit/192kHz resolution. It also incorporates state-of-the-art USB Audio technology, enabling decoding of high-resolution digital audio through the USB interface, supporting up to 24-bit/192kHz.

To minimize power interference and ensure clean power for all components, we have implemented independent power supplies for the digital and analog circuits. This reduces any potential interference between different circuits, resulting in pristine audio performance at all times.
Features
1. CD PLAYER:
Support CD,CD-R,16-bit 44.1kHz
2. Digital Input
Optical input: 16/24-bit 44.1-192kHz
Coaxial input: 0.5V @75Ω,16/24-bit 44.1-192kHz
USB Audio :
Compatible with Audio Class 1.0 and Audio Class 2.0. Support Windows 7® Windows 8® Windows 8.1® Windows 10® and Mac OS(10.6.3andabove)
2. Digital Output
Optical output: 16/24-bit 44.1-192kHz. According to the IEC958 standard. Coaxial output: 0.5V @75Ω,16/24-bit 44.1-192kHz,According to the IEC958 standard. AES/EBU output: 110Ω,16/24-bit 44.1-192kHz,According to the IEC958 standard.  Output level: 2.3V±2dB
 Frequency response: 20Hz~20kHz±0.5 dB
 Distortion and noise: ≤-60dB
 S/N ratio: >100dB
 Dynamic range: >110dB
 Channel separation(1kHz): <-80dB
 Power requirements: ~230V±5% 50Hz
 Weight: ≈12kg
 Dimension: ≈420mm×372mm×117mm
 Power consumption: 45W