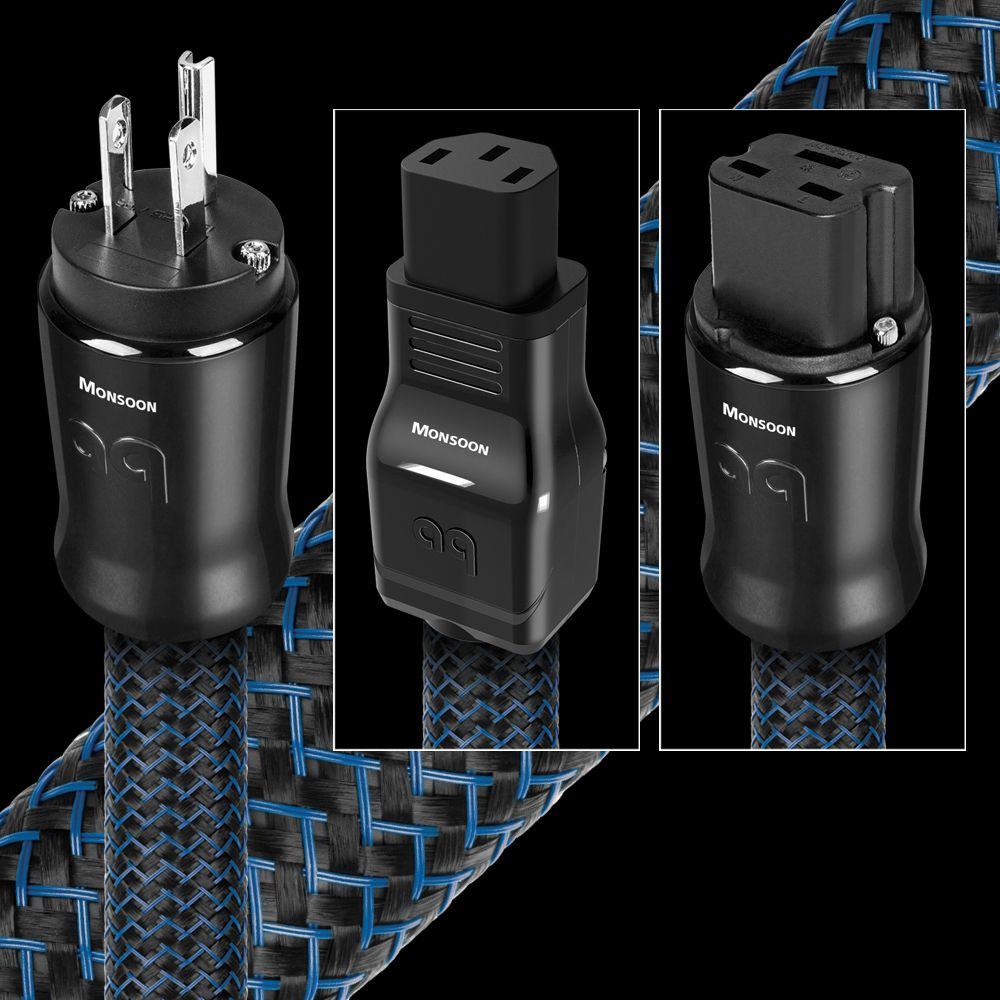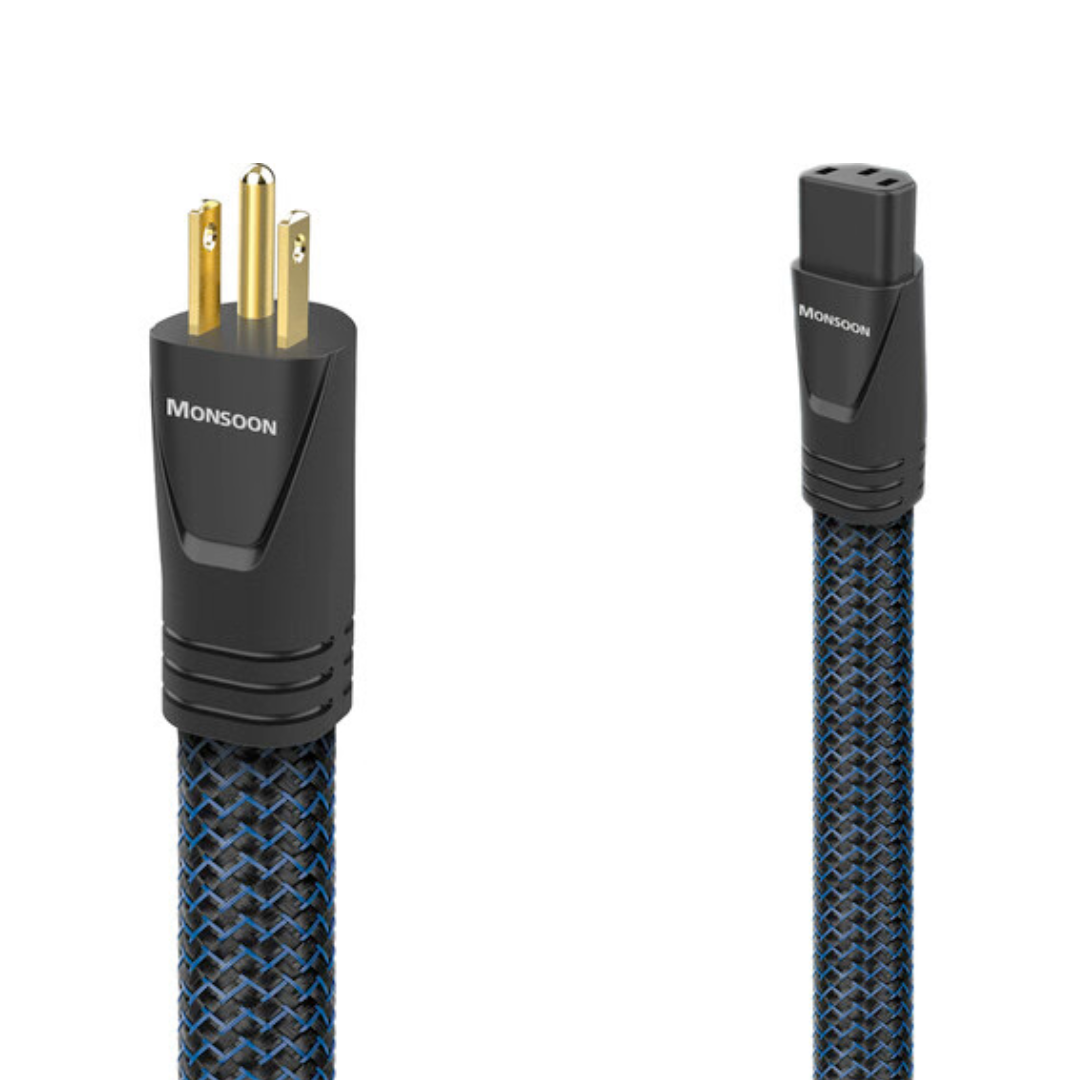 AudioQuest Monsoon Extreme AC Power Cable - Sold as a Single
FREE Ground shipping on any order over $600.00! (Some exceptions apply)
If item is in stock, it will ship within 2 business days, please contact the store to ensure availability.
905-881-7109
Info@audioexcellence.ca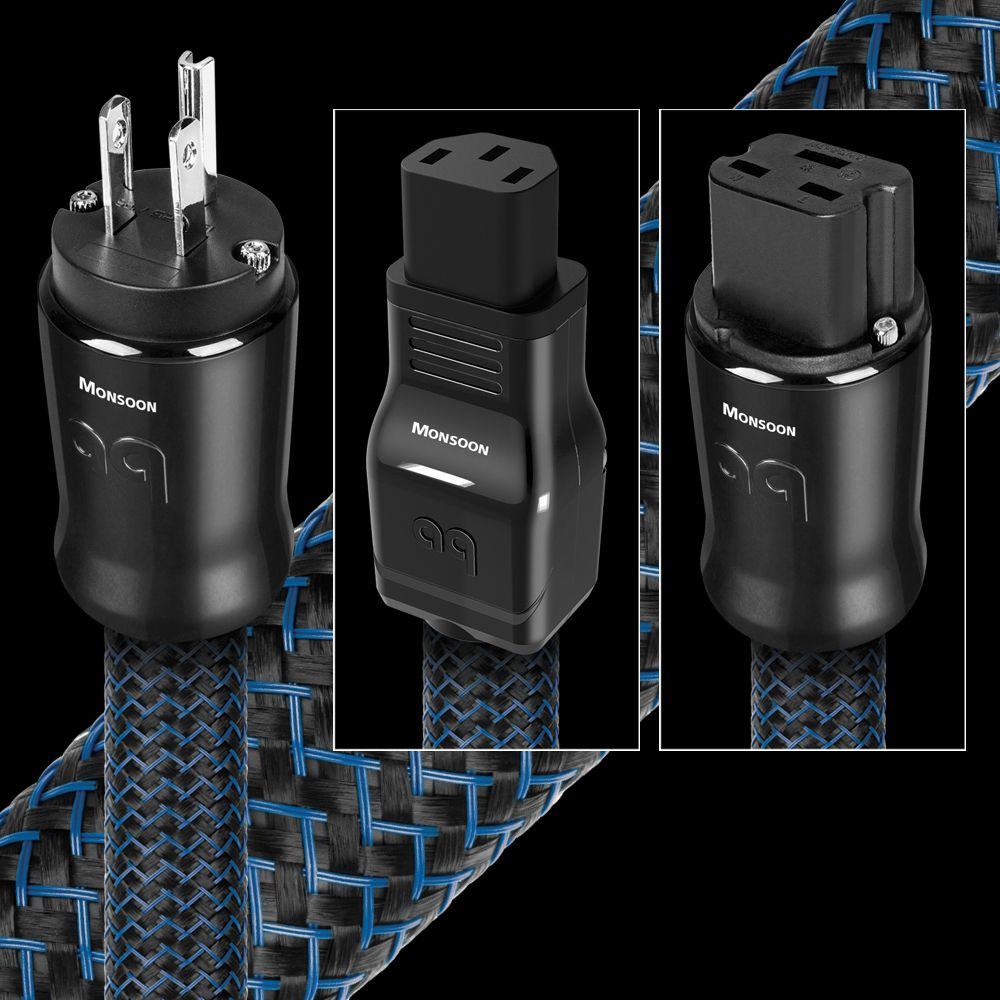 AudioQuest XTRM
*SOLD AS A SINGLE*

Unleash the full potential of your audio system with the AudioQuest Monsoon Extreme AC Power Cable. Engineered to deliver uncompromising power delivery, this premium cable takes your audio experience to new heights of clarity and performance.

The Monsoon Extreme AC Power Cable is designed with meticulous attention to detail and crafted using top-of-the-line materials. It effectively minimizes power loss, voltage drops, and electromagnetic interference, ensuring a clean and stable power supply to your audio components. Experience the true essence of your music with unrivaled precision, dynamics, and depth.

Featuring advanced construction techniques and superior shielding, the Monsoon Extreme Power Cable guarantees a pristine and noise-free signal transmission. It elevates the performance of your audio equipment, revealing nuances and details previously hidden. Every note is reproduced with breathtaking accuracy, immersing you in a captivating audio journey.

Built to withstand the rigors of demanding audio setups, the Monsoon Extreme Power Cable is designed for durability and longevity. Its robust connectors and high-quality insulation provide a secure and reliable connection, while its flexible design ensures easy installation and positioning.

Upgrade your power delivery system with the AudioQuest Monsoon Extreme AC Power Cable. Elevate your audio experience to an extraordinary level of fidelity and clarity. Let your music come alive with breathtaking realism and emotion. Take command of your sound and indulge in sonic excellence. Order your AudioQuest Monsoon Extreme Power Cable now and unleash the full potential of your audio system.
Features
Features
HIGH-PURITY TRUE-CONCENTRIC PSC+ & LGC CONDUCTORS
With only Perfect-Surface Copper+ (PSC+) on the outside, Monsoon's conductors are essentially all PSC+ even though the conductor core is Long-Grain Copper (LGC). Both superior metal and conductor geometry greatly reduce ear-fatiguing Transient Intermodulation (TIM) Distortion.

UNCOMPRESSED CURRENT TRANSFER
While many AC power cables feature low DC resistance in order to accommodate the demand for high current, a cable's characteristic impedance is also crucial for optimal performance. Unlike most AC cables that constrict or compress an audio-provoked transient, AudioQuest AC cables combine low DC resistance and ZERO (no) characteristic impedance in order to deliver uncompressed high-current transients on demand.

RF/ND-TECH (PATENTED RADIO-FREQUENCY GROUND-NOISE DISSIPATION) MINIMIZES CIRCUIT MISBEHAVIOR BY CANCELLING INDUCED RF NOISE
Though a cable's ground leads are integral to a component's signal transmission, they also act as an antenna. Thus, they are subject to induced Radio-Frequency (RF) noise. RF noise is a parasitic signal that is typically coupled directly into a system's most sensitive audio/video circuits. AudioQuest's RF-on-ground Noise-Dissipation (RF/ND-Tech) greatly reduces resulting distortion and signal masking, yielding unprecedented levels of Noise-Dissipation across the widest bandwidth (range) of radio frequencies possible. Our unique circuit topology uses a common-mode phase-cancelling array, providing linear noise dissipation across the entire length of the cable (US Patent # 8,988,168).

WIND XTRM PLUGS: COLD-WELDED HANGING-SILVER OVER RED AND BERYLLIUM COPPERS

DIRECTIONALITY
All drawn metal strands or conductors have a non-symmetrical, and therefore directional, grain structure. AudioQuest controls the resulting RF impedance variation so that noise is drained away from where it will cause distortion. The correct direction is determined by listening to every batch of metal conductors used in every AudioQuest audio cable. When applicable, arrows are clearly marked on the connectors to ensure superior sound quality. For most models of AQ cable, the arrows not only indicate the direction that optimizes metal-directionality as part of Noise-Dissipation, but also indicates non-symmetrical attachment of shield and GND in order to optimize full-system performance.