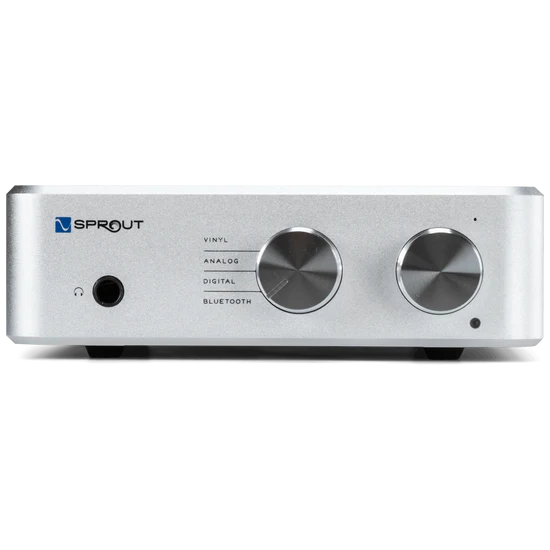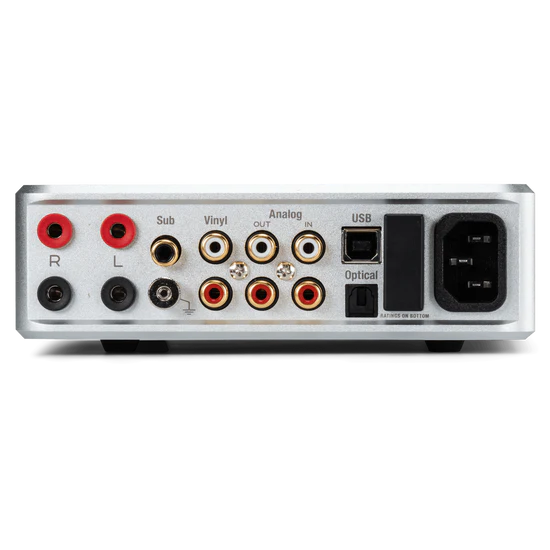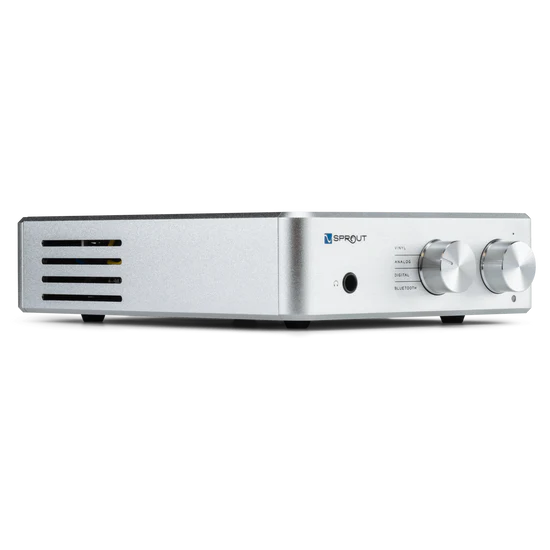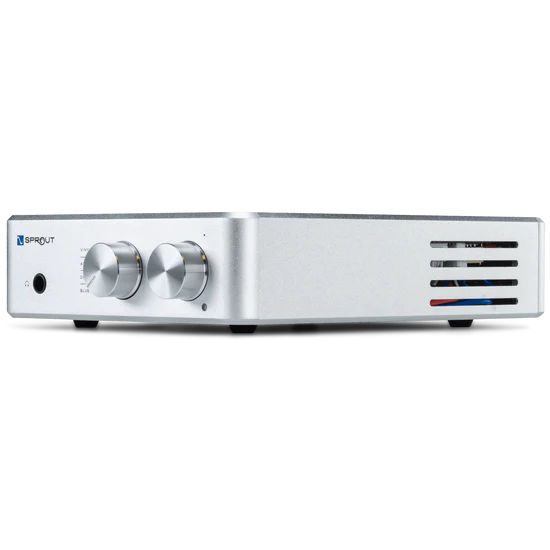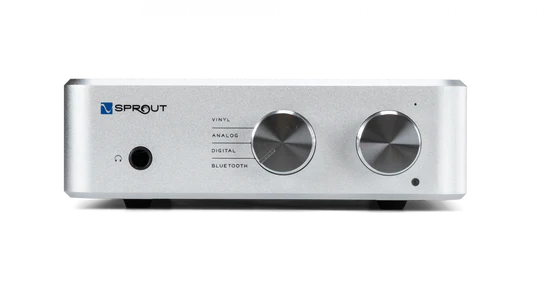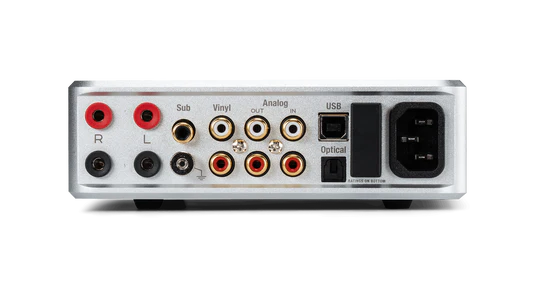 PS Audio Sprout100
FREE Ground shipping on any order over $600.00! (Some exceptions apply)
If item is in stock, it will ship within 2 business days, please contact the store to ensure availability.
905-881-7109
Info@audioexcellence.ca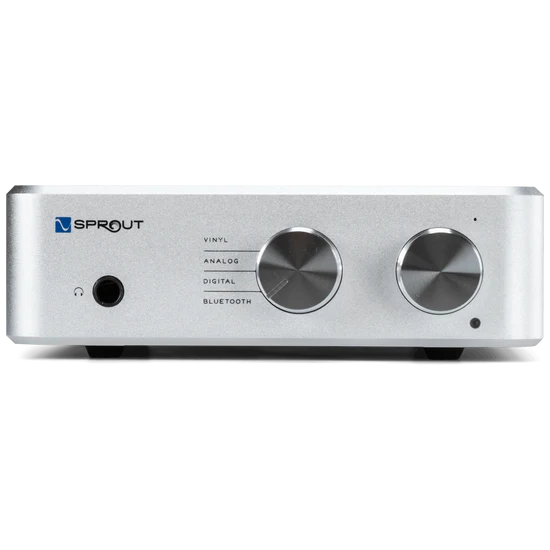 PS Audio Sprout100
Sprout is a simple, elegant source of music for those who want quality sound without the hassles that come with it. Sprout was designed by PS Audio's Scott McGowan as an answer to the complexity and cost of Audiophile systems. Appealing to the eye and ear, solid and reassuring to the touch, Sprout's ease of use makes it appealing and accessible to music lovers around the world. It features a phono preamplifier for vinyl, a Bluetooth receiver for music streamed from smartphones, a high-quality hi-res DAC to handle anything stored on a computer, enough power for any speaker, and a headphone amp that drives even the toughest loads.

To ensure the best possible vinyl reproduction, we engineered a brand-new hybrid circuit design that incorporates a JFET input stage, to lower noise and increase headroom, and a passive high-frequency RIAA circuit, for extended and nuanced high-frequency response. Optimized to the cutting edge of digital playback, Sprout100 also employs an ultra high-resolution ESS Sabre DAC (9016) with USB-B input that accepts resolutions up to PCM 384/24 and DSD128: bit-perfect playback for your high-rez computer audio, video, and gamin applications. An optical (toslink) input allows you to incorporate a TV or other modern digital device with your new system. Bluetooth offers versatility, convenience, and one-touch access to a world of content.

Equiped with bleeding-edge ICEpower amplifier technology, the Sprout100 offers 100 watts per channel, with peaks of up to 135 watts per channel. The Sprout100 also features a built-in subwoofer output (mono RCA, variable), allowing you all the rumble you want with the powered subwoofer of your choosing. With one of the finest headphone amplifiers made, the Sprout100 honors and respects the music with a low-impendance z-feedback circuit that is capable of driving virtually any pair of headphones you can throw at it with perfect transient impulse response. Slewing at an unheard of 1,300-volts/microsecond, the Sprout100's headphone amp produces lucid spatial detail and acute tonal retrieval.
Specifications
FULL FEATURED INTEGRATED AMP
100 WATTS PER CHANNEL POWER AMP
100 WATTS PER CHANNEL POWER AMP
ALUMINUM REMOTE CONTROL
RCA ANALOG INPUTS
DAC SUPPORTS 384/24 OR DOUBLE RATE DSD
PASSIVE EQ MOVING MAGNET PHONO PREAMP
LOW OUTPUT HEADPHONE AMP
TOSLINK DIGITAL INPUT
USB INPUT
BUILT-IN BLUETOOTH RECEIVER
MANUAL INPUT SELECTOR
32Ω: 500mW HEADPHONE OUTPUT
300Ω: 125mW HEADPHONE OUTPUT
OPTIONAL BASS BOOST
SIGNAL TO NOISE RATIO 100dB AT 4Ω
THD <0.01% (1W, 1kHz into 4 ohms)
6ft REGIONAL POWER CORD
INDICATOR LIGHT
4x BANANA ADAPTERS
2x SPROUT DECALS
Weight & Dimensions
Unit Weight 2.9 lbs [1.3 kg]
Unit Dimensions Width 6.2", Height 1.9", Depth 8.2" (chassis only, not including knobs) or 9.2" (including connectors and knobs)
Shipping Weight 5lbs [2.2 kg]
Shipping Dimensions Width 10.5", Height 5", Depth 14"
Power requirements
Voltage Options 100-240 VAC, 50-60Hz, Auto-Detect
Power Consumption 280W Maximum
Mains Power Input IEC C14
Phono Audio Input
Connector 1 Stereo Pair, Phono RCA
Cartridge type Moving Magnet
Cartridge Output 3mV-10mV (5mV recommended)
Cartridge Loading 47KΩ (100pF)
EQ Type RIAA
Gain +40dB
S/N ratio >84dB A-weighted (analog output)
Analog Audio Inputs
Connector 1 Stereo Pair, Line Level RCA
Maximum Input level 2.1VRMS (+6.44dBV)
Input impedance 10KΩ
Analog Audio Output
Connector 1 Stereo Pair, Line Level RCA
Output level, maximum 3.0VRMS (+9.5dBV)
Output Max Gain (using Analog Inputs) 8.45dB
S/N ratio >105dB (3VRMS ref)
THD (Analog) <0.01% (1VRMS, 1KHz)
S/PDIF Digital Input
Connector Optical (Toslink)
Format PCM (96KHz max), 24 bits
USB Input
Connector USB "B" Type
Format PCM (384KHz max), 24 bits, DSD64 (DoP), DSD128 (DoP)
Transfer mode Asynchronous
Bluetooth
Antenna Built in
DAC Uses Sprout's built in asynchronous DAC over S/PDIF (ESS Sabre 9016 DAC)
Stereo Power Amplifier Output
8Ω loudspeakers connected 50 watts per channel, both channels driven
4Ω loudspeakers connected 100 watts per channel, both channels driven
THD (Speaker Output) <0.01% (1W, 1KHz into 4Ω)
Frequency Response +/- 1dB (1VRMS out, 20Hz – 20Khz into 4-8Ω)
Signal to Noise >100dB at max power into 4Ω
Headphone Output
32Ω headphones connected 500mW
300Ω headphones connected 125mW
THD <0.01% (1KHz, 50mW into 32 Ω)
Signal to Noise >105dB at max power into 300Ω