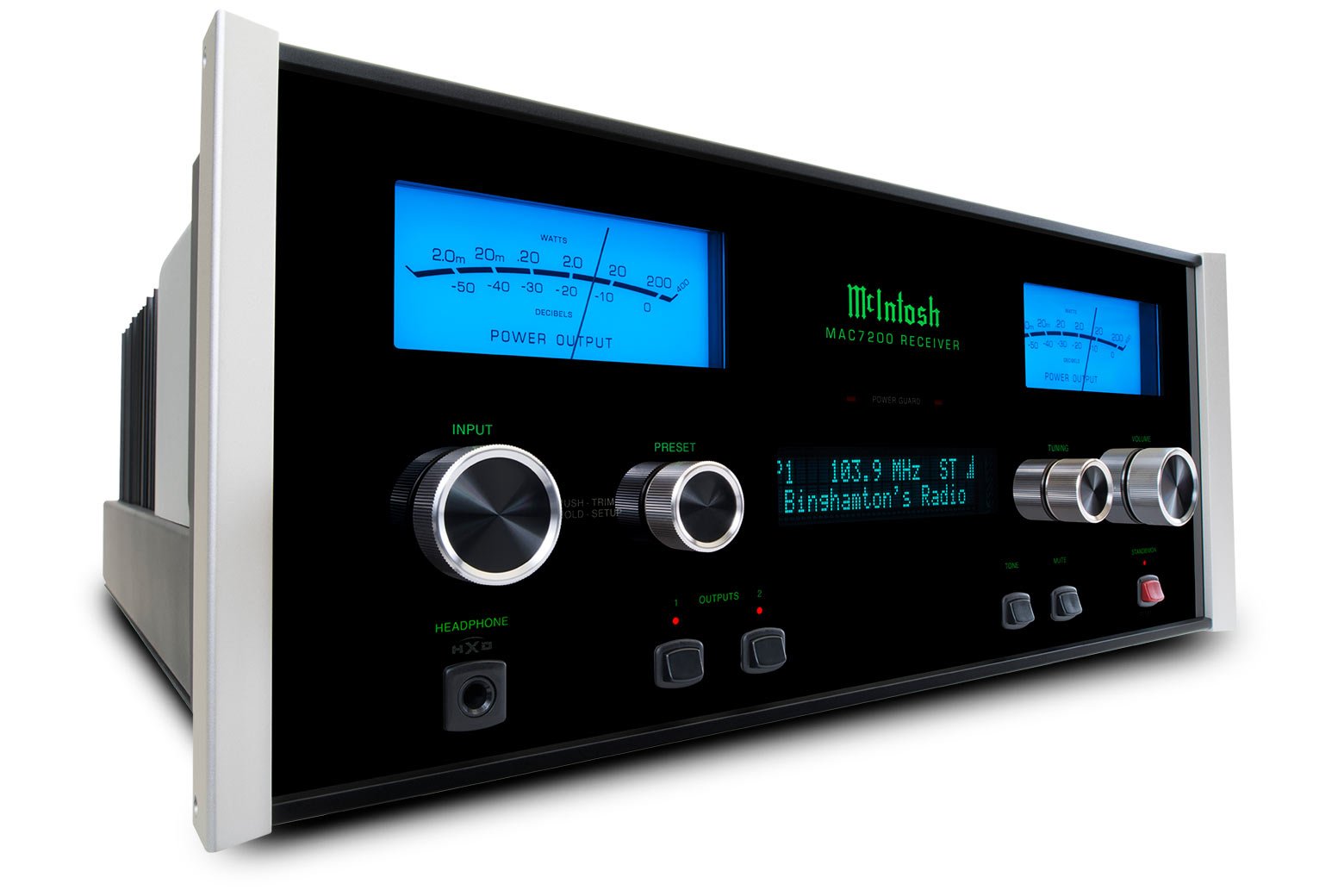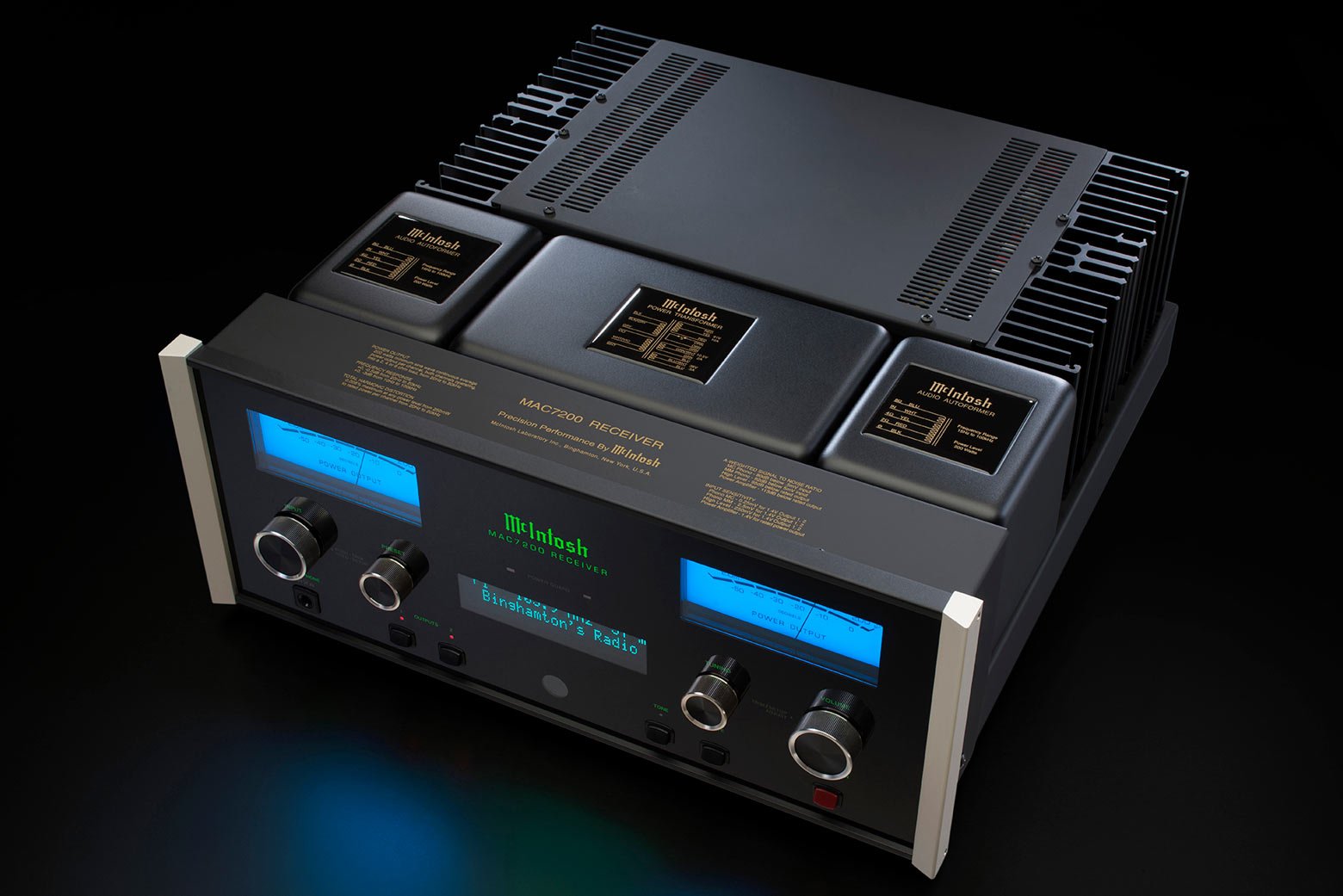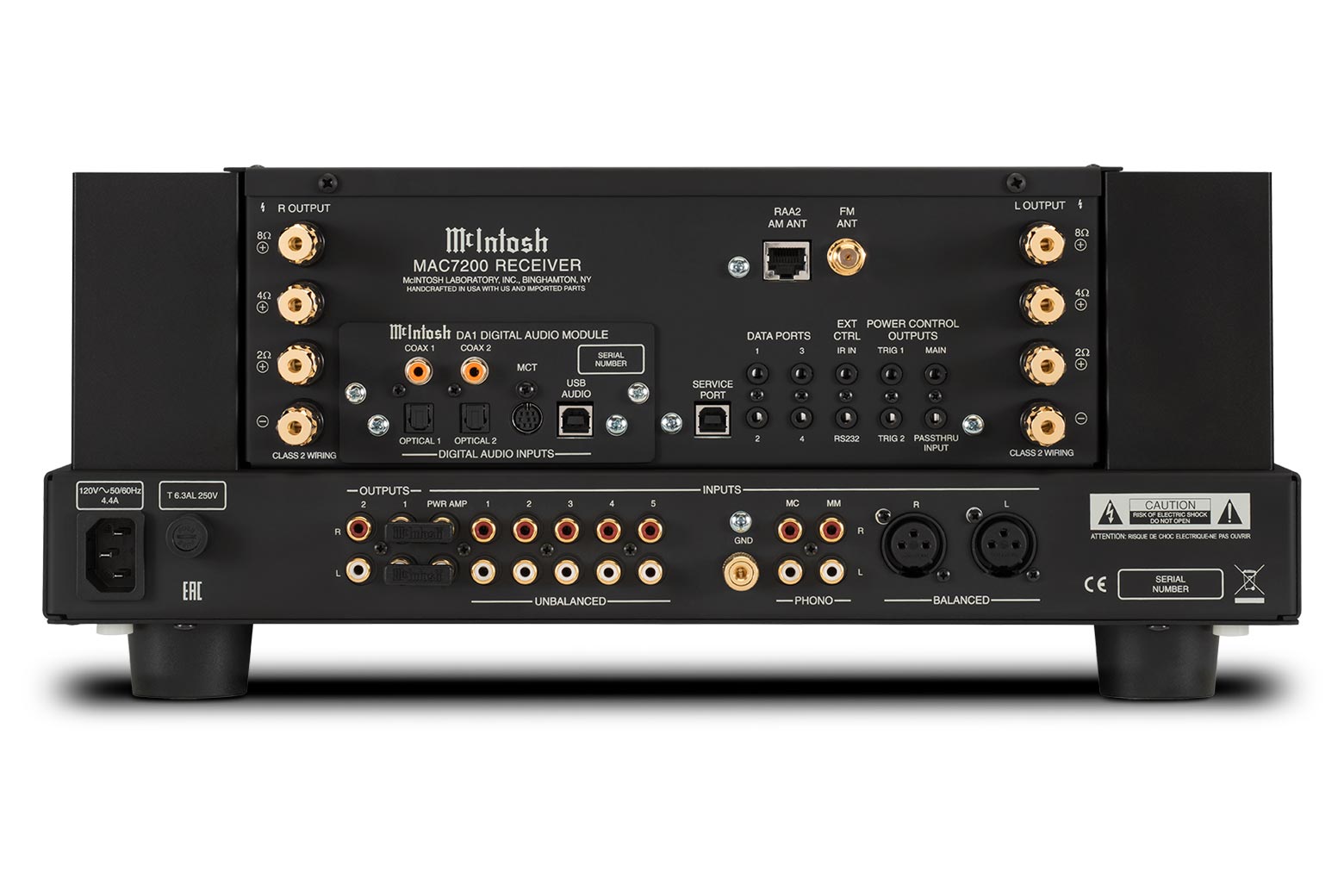 McIntosh MAC7200 Stereo Receiver (In-Store Purchases Only & USD Pricing)
FREE Ground shipping on any order over $600.00! (Some exceptions apply)
If item is in stock, it will ship within 2 business days, please contact the store to ensure availability.
905-881-7109
Info@audioexcellence.ca
McIntosh MAC7200 Stereo Receiver (In-Store Purchases Only)
THE PRICE SHOWN IS IN USD.

Experience the ultimate in audio performance with the McIntosh MAC7200 Receiver. With its impressive 200 Watts per channel, 14 inputs, and a high-performance AM/FM tuner, this receiver is a music lover's dream. Immerse yourself in unparalleled clarity and realism as you tune in to your favorite radio stations, free from noise and distortion. The MAC7200's advanced signal quality monitor ensures optimal reception by displaying multipath and noise levels, while dedicated PRESET and TUNING knobs provide easy radio operation. Enjoy the convenience of Radio Data System (RDS) support, displaying station and song information. With its extensive input options, including analog and digital inputs, turntable compatibility, and customizable naming, the MAC7200 adapts to your every need. Powered by a cutting-edge 8-channel, 32-bit Digital-to-Analog Converter (DAC) and featuring Monogrammed Heatsinks™ for efficient heat dissipation, this receiver delivers exceptional power, resolution, dynamics, and transparency. Don't settle for less - the MAC7200 surpasses expectations and sets new standards in audio excellence.
Features
ELECTRONIC SPECIFICATIONS:

- Power Output per Channel: 200 Watts
- Number of Channels: 2
- Speaker Impedance: 2, 4, or 8 Ohms
- Rated Power Band: 20Hz to 20kHz
- Total Harmonic Distortion: 0.005%
- Dynamic Headroom: 2dB
- Frequency Response +0,-0.5dB: 20Hz to 20kHz
- Frequency Response, +0, -3dB: 10Hz to 100kHz
- Sensitivity Phono (Moving Coil): 0.25mV
- Sensitivity Phono (Moving Magnet): 2.5mV
- Sensitivity High Level (Balanced / Unbalanced): 0.5V/0.25V
- Sensitivity (Power Amp input): 1.4V
- Signal To Noise Ratio (Moving Coil): 80dB
- Signal To Noise Ratio (Moving Magnet): 82dB
- Signal To Noise Ratio (High Level): 95dB
- Signal To Noise Ratio (Power Amp input): 113dB
- Input Impedance (Balanced / Unbalanced): 20K/20K
- Damping Factor: >40
- Maximum Output (Balanced / Unbalanced): 8V Unbalanced

CONNECTIVITY:

- Balanced Input: 1
- Unbalanced Input: 5
- Phono Input Moving Coil: 1 (adjustable loading)
- Phono Input Moving Magnet: 1 (fixed loading)
- Upgradeable Digital Audio Module: Yes: DA1
- Digital Coaxial Input: 2
- Digital Optical Input: 2
- Digital MCT Input: 1
- Digital USB Input: 1
- Balanced Variable Output: 0
- Unbalanced Fixed Output: 0
- Unbalanced Variable Output: 2
- Headphone Output: 1/4" High Drive with Headphone Crossfeed Director (HXD®)
- AM/FM Tuner option: Included
- Home Theater PassThru: Yes
- Unbalanced Analog Connector Type: Standard
- Speaker Binding Post Type: Standard
- Service Port: 1

DIGITAL AUDIO SPECIFICATIONS:

- Digital-to-Analog Converter (DAC) Type: 8-channel, 32-bit/384kHz PCM/DSD, Quad Balanced
- Digital Coaxial Input Sample Rate: 24-bit/44.1kHz to 192kHz
- Digital Optical Input Sample Rate: 24-bit/44.1kHz to 192kHz
- Digital MCT Input Sample Rate: 16-bit/44.1kHz (CD), DSD64 (SACD)
- Digital USB Input Sample Rate: 32-bit/44.1kHz to 384kHz (PCM), DSD64, DSD128, DSD256, DXD352.8kHz, DXD384kHz

FM SPECIFICATIONS:

- Tuning Range: 87.9MHz - 107.9MHz (USA), 87.5MHz - 108.0MHz (Europe), 76MHz - 90MHz (Japan)
- Channel Spacing: 200kHz (USA), 50kHz (Europe50), 100kHz (Europe100, Japan)
- Antenna Input: 75 ohms, Type "F" Coax connector

FM ANALOG SPECIFICATIONS:

- Useable Sensitivity: 2.2uV (18.1dBf)
- 50dB Quieting Sensitivity: 1.5uV (14.8dBf)
- Signal To Noise Ratio: Mono: 70dB, Stereo:
Specifications
200 Watts x 2 channel
AM/FM Tuner
Comes with DA1 Digital Audio Module installed
Optional dealer installed upgrade to DA2Digital Audio Module available
Weight & Dimensions
Unit Dimensions (W x H x D)
17-1/2" (44.5cm) x 7-5/8" (19.4cm) x 18-3/4" (47.6cm)
Unit Weight
75 lbs (34.1 kg)
Shipping Weight
93 lbs (42.3 kg)