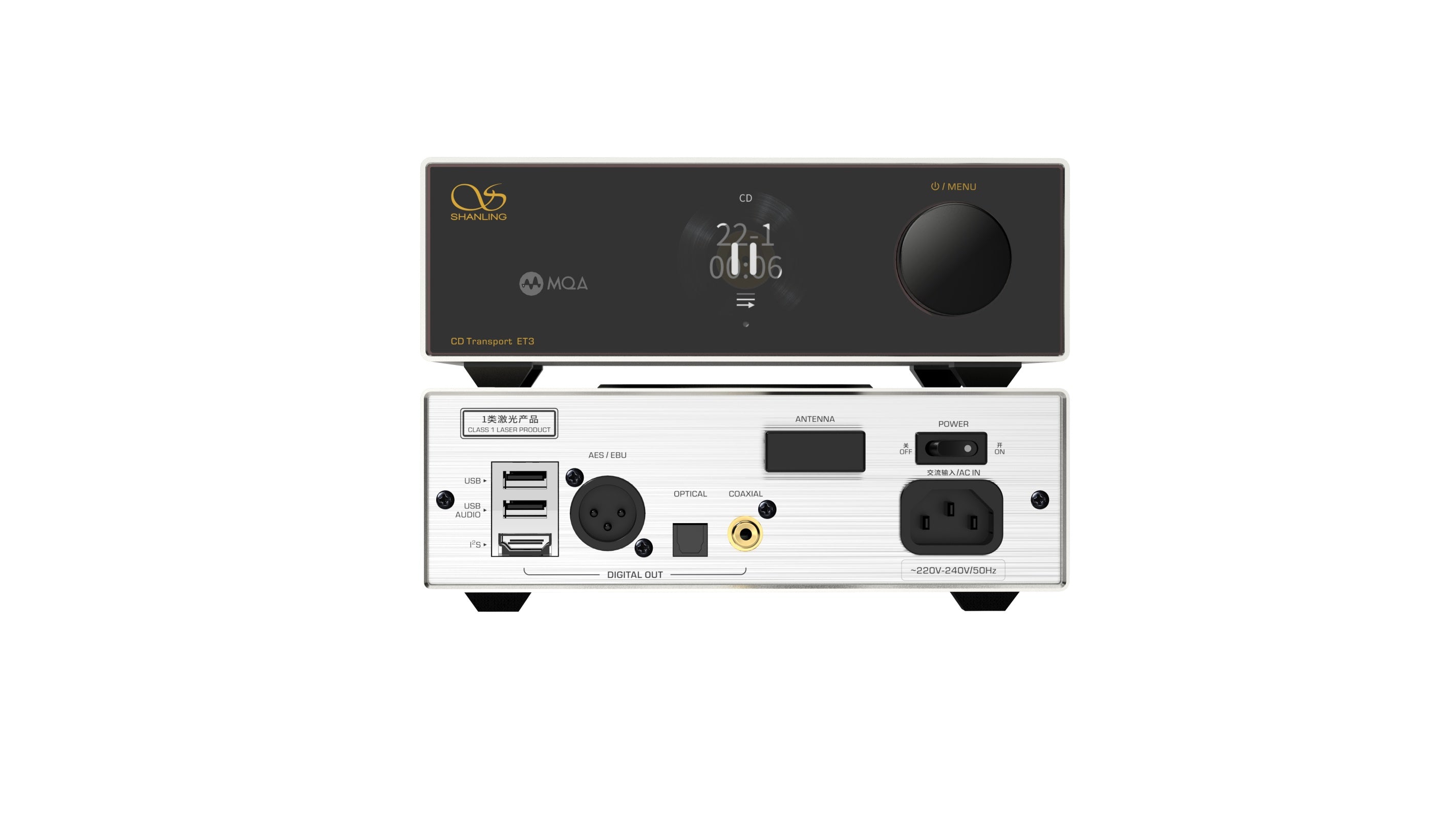 Shanling ET3 Digital Transport
FREE Ground shipping on any order over $600.00! (Some exceptions apply)
If item is in stock, it will ship within 2 business days, please contact the store to ensure availability.
905-881-7109
Info@audioexcellence.ca
Shanling ET3 Digital Transport with Top Load CD Tray/Bluetooth
Meet the ET3, a compact CD transport that elevates your audio experience. Designed specifically as a top-quality digital transport for High-End DACs, it offers exceptional performance in a small, elegant package.

**Uncompromising Design, Compact Form**

With a CNC machined metal body measuring just 25.5 x 18.8 cm, the ET3 retains the stylish design of the EC3. Its compact size doesn't compromise on delivering pristine audio quality.

**Pure Digital Excellence**

The ET3 is a pure digital transport, equipped with the CT7302CL Upsampling chip for superb audio quality. It offers All-to-DSD or All-to-PCM Upsampling, enhancing your music experience.

**Advanced Connectivity**

Enjoy advanced I2S and USB outputs for transporting super High-Res files, surpassing traditional connections. Whether from USB drives or wireless DLNA streaming, the ET3 ensures top-tier audio quality.

**Superior Components**

Inside, you'll find the Philips SAA7824 CD Drive and Sanyo HD850 Laser, chosen for their precision and reliability, guaranteeing accurate audio reproduction.

**Wireless Convenience**

Benefit from 2.4G/5G Wi-Fi with DLNA/Airplay support and Bluetooth 5.0 with LDAC, AAC, and SBC compatibility for seamless audio streaming.

**MQA CD Support and NAS Functionality**

Experience MQA CD playback and use the ET3 as a NAS server with USB drives, expanding its capabilities.

**Intuitive Control**

Control your audio with the included remote and companion app for effortless navigation.

Discover the ET3 Compact CD Transport by Shanling, where elegant design meets advanced technology. Elevate your audio experience today.
Weight & Dimensions
Power consumption: 15W

Dimensions (W x D x H): 188 x 255 x 68mm

Weight: approx. 2.5kg

CD Drive: Philips SAA7824

Disc compatibility: CD; CD-R; CD-RW

USB output: up to PCM 768kHz / 32bit, DSD 512

I²S output: up to PCM 768kHz / 32bit, DSD 512

Coaxial / optical / AES output: up to PCM 192 kHz / 32bit, DSD 64

System: Ingenic X2000 platform, developed in-house

Screen: IPS 320 x290

Controls: Multifunctional wheel & Hardware Buttons

USB Drive audio format support:

DSD (".iso", ".dsf", ".dff") *dst not supported

ISO / DXD / APE / FLAC / WAV / AIFF / AlF / DTS / MP3 / WMA / AAC / OGG / ALAC / MP2 / M4A / AC3 / M3U / M3U8 / OPUS

MQA Support: MQA Full Decoder (PCM176.4 kHz output to all DACs) // MQA Core (PCM 88.2 kHz output to MQA capable DACs)