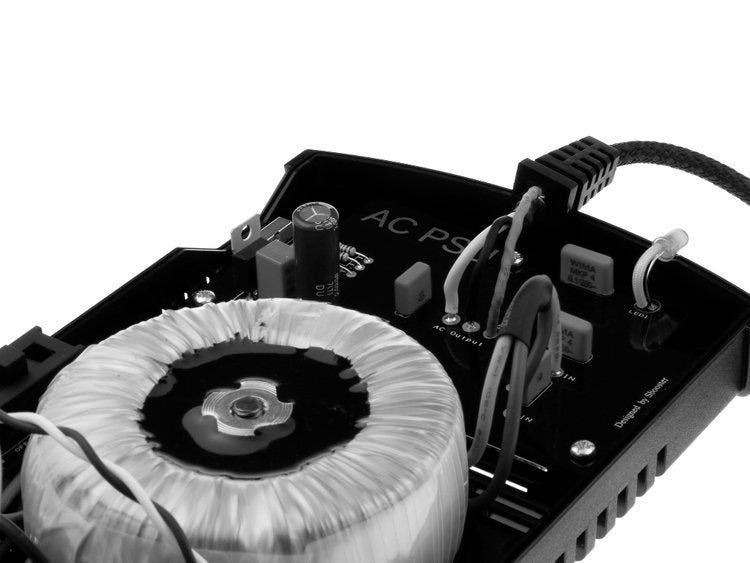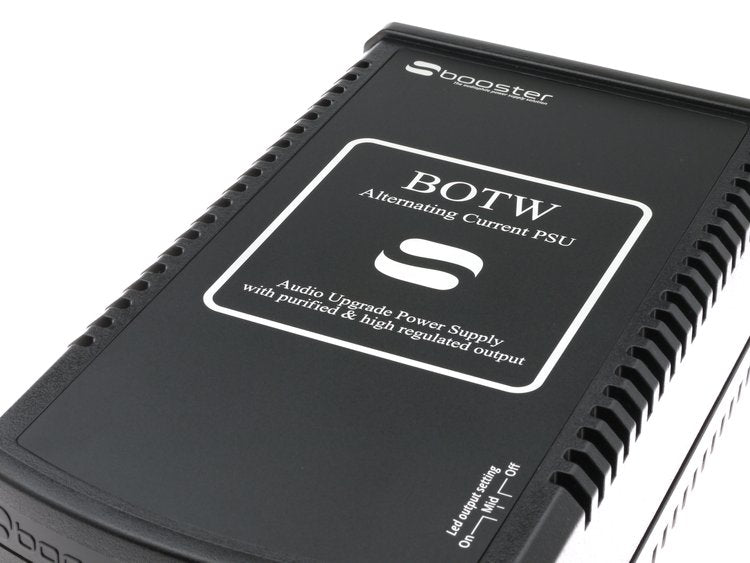 Sbooster BOTW AC
FREE Ground shipping on any order over $600.00! (Some exceptions apply)
If item is in stock, it will ship within 2 business days, please contact the store to ensure availability.
905-881-7109
Info@audioexcellence.ca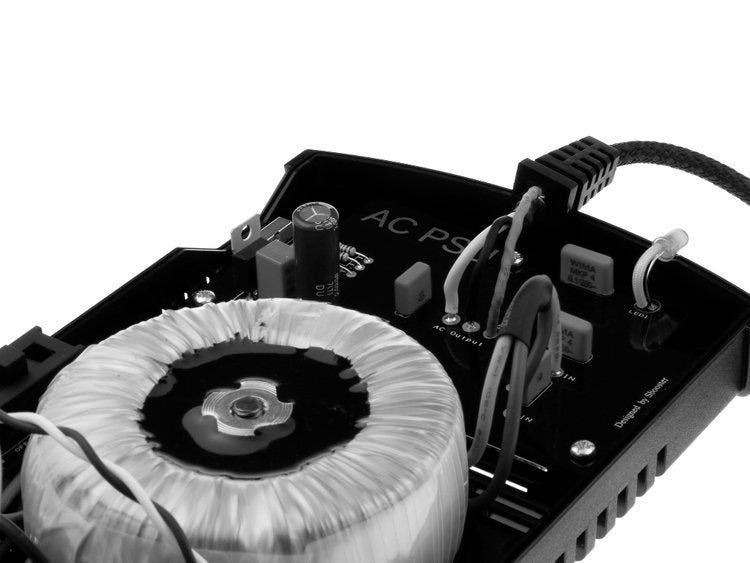 Sbooster BOTW AC
Why choose the Sbooster BOTW AC power supply? Unlike stock AC/AC power supplies, which are basic and inefficient, the BOTW AC is specifically designed to provide stable and low-noise AC current for optimal performance in audio systems. By using an oversized audio grade toroidal transformer, the BOTW AC achieves exceptional load regulation and stability, ensuring consistent output voltage even under heavy loads.

Furthermore, the BOTW AC incorporates advanced features to minimize noise pollution. The dual-stage mains filter, upgraded audio purpose fuse, and earth line choke effectively remove mains pollution before it reaches your audio device, ensuring a clean power supply. The transformer is also equipped with electrostatic and high-frequency magnetic shielding, making it perfect for turntable applications. Additionally, the BOTW AC includes an anti-oscillation circuit with Wima capacitors for stable operation across various AC-powered audio devices.

To ensure optimal power distribution, the BOTW AC features a custom-made 16AWG shielded output cable with gold-plated connector pins, minimizing power loss and maximizing the delivery of purified AC power to your device. Upgrade your power supply to the Sbooster BOTW AC and experience improved stability, reduced noise, and enhanced performance in your audio system.
Features
Designed specifically for AC-powered audio equipment, the Sbooster BOTW AC acts as an advanced power supply option that offers significant upgrades in performance for devices like phono stages including the popular Benz Micro PP1, while also serving as a direct and compatible replacement for standard AC/AC power supplies commonly supplied with turntables from leading brands like Rega and Thorens.

Product Highlights:
Available in a 16VAC and 24VAC output voltage

Oversized high efficient audio grade toroidal transformer

Transformer with Electrostatic and HF Magnetic shielding

Very tight load regulation for stable operation

Low noise AC output

IEC 14 power inlet suitable for High-end mains cables

High performance dual stage mains filter with Earth line choke

AC mains overvoltage protection circuit

Short-circuit protection

Thermal overload protection circuit

High quality X2 safety rated polypropylene film capacitors in the mains filter

High quality Wima polypropylene film capacitors in the AC PCB

AC output cable with:

additional shielding

braided sleeve

gold plated machined brass connector pins

High quality double sided PCBs with 2oz. copper and gold plated finish

Custom-made AC-plugs in most common sizes for maximum flexibility

Dimmable LED light

CE approved

Made in the EU