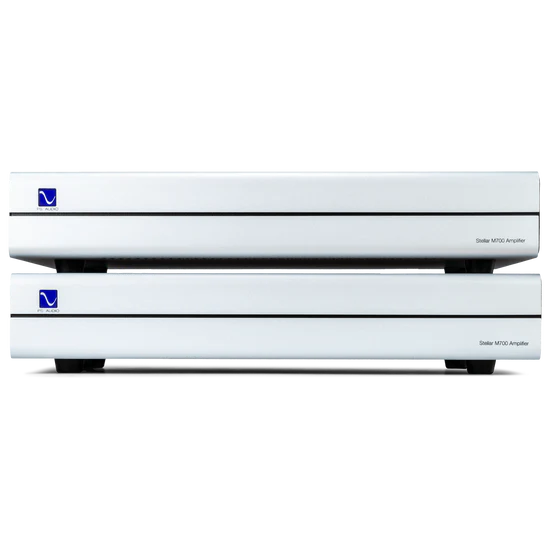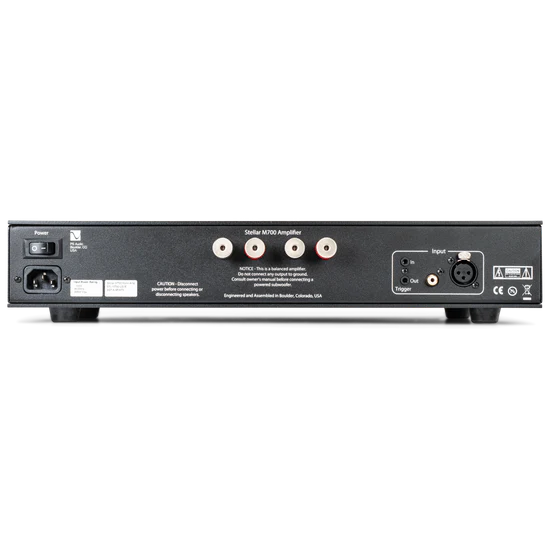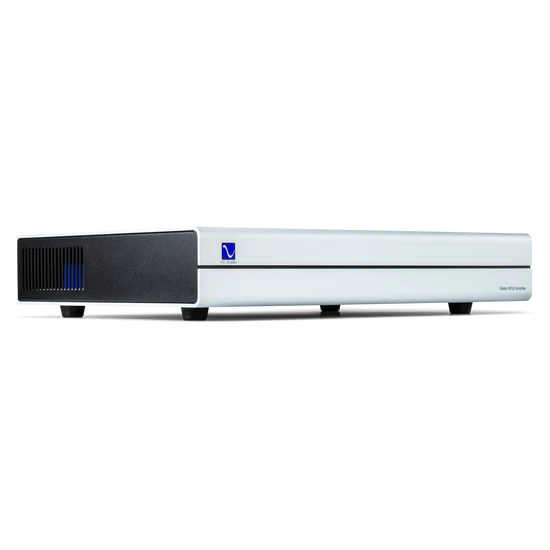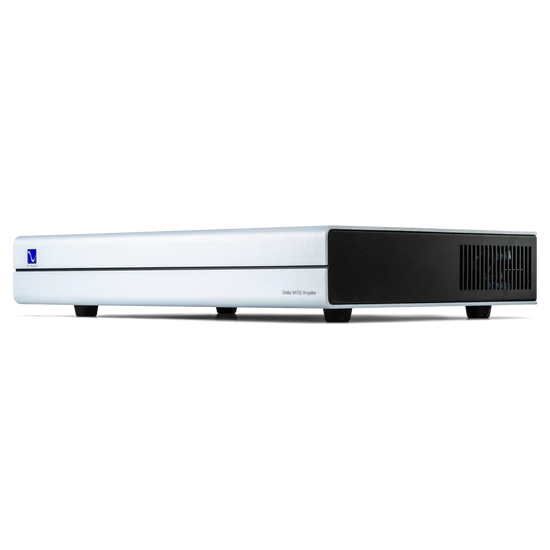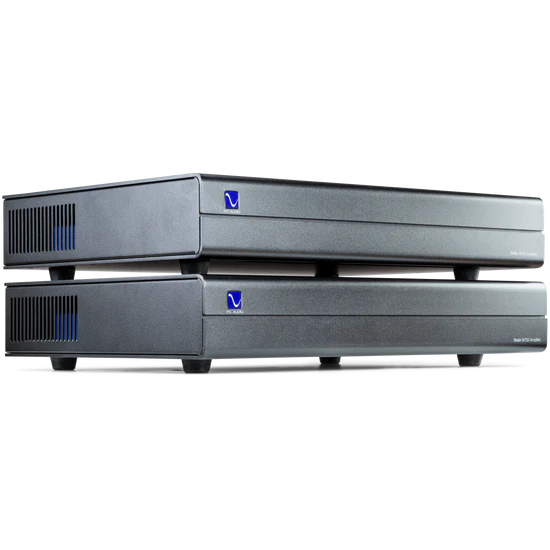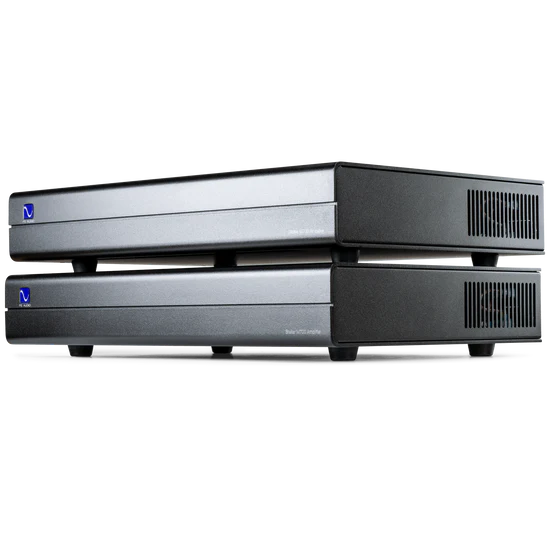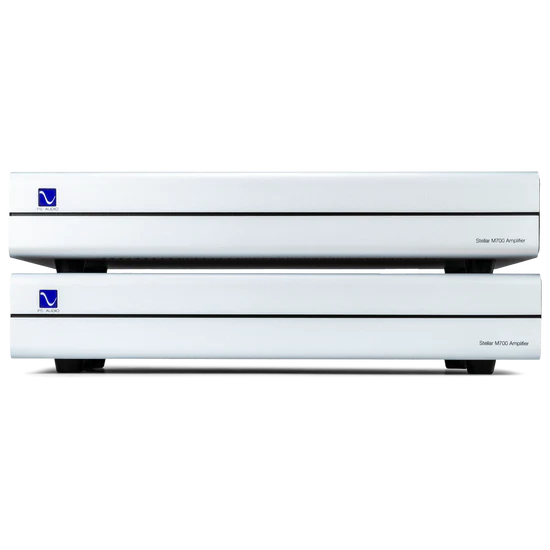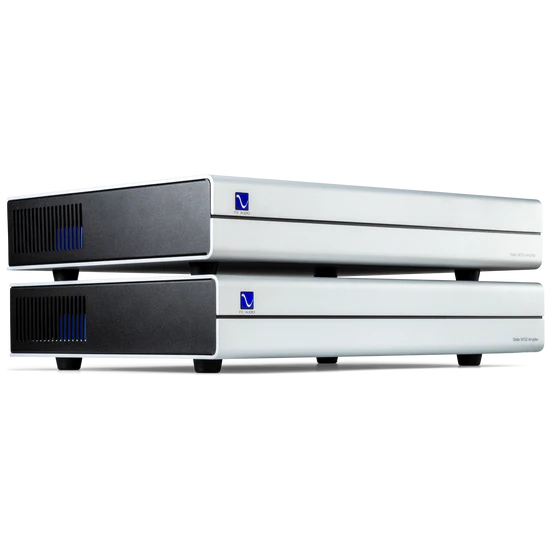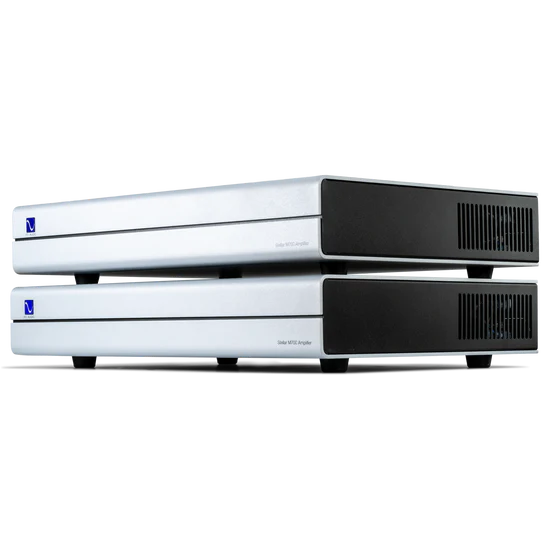 PS Audio M700 Amplifier (Sold as a Pair)
FREE Ground shipping on any order over $600.00! (Some exceptions apply)
If item is in stock, it will ship within 2 business days, please contact the store to ensure availability.
905-881-7109
Info@audioexcellence.ca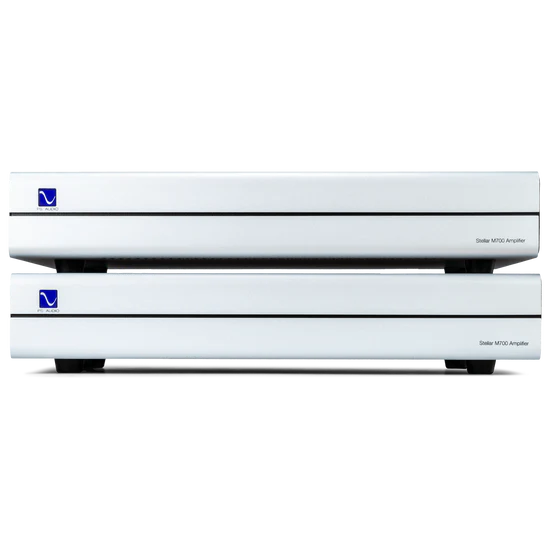 PS Audio M700 Amplifier (Sold as a Pair)
Rated at 350 Watts into 8Ω and 700 Watts into 4Ω, the M700 combines the best of two worlds: ultra linear, high-current, Class D technology for the output stage; a discrete, Class A MOSFET based Analog Cell for the all-important input stage. The Stellar M700 captures the rich, full-bodied essence of recorded music and presents it to your loudspeakers with authority and grace, never a hint of glare or unnaturalness. The M700 is faithful to the music like few amplifiers are. Listeners are constantly surprised at the width and depth of the M700's soundstage; its preservation of the smallest details in reverb, room acoustics, and musical overtones; its commanding presence without intrusion; its delicate handling of subtle shadings; its authority as it grabs hold of the loudspeaker and breezes through even the most complex musical passages.

Stellar's design imperatives -- affordable pricing and uncompromised sonics -- were major challenges solved by the invention of a unique new circuit christened the AnalogCell. Nothing in the design of a power amplifier is more important than its input stage when preserving music's finest nuances. Knowing full well that the input stage determines sonic character, the AnalogCell has been employed to preserve the rich details found in music. The AnalogCell is the heart of the M700's musicality, where rich overlaid layers of music's inner details are preserved even in the most complex orchestral crescendos. As a proprietary, fully differential, zero feedback, discrete, Class A MOSFET circuit, hand-tuned to capture the smallest micro dynamics without sacrificing the loudest macro dynamics music has to offer, the AnalogCell makes all the difference in preserving music's magic.

The Stellar M700 has a massive power supply and ultra-linear, high-wattage power amplification stage based on a modern Class D ICE module. Class D output stages provide near-perfect linearity, low distortion, and high efficiency. Modern Class D amplifiers, like the type used in Stellar, extend high frequencies to about 50kHz. Human hearing limitations are 20kHz, though most listeners rarely have hearing exceeding half that. Providing excellent frequency extremes, low distortion, high efficiency, high damping factor, and a generous and powerful output of 700 watts into the most common loudspeaker loads of 4Ω, the M700 is nothing short of breathtaking. The massively powerful nature of the M700 works well with any loudspeaker—big or small—providing huge amounts of headroom and effortless sound quality for even the most demanding orchestral crescendos.



Features
The Stellar M700 mono amplifiers are a massively powerful engine capable of effortlessly driving demanding loudspeaker loads to concert levels.
Enjoy an unheard of level of control and command from your loudspeakers with the Stellar M700, one of the most extraordinary under $5,000 power amplifier pair ever crafted. With its mighty 700 watt engine connected to any sized loudspeaker, the M700 monoblocks deliver extraordinarily effortless linear headroom that seems to go on forever. Dynamics like you've rarely experienced before. Slam, control, toe-tapping pacing, and music's subterranean depths are effortlessly delivered to any loudspeaker from the most efficient to the most demanding. Revel in rich layers of fine, full detail you might have been missing before Stellar. Marvel at the deep, extraordinary, wall-to-wall soundstage. Control your loudspeakers as never before. Effortless. Lush. Stellar.
Specifications
MONO POWER AMPLIFIER PAIR
ZERO-LOSS ANALOG CELL INPUT
POWERFUL MOSFET OUTPUT STAGE
RCA SINGLE-ENDED INPUT
XLR "TRUE" BALANCED INPUT
350 WATTS PER 8Ω CHANNEL
700 WATTS PER 4Ω CHANNEL
2Ω STABLE
< 0.1% THD 20Hz 20kHz AT RATED POWER
DAMPING FACTOR = 1100
FRONT PANEL STANDBY
VERY LITTLE HEAT PRODUCTION
DUAL, SOLID, COPPER PLATED OUTPUT POSTS
27 LBS
INPUT 12v TRIGGER
Weight & Dimensions
**Stellar M700 Mono Amplifier:**
- **Unit Weight:**
- 13 lbs [5.9 kg] (each)

- **Unit Dimensions:**
- 17"W x 3"H x 12"D (13"D w/connectors)
- 17"W x 6"H x 12"D (Stacked)

- **Shipping Weight:**
- 16.5 lbs [7.5 kg] (each)

- **Shipping Dimensions:**
- 22"W x 8"H x 17"D (each)

- **Color Options:**
- Black
- Silver

- **Voltage Options (Factory set only):**
- Japan: 100V
- North America: 120V
- Europe/Asia/Australia/New Zealand: 230V

- **Mains Power Inputs:**
- IEC C14

- **Idle Power Consumption:**
- 23W

- **Accessories Included:**
- US (NEMA 5-15P) (all versions)
- Schuko (CEE7/7) (230V version)
- UK (BS 1363) (230V version)

- **Audio Inputs:**
- RCA (Unbalanced)
- XLR (Balanced)

- **Speaker Outputs:**
- Copper base nickel plated binding posts (2 pair)

- **DC Trigger Input:**
- 3.5mm 5-15VDC

- **Warranty:**
- 3 years parts and labor

- **Signal:**
- **Gain:**
- 30.5dB +/- 0.5dB
- **Sensitivity for rated output power:**
- 1.6V
- **Noise:**
- 1kHz @ 700 Watts < -105dB
- **Input impedance:**
- Unbalanced 50KΩ
- Balanced 100KΩ
- **Output Impedance:**
- 50Hz, 2.8VRMS < 0.007Ω
- **Damping factor:**
- 50Hz, 2.8VRMS
- 8Ω > 1100
- 4Ω > 550
- **Frequency Response:**
- 2.8VRMS into 4Ω
- 10Hz – 20KHz +/- 0.5dB
- 10Hz – 50KHz +0.1/-3.0dB

- **THD & IM:**
- 1KHz, 1W/4Ω < 0.02%
- 10-20KHz, 1W/4Ω < 0.02%
- 10-50KHz, 1W/4Ω < 0.05% (90kHz BW)
- 1KHz, 87.5W/4Ω < 0.015%

- **Output Power (120VAC mains, 1kHz, 1% THD):**
- 8Ω: 350W minimum
- 4Ω: 700W minimum
- 2Ω: Stable for musical transients