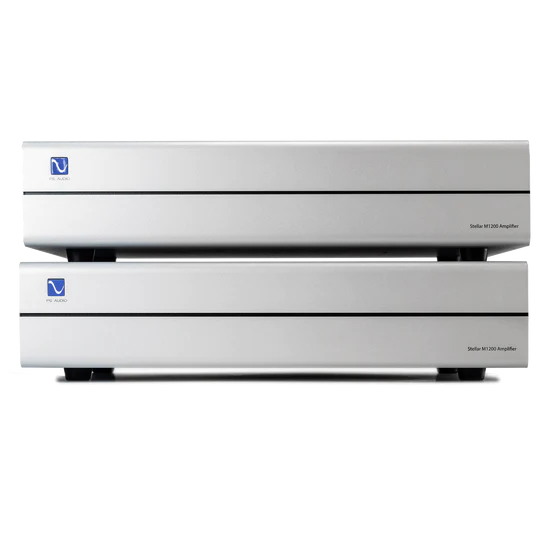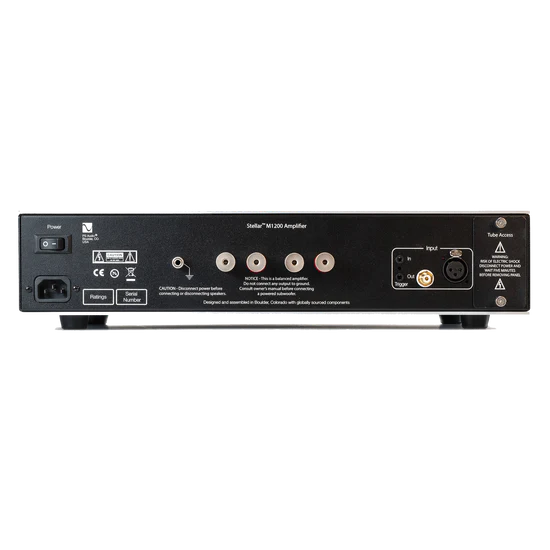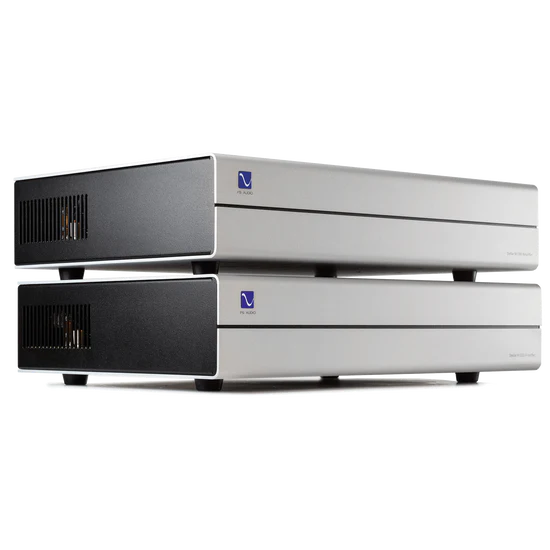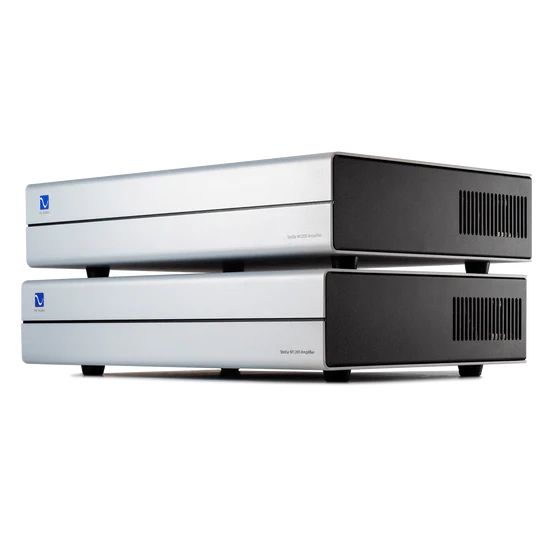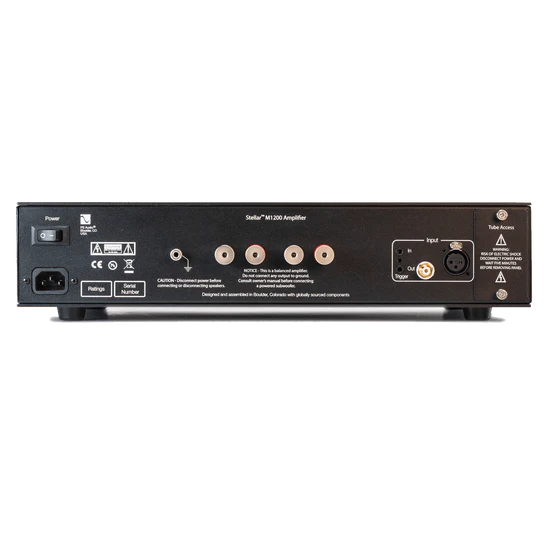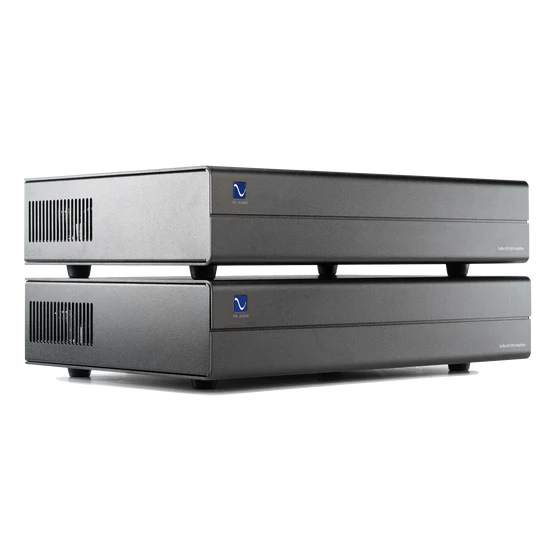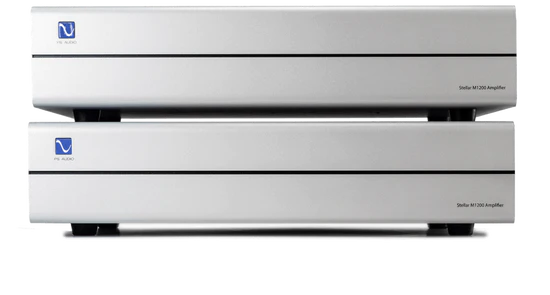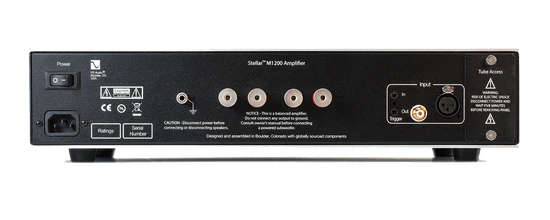 PS Audio M1200 Amplifier (Sold as a Pair)
FREE Ground shipping on any order over $600.00! (Some exceptions apply)
If item is in stock, it will ship within 2 business days, please contact the store to ensure availability.
905-881-7109
Info@audioexcellence.ca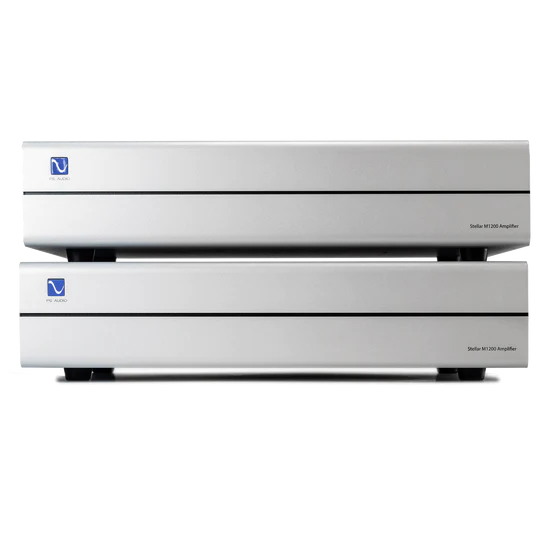 PS Audio M1200 Amplifier (Sold as a Pair)
The Stellar M1200 mono amplifiers solve a classic problem with nearly every power amplifier made: sonic compression. When the orchestra gets loud and complex, or the band really starts to rock it out, most power amplifiers get out of their comfort zone and we hear their stress and strain as compression. The M1200 was designed to play any music into any loudspeaker with zero compression. Rated at 600 Watts into 8Ω and a whopping 1200 Watts into 4Ω, the M1200 combines the best of two worlds: ultra-linear, high-current, ICE Edge Class D technology for the output stage; and a discrete, Class-A vacuum tube for the all-important input stage. The M1200's rich, warm, and beautifully nuanced reproduction of music comes first from the zero feedback, class A vacuum tube input stage. Here nothing is lost in its hand-selected 12AU7 vacuum tube, fed from its own analog power supply.

Design
To preserve both uncompressed dynamics as well as the tiniest of nuanced details requires a cost-no-object input stage, like that of a high-performance vacuum tube. The amp's delicate input signals, now faithfully preserved by its vacuum tube input, then need to be amplified without restriction by taking advantage of a new type of Class D output power module. This extraordinarily high current, low distortion, MOSFET output stage combines state-of-the-art topologies with decades of design and listening experience to produce what we believe is the most musically satisfying amplifier of its kind.

Application
Power amplifiers delivers only the number of watts required by your speaker to achieve the desired loudness. Even the most powerful amplifiers deliver only what's asked of them. What's been missing in most amplifiers is adequate headroom and effortless linear performance—something only a vacuum tube-based powerhouse like the M1200 can unquestionably provide. From the most subtle of details to unheard of explosive dynamics, Stellar M1200 represents the pinnacle of high powered musicality that must be heard to be believed. Regardless of the power demands—or power limitations—of your loudspeakers, Stellar M1200 is the perfect choice if effortless musicality is in your future.
Specifications
MONO POWER AMPLIFIER PAIR
ZERO-LOSS TUBE INPUT STAGE
POWERFUL MOSFET OUTPUT STAGE
RCA SINGLE ENDED INPUT
XLR "TRUE" BALANCED INPUT
600 WATTS PER CHANNEL 8Ω
1200 WATTS RMS INTO 4Ω
2Ω STABLE
ICE EDGE TECHNOLOGY
DAMPING FACTOR > 1100
FRONT PANEL STANDBY BUTTON
VERY LITTLE HEAT PRODUCTION
DUAL, SOLID, COPPER PLATED OUTPUT POSTS
27 LBS. EACH
INPUT 12v TRIGGER
Weight & Dimensions
- **Unit Weight:**
- 27 lbs [12.2 kg] (each)

- **Unit Dimensions:**
- 17"W x 3.75"H x 12"D (13"D w/connectors)
- 17"W x 7.5"H x 12"D (Stacked)

- **Shipping Weight:**
- 29 lbs [13.15 kg] (each)

- **Shipping Dimensions:**
- 22"W x 8"H x 17"D (each)

- **Color Options:**
- Black
- Silver

- **Vacuum tube type:**
- 12AU7

- **Voltage Options (Factory set only):**
- Japan: 100V
- North America: 120V
- Europe/Asia/Australia/New Zealand: 230V

- **Mains Power Inputs:**
- IEC C14

- **Idle Power Consumption:**
- 27W

- **Power Factor:**
- >0.9 @ rated power 4Ω

- **Accessories Included:**
- US (NEMA 5-15P) (all versions)
- Schuko (CEE7/7) (230V version)
- UK (BS 1363) (230V version)

- **Audio Inputs:**
- RCA (Unbalanced)
- XLR (Balanced)

- **Speaker Outputs:**
- Copper base nickel-plated binding posts (2 pair)

- **DC Trigger Input:**
- 3.5mm 5-15VDC

- **Warranty:**
- 3 years parts and labor

- **Signal:**
- **Gain:**
- 30.5dB +/- 0.5dB
- **Sensitivity for rated output power:**
- 2.08V
- **Signal to Noise:**
- 1kHz @ 1200 Watts > 112dB
- **Input impedance:**
- Unbalanced 50KΩ
- Balanced 100KΩ
- **Output Impedance:**
- 50Hz, 2.8VRMS < 0.007Ω
- **Damping factor:**
- 50Hz, 2.8VRMS
- 8Ω > 1100
- 4Ω > 550
- **Frequency Response:**
- 2.8VRMS into 4Ω
- 10Hz – 20KHz +/- 0.5dB
- 10Hz – 45KHz +0.1/-3.0dB

- **THD & IM:**
- 1KHz, 1W/4Ω < 0.005%
- 10-20KHz, 1W/4Ω < 0.01%
- 1KHz, 150W/4Ω < 0.02%

- **Output Power (120VAC mains, 1kHz, 1% THD):**
- 8Ω: 600W minimum
- 4Ω: 1200W minimum
- 2Ω: Stable for musical transients