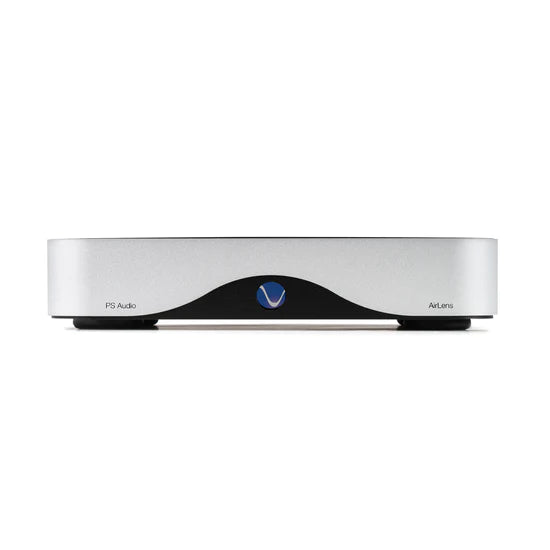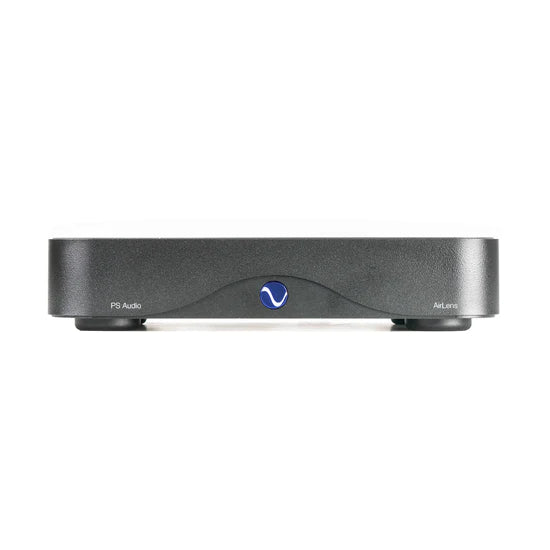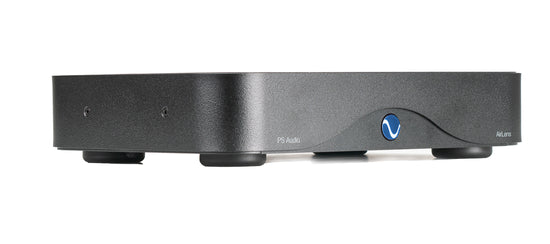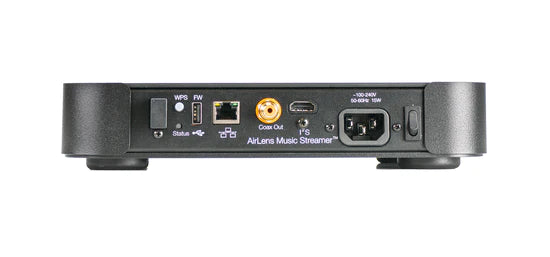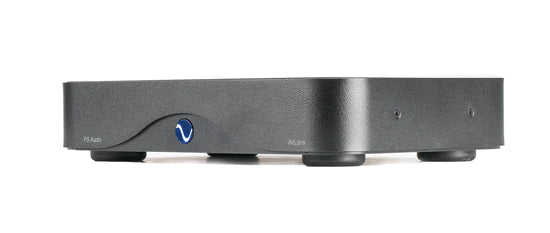 PS Audio AirLens Music Streamer
FREE Ground shipping on any order over $600.00! (Some exceptions apply)
If item is in stock, it will ship within 2 business days, please contact the store to ensure availability.
905-881-7109
Info@audioexcellence.ca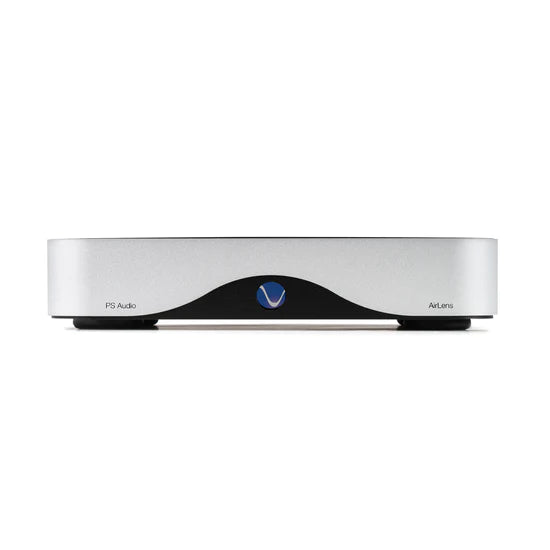 PS Audio AirLens
Design
Whether you stream network music through Roon, Audirvana, JRiver, Tidal Direct, Spotify, your NAS, or any DLNA-compatible server, you will introduce unwanted noise into your sensitive DAC. A USB connection to the computer is by far the noisiest method, followed by a close second via Ethernet or WiFi. What is needed to completely remove this injurious noise is the elimination of any electrical connection between the computer, its network, and your DAC. The PS Audio AirLens has both an input stage and a galvanically isolated reclocking output stage. The two are connected only "through the air." By using separate power supplies, there are no physical ground or signal connections, ensuring 100% isolation and noise-free delivery of perfect digital audio signals.

Application
Eliminating the noisy USB to-computer connection and instead placing the PS Audio AirLens between your home network via Ethernet or WiFi will change forever the performance of streaming music. Once connected to any DAC, the AirLens interface will bring exceptional transparency, resolution, timbral realism, and wide dynamics to any D to A converter. Noise from any number of sources including your computer, long runs of Ethernet cable, EMI interference through WiFi, the system modem and router, all contribute to increased jitter and a general reduction of fidelity in the system. Connecting your DAC via its coax or I2S inputs completely removes the haze and congestion caused by these noise sources.
Features
Whether you choose your streamed music through Roon, Audirvana, JRiver, Tidal Direct, Spotify, or any DLNA-compatible source (like your NAS), the addition of the PS Audio AirLens between the network and your DAC will set a new standard of musicality. Simply connect your network to the AirLens through Ethernet or WiFi, then your DAC to the AirLens through either coax (RCA) or I2S (via an HDMI cable) then sit back and be amazed. The AirLens connects any DAC to the outside world via your home network and protects your sensitive DAC from any unwanted noise from cables, computers, and WiFi. The AirLens will handle PCM up to 384kHz, and DSD up to 256 (4X) in DoP or native. The world of streaming just took a major leap forward in sound quality. We cannot wait for you to experience all that streaming has to offer.
Specifications
NETWORK INTERFACE FOR STREAMING MUSIC
PCM UP TO 352.8kHz
DSD TO 256(4X)
DOP OR NATIVE
GALVANICALLY ISOLATED INPUT TO OUTPUT
LOW JITTER RECLOCKER
DIGITAL LENS OUTPUT
ELIMINATION OF DIGITAL NOISE AND HASH
RCA COAX OUTPUT
I²S OUTPUT
ROON READY
DLNA READY
IMPROVES SOUND QUALITY
ELIMINATES NETWORK AND WIFI NOISE
TIDAL CONNECT
Weight & Dimensions
**Unit Weight:**
- 4.8 lbs [2.2 kg]

**Unit Dimensions:**
- 10" x 7" x 1.5" [25.4 cm x 17.8 cm x 3.8 cm]

**Shipping Weight:**
- 6.8 lbs [3.1 kg]

**Shipping Dimensions:**
- 5.8" x 13.6" x 11.6" [14.6 cm x 34.6 cm x 29.4 cm]

**Color Options:**
- Black
- Silver

**Voltage Options:**
- Universal

**Mains Power Input:**
- 100-240VAC 50-60Hz

**Power Consumption:**
- 5W Typical/10W max

**Accessories Included:**
- Power cord

**Input:**
- 10/100/1000 Ethernet
- 2.4 & 5GHz WIFI

**Audio Outputs:**
- 12s
- S/PDIF Coax

**Features:**
- **Audio Interface:**
- PCM: Up to 352.8kHz/32
- Native DSD up to DSD256 (I2S output)
- DoP (DSD over PCM) up to DSD128 (Coax output)
- **Network Support:**
- WiFi: IEEE 802.11 b/g/n/ac (2.4 & 5GHz dual band)
- 10/100/1000 Ethernet
- **WiFi Setup:**
- WPS
- **Connectivity:**
- DLNA 1.5 & UPnP AV 1.0 Digital Media Renderer
- Spotify Connect
- Roon Ready
- TIDAL Connect
- Qobuz (through Roon)
- Dropbox (through Roon)
- MQA