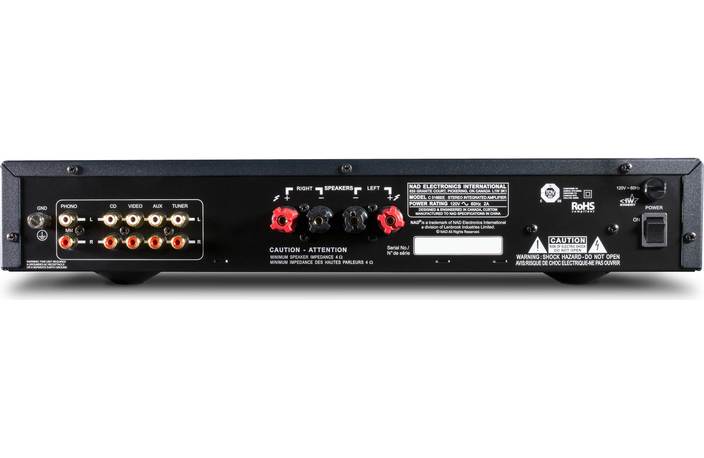 NAD C316BEE V2 Integrated Amplifier
FREE Ground shipping on any order over $600.00! (Some exceptions apply)
If item is in stock, it will ship within 2 business days, please contact the store to ensure availability.
905-881-7109
Info@audioexcellence.ca

NAD has built a remarkable reputation for crafting budget amplifiers that deliver outstanding performance. This legacy traces back to the iconic 3020 amplifier of 1978 and continues with the current C 328, earning numerous accolades, "Best Amp" awards, and glowing five-star reviews. Among these esteemed amplifiers, the C 316BEE exceeded expectations, receiving accolades such as the EISA award for 'Best Product 2008-2009' and high recommendations from leading audio publications worldwide.

In response to the resurgence of vinyl, we have enhanced the design by incorporating NAD's highly acclaimed RIAA phono stage. This sophisticated circuitry combines low noise characteristics with ample overload margins, effectively eliminating noise and distortion. The RIAA equalization is exceptionally precise—an exceptional feature at this price point—and an infrasonic filter is included to reject airborne vibrations that may cause parasitic feedback.

With the inclusion of NAD's renowned RIAA phono stage, the C 316BEE delivers a superior vinyl listening experience. Its accurate reproduction of RIAA equalization ensures faithful playback, while the innovative infrasonic filter maintains clarity by rejecting unwanted vibrations. Experience the NAD commitment to excellence as we continue to create amplifiers that offer exceptional value and performance for music enthusiasts.
Features
LINE IN/HEADPHONE OUT
THD (20 Hz - 20 kHz)
Signal-to-Noise Ratio
Frequency response
Output impedance
LINE IN/SPEAKER OUT
Continuous output power into 8 ohms and 4 ohms
THD (20 Hz - 20 kHz)
Signal-to-Noise Ratio
Clipping power (at 1 kHz 0.1 % THD)
IF dynamic power
Damping factor
Frequency response
<0.03 % in 300 ohms at 2 V out
>100 dB (A weighted, 32 ohms, ref. 2V out, unity gain)
‡0.3 dB (20 Hz - 20 kHz)
68 ohms
40W (ref. 20 Hz-20 kHz at rated THD, both channels driven)
<0.03 % (250 mW to 40 W, 8 ohms and 4 ohms)
>95 dB (A-weighted, 500 mV input, ref. 1 W out in 8 ohms)
>97 dB (A-weighted, 500 mV input, unity gain in 32 ohms)
>45 W in 8 ohms
>60 W in 4 ohms
8 ohms: 90 W
4 ohms: 120 W
2 ohms: 170 W
>200 (ref. 8 ohms, 1 kHz)
10.3 dB (20 Hz - 20 kHz, Tone Defeat ON)
Treble: + 5dB at 10 kHz
Bass: + 8 dB at 100 Hz
>70 dB (1 kHz)
4.3V (1 kHz THD 0.1%)
200 mV
<0.5 W
Channel separation
Maximum input level
Input sensitivity (for 40 W in 8 ohms)
Standby power
PHONO IN/SPEAKER OUT
THD (20 Hz - 20 kHz)
Signal-to-Noise Ratio
Frequency response (RIAA deviation)
<0.03 % (1 W to 40 W, 8 ohms and 4 ohms)
>75 dB with IHF MM cartridge (A-weighted, ref. 5mV input 1 kHz and 1W output in 8 ohms)
‡0.3 dB (20 Hz - 20 kHz, Tone Defeat ON)
Note: The RIAA response is consistent with a pre-emphasis that is rolled off at 50kHz by a second order filter, such as used in Neumann cutting lathes.
Maximum input level
Input sensitivity (for 40 W in 8 ohms)
71 mV (1 kHz THD 0.1%)
2.95 mV

Weight & Dimensions
Gross dimensions (W x H x D) 17 1/8 x 3 9/16 x 11 1/4 inches
435 x 90 x 285 mmNet

weight 5.5 kg (12.1 lbs)

Shipping weight 6.4 kg (14.1 lbs)