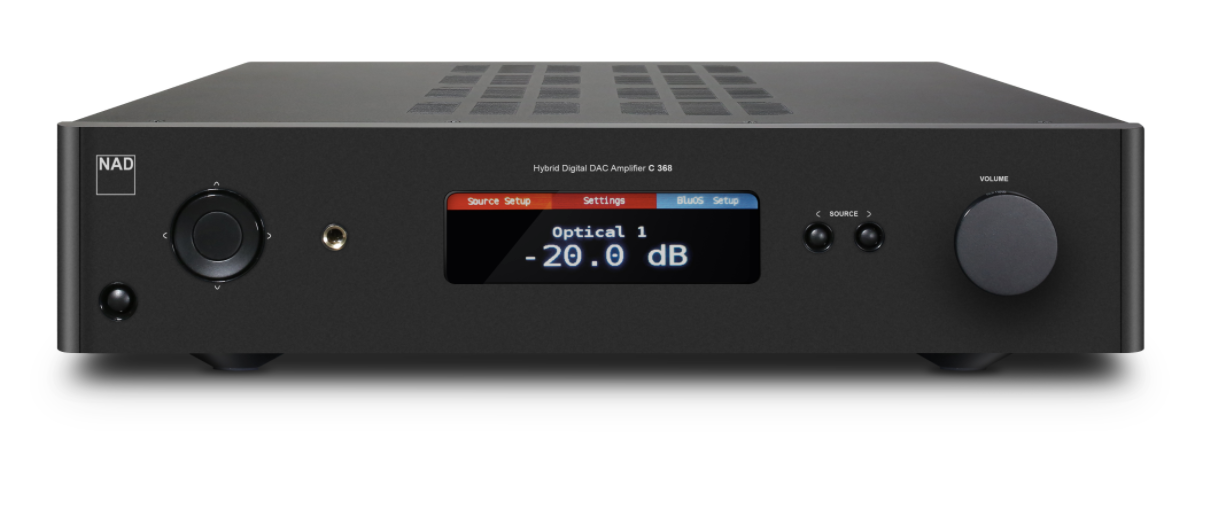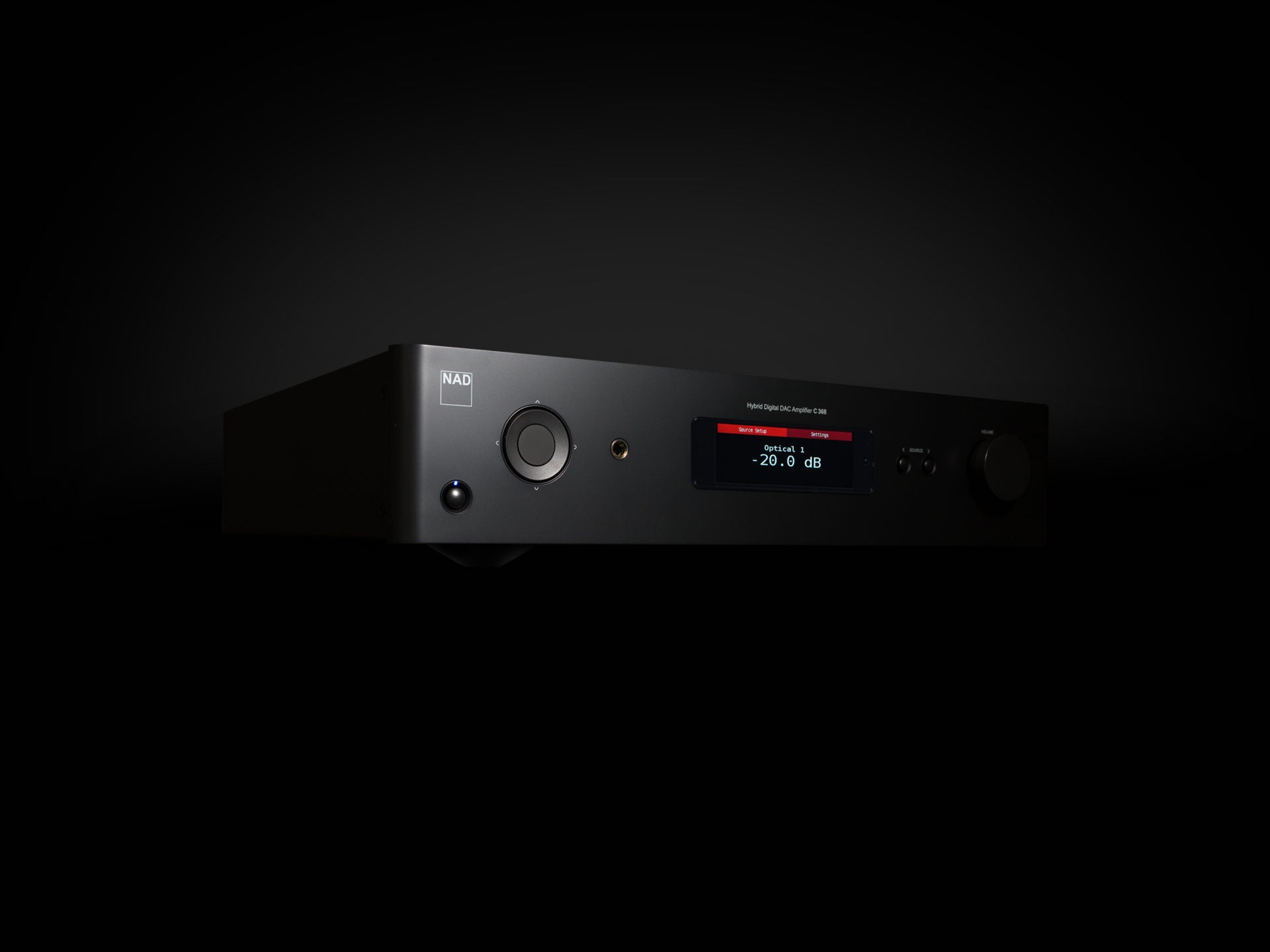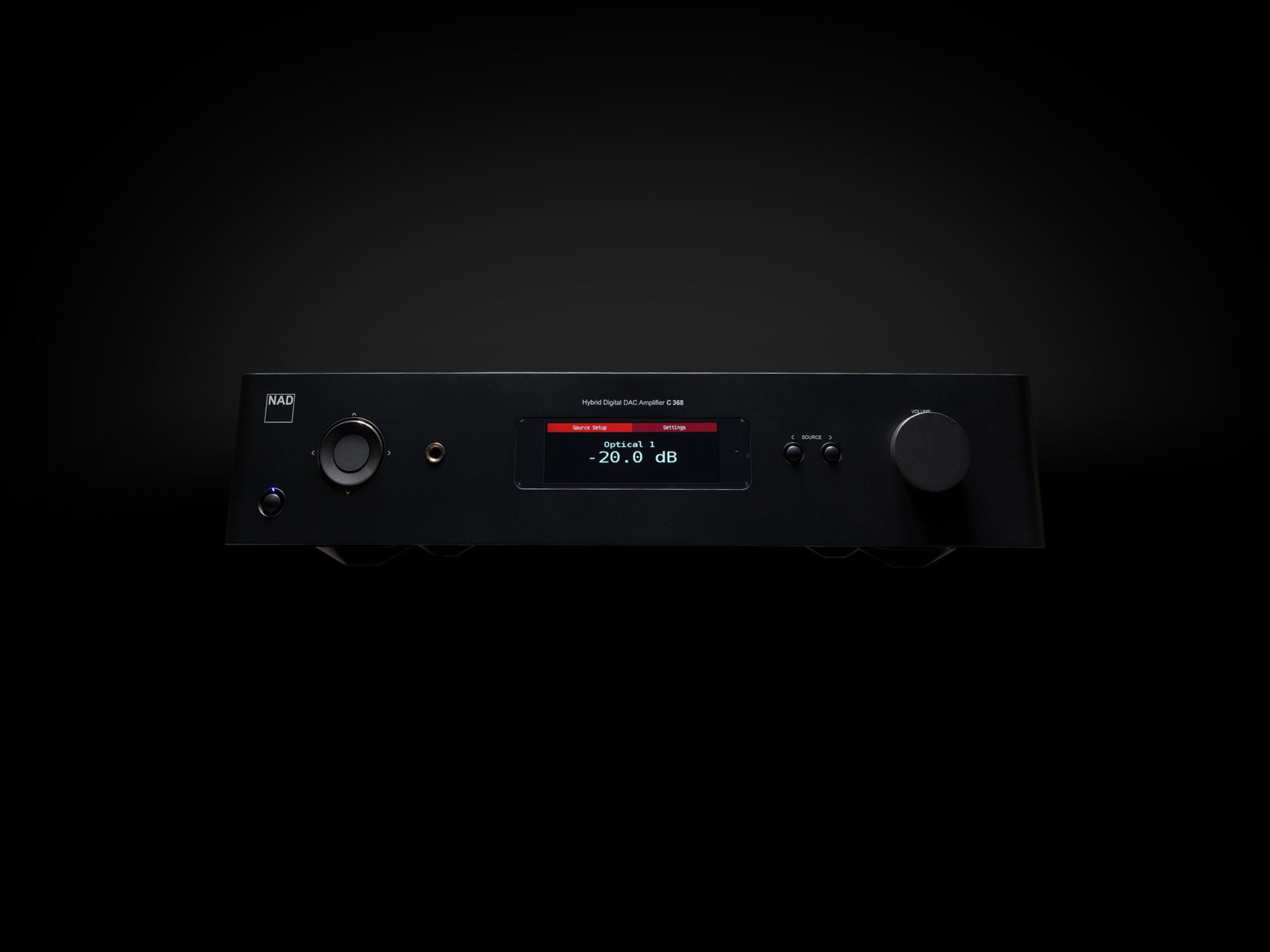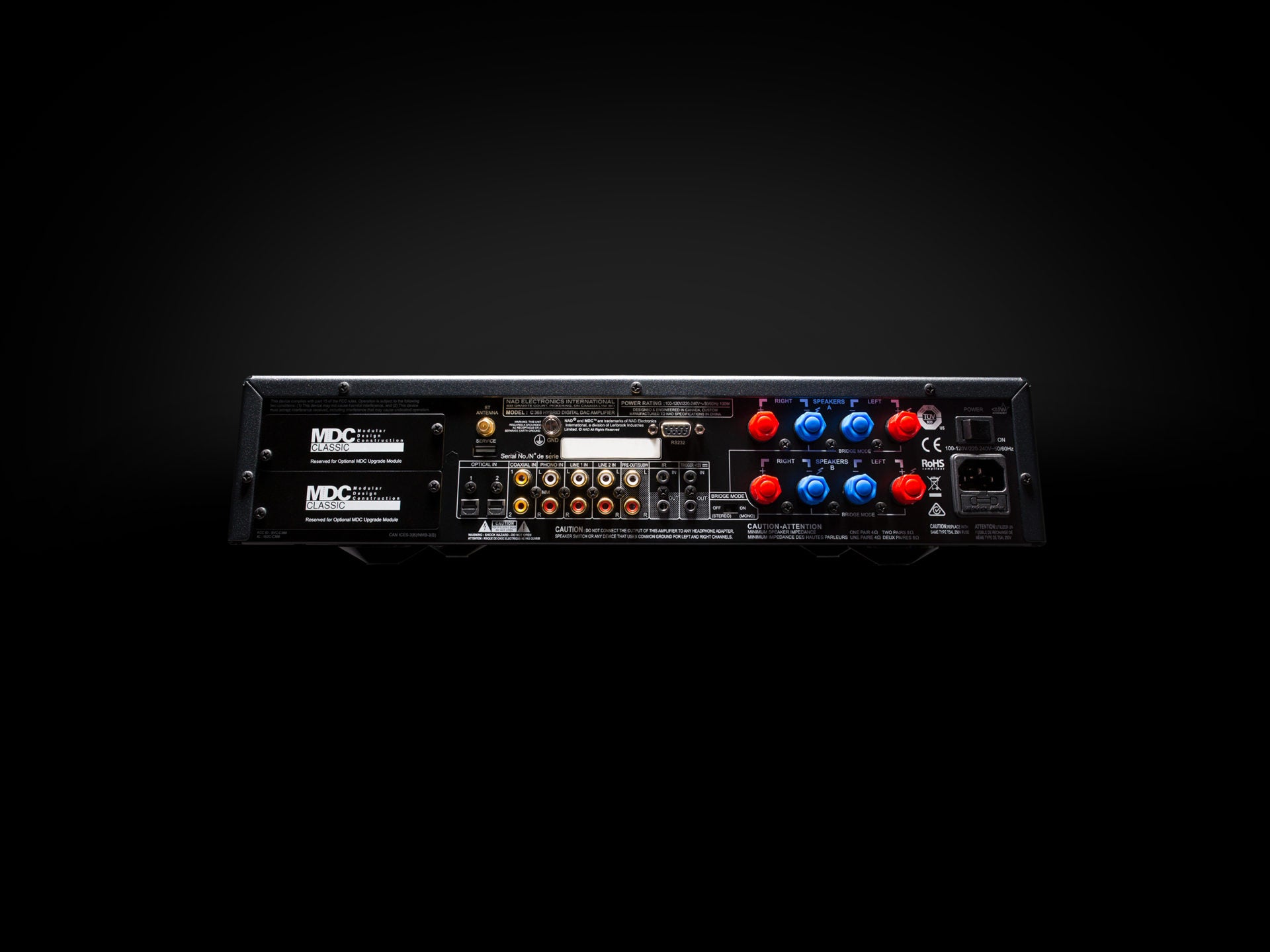 NAD C 368 Hybrid Digital DAC Amplifier
FREE Ground shipping on any order over $600.00! (Some exceptions apply)
If item is in stock, it will ship within 2 business days, please contact the store to ensure availability.
905-881-7109
Info@audioexcellence.ca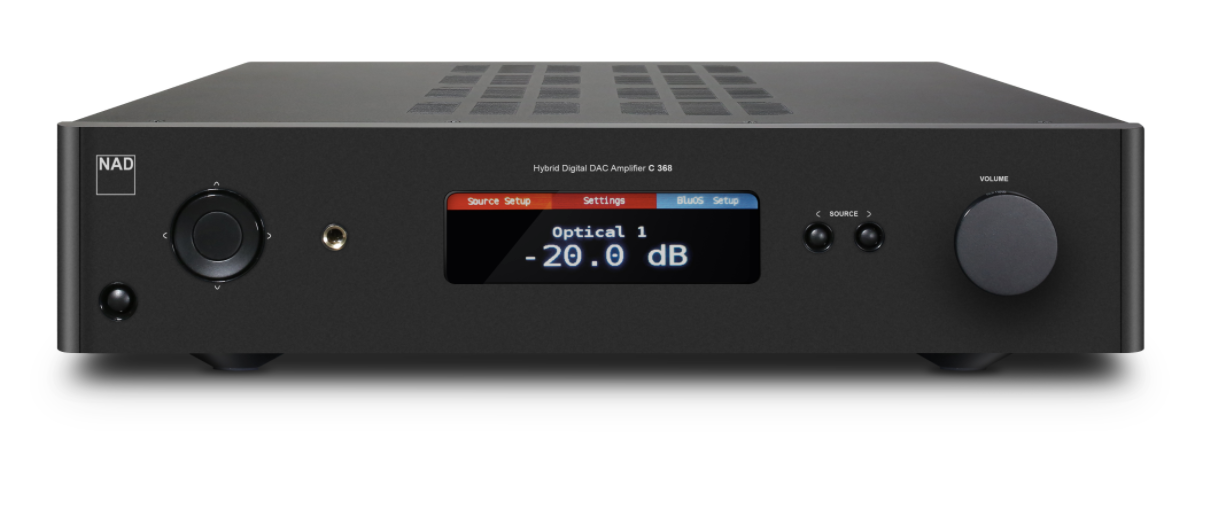 NAD C 368
Experience the cutting-edge capabilities of the C 368 Hybrid Digital DAC Amplifier, ensuring that your home audio system stays ahead of the curve. With NAD's innovative Modular Design Construction (MDC) technology, the C 368 offers unparalleled customization and future-proofing. You can easily adapt to upcoming features and upgrades, guaranteeing your system remains up to date.

By adding the optional BluOS® module, the C 368 opens up a world of possibilities. It seamlessly connects to your network, allowing control via your smartphone, tablet, or desktop. Enjoy the convenience of wireless multi-room High-Resolution Audio by connecting with other BluOS Enabled devices. Furthermore, Bluetooth connectivity enables instant wireless streaming from any Bluetooth Enabled device. Vinyl enthusiasts can even incorporate a turntable into their setup.

The C 368 represents a modern approach to amplification, perfectly catering to the preferences of music lovers. Its versatility, advanced features, and uncompromising performance make it the ultimate amplifier for elevating your music listening experience.
Features
Key Features
80W x 2 Continuous power into 8 or 4 Ohms
Bluetooth A2DP with aptX supported
MM Phono input
Analogue line inputs
SPDIF coax and optical inputs
Speaker A, Speaker B
Stereo or Bridge mode configuration
Preamp/Subwoofer out
Headphone amplifier
MDC Slots for future upgrades
IR Remote
Smartphone Control App
12V Trigger in/out
IR in/out
RS-232 Serial port for control
Control4, Crestron, RTI, URC, AMX, Savant, Elan certified
Preamplifier
Line Input, Pre Out

THD (20Hz-20kHz)
<0.005% at 2V out
Signal/Noise Ratio
>106dB (IHF; A-weighted, ref. 500mV out, unity gain)
Channel Separation
>80dB (1kHz); >70dB (10kHz)
Input Impedance (R and C)
22 kilohm + 100pF
Maximum Input Signal
>4.5Vrms (ref. 0.1% THD)
Output Impedance
Source Z + 240 Ohm
Input Sensitivity
93mV (ref. 500mV out, Volume maximum)
Frequency Response
±0.03dB (20Hz-20kHz)
Maximum voltage output – IHF load
>4.5V (ref. 0.1% THD)
Tone Controls
Treble: ±7.0dB at 20kHz
Bass: ±7.0dB at 60Hz
Balance: -10dB
Phono Input, Pre Out

THD (20Hz-20kHz)
<0.01% at 2V out
Signal to Noise Ratio
>84dB (200 Ohm source; A-weighted, ref. 500mV out)
>76dB (MM cartridge source, IHF; A-weighted, ref. 500mV out)
Input Sensitivity
1.44mV (ref. 500mV out, Volume maximum)
Frequency Response
±0.3dB (20Hz-20kHz)
Maximum Input Signal at 1kHz
>80mVrms (ref. 0.1% THD)
Line Input, Headphone Out

THD (20Hz-20kHz)
<0.005% at 1V out
Signal/Noise Ratio
>110dB (32 Ohm loads; A-weighted, ref. 2V out, unity gain)
Frequency Response
±0.3dB (20Hz-20kHz)
Channel Separation
>60dB at 1kHz
Output Impedance
6 Ohms
General Specifications
Continuous Output Power into 4 Ohms and 8 Ohms (Stereo)
>80W (ref. 20-20kHz at rated THD, both channels driven)
Continuous Output Power into 8 Ohms (Bridge Mode)
300W (at 20-20kHz at THD 0.03%)
THD (20Hz-20kHz)
<0.03% (250mW to 80W, 8 Ohms and 4 Ohms)
Signal to Noise Ratio
>98dB (A-weighted, 500mV input, ref. 1W out in 8 Ohms)
Clipping Power
>95W (at 1kHz 0.1% THD)
Clipping Power (Bridge Mode)
>315W (at 1kHz 0.1% THD)
IHF Dynamic Power
8 Ohms 120W
4 Ohms 200W
2 Ohms 250W
IHF Dynamic Power (Bridge Mode)
8 Ohms 500W
4 Ohms 560W
Peak Output Current
>20A (in 1 Ohm, 1ms)
Damping Factor
>300 (ref. 8 Ohms, 20Hz and 6.5kHz)
Frequency Response
±0.3dB (20Hz-20kHz)
Channel Separation
>75dB (1kHz)
>70dB (10kHz)
Input Sensitivity (for 80W in 8 Ohms)
Line In: 470mV; Digital In: 21% FS
Sample Rate
up to 24 bit/192kHz
Frequency Band
2.402G-2.480G
Maximum Transmit Power (dBm)
7dBm ±2dBm
Power Consumption
at Auto Standby ON and Network Standby OFF
0.5 Watts*
at Auto Standby ON and Network Standby ON
1.2 Watts**
OFF mode (Power switched OFF)
0.1 Watts
Weight & Dimensions
Gross Dimensions (W x H x D)*
435 x 100 x 390mm (17 1/8 x 3 15/16 x 15 3/8)"
Net Weight
7.8kg (17.2lb)
Shipping Weight
10.1kg (22.3lb)


*Gross dimensions include feet, extended buttons and rear panel terminals