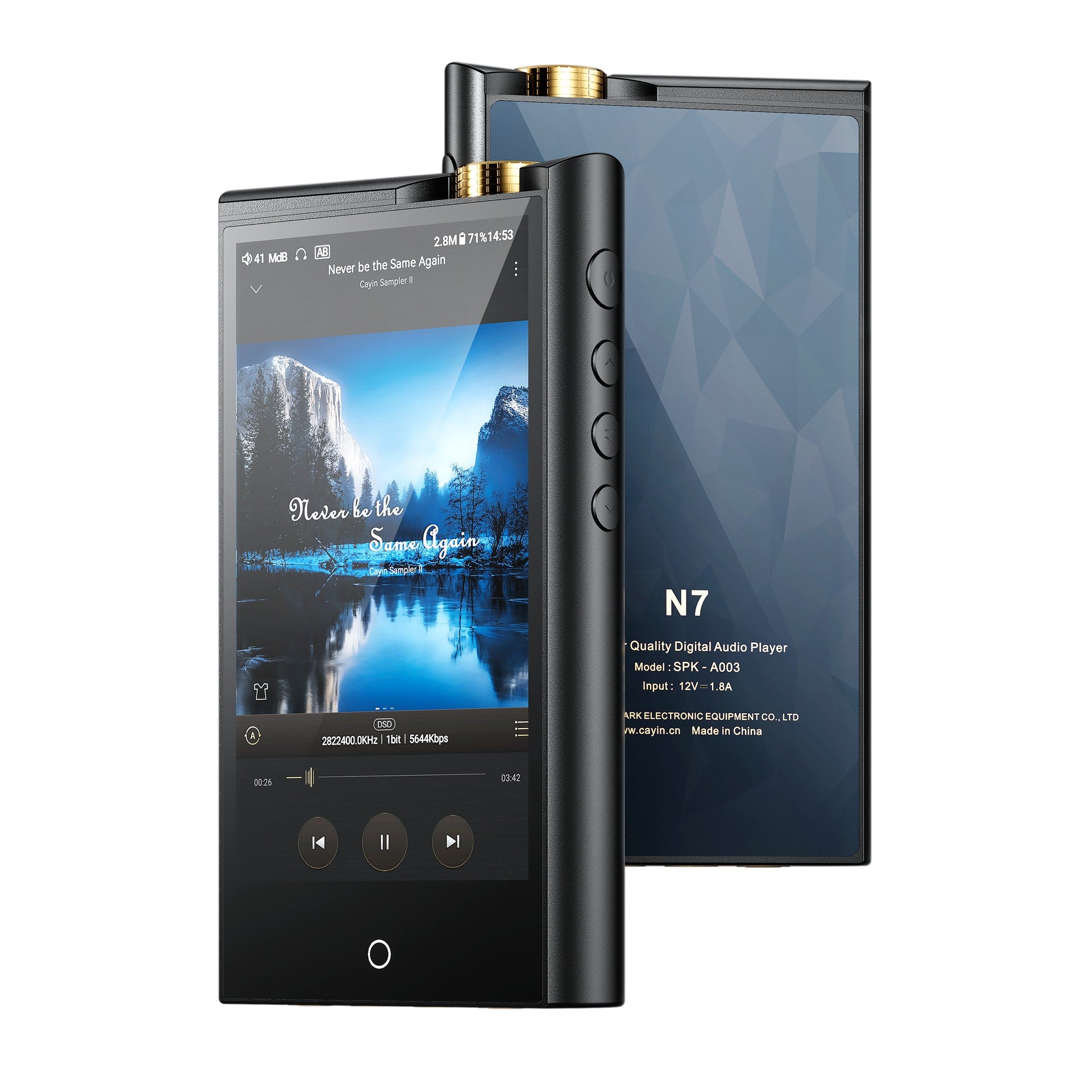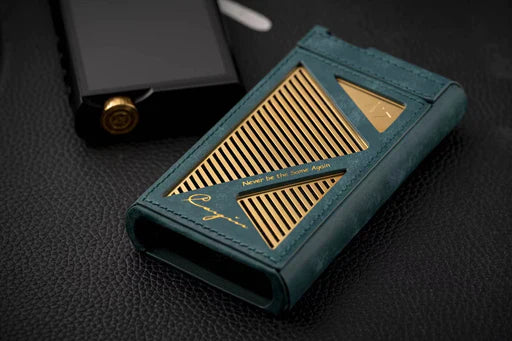 Cayin N7 Digital Audio Player
FREE Ground shipping on any order over $600.00! (Some exceptions apply)
If item is in stock, it will ship within 2 business days, please contact the store to ensure availability.
905-881-7109
Info@audioexcellence.ca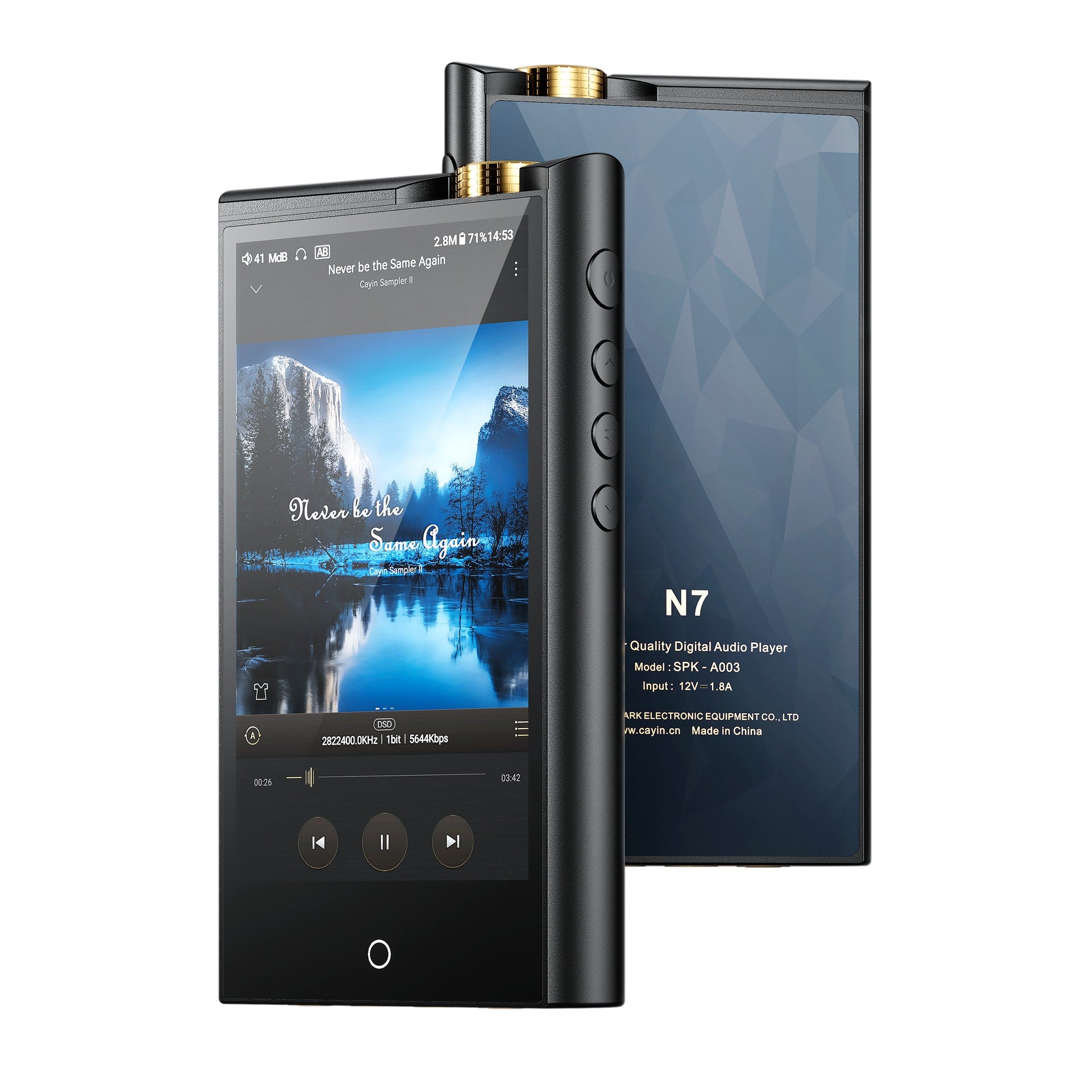 Unlock a new realm of portable audio with the Cayin N7, the world's first fully-discrete audio player featuring a fully-balanced design. Experience audio purity like never before as the N7's meticulous engineering minimizes interference, ensuring your music retains its pristine quality. Its Pure 1-Bit DSD DAC, with 128 high-precision resistors and FPGA enhancement, delivers a natural, rich sound, whether you're playing DSD or PCM files.

The Cayin N7's 4-channel discrete headphone amp circuit offers Class A/AB dual-operational modes, delivering high-power, low-noise output ideal for sensitive IEMs. With independent ports for headphone output and line-out/pre-out, versatile digital output options, and precise JRC electronic volume control, it adapts effortlessly to various setups. Embrace true high-resolution audio, supporting formats up to 32-bit/768kHz PCM, native DSD512, and MQA unfolding, all complemented by top-tier Bluetooth connectivity. Powered by Qualcomm's Snapdragon 665 SoC chipset, the N7 runs on an open Android 12 OS, expanding your horizons with endless media applications and systemwide high-resolution decoding. Upgrade your portable audio experience with the Cayin N7 today.
Weight & Dimensions
MCU: Snapdragon 665
System: Customized Android 12
Display: 5" (1080 × 1920) TFT multi-point touch screen
Google Play: Preinstalled
Lossless Audio: DA bypass Android SRC
Memory: 4GB LPDDR4 RAM
Storage: 64GB Internal Storage, TF x1 (supports up to 1TB)
Wi-Fi: 2.4G/5G IEEE 802.11a/b/g/n/ac
Bundled Player: Cayin Music; HiByMusic (HiByCast supported)
Bluetooth: BTv5.0 with LDAC, UAT, AAC, SBC
Smart LED: Multi-Color
Battery: 3.8V 9000mAh (34.2Wh)
Dimension: 142 x 77.8 × 22.2 (mm)
Audio Features:

DSD Direct Pass-Through
PCM Transcode to DSD512
FPGA Re-Clock, De-Jitter, Re-Shaping
DAC: Fully Balanced Discrete 1-Bit Resistor Network DSD DAC
LPF: Discrete BJT Circuit
Volume Control: 4 Channels Electronic (Headphone Amp)
Phone Out: 3.5mm (Single-Ended), 4.4mm (Balanced)
Line Out: 3.5mm (Single-Ended) and 4.4mm (Balanced)
Digital Interface: I2S, USB Audio (in and out), SPDIF Coaxial (USB-embedded)
USB Type-C: USB3.1, OTG Storage, Digital Audio (Note: QU2/3 not supported)
Physical Control: Volume Knob, Power On/Off, Playback Control Buttons
Chassis: Sandblasted CNC Aluminum
Net Weight: ~380g