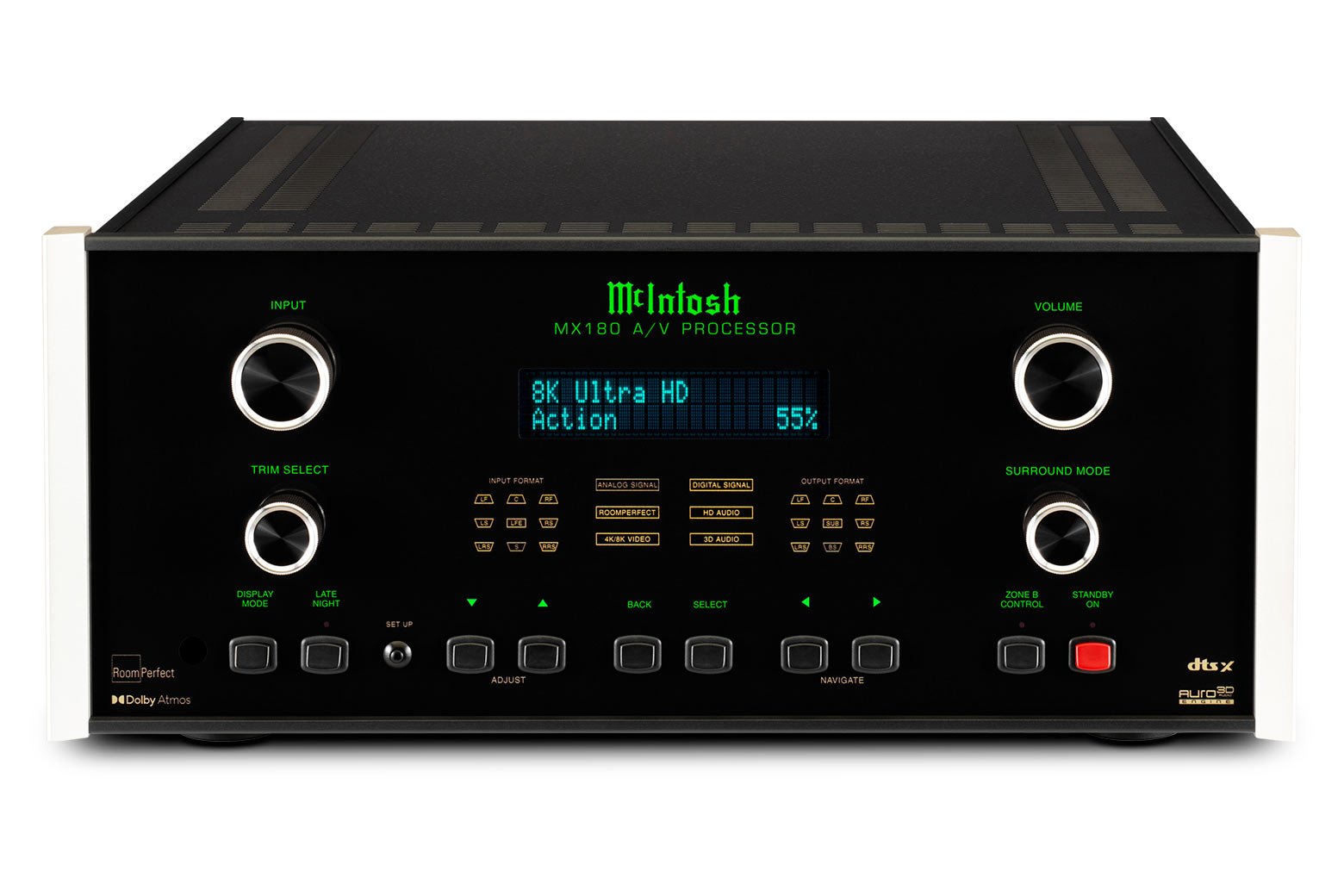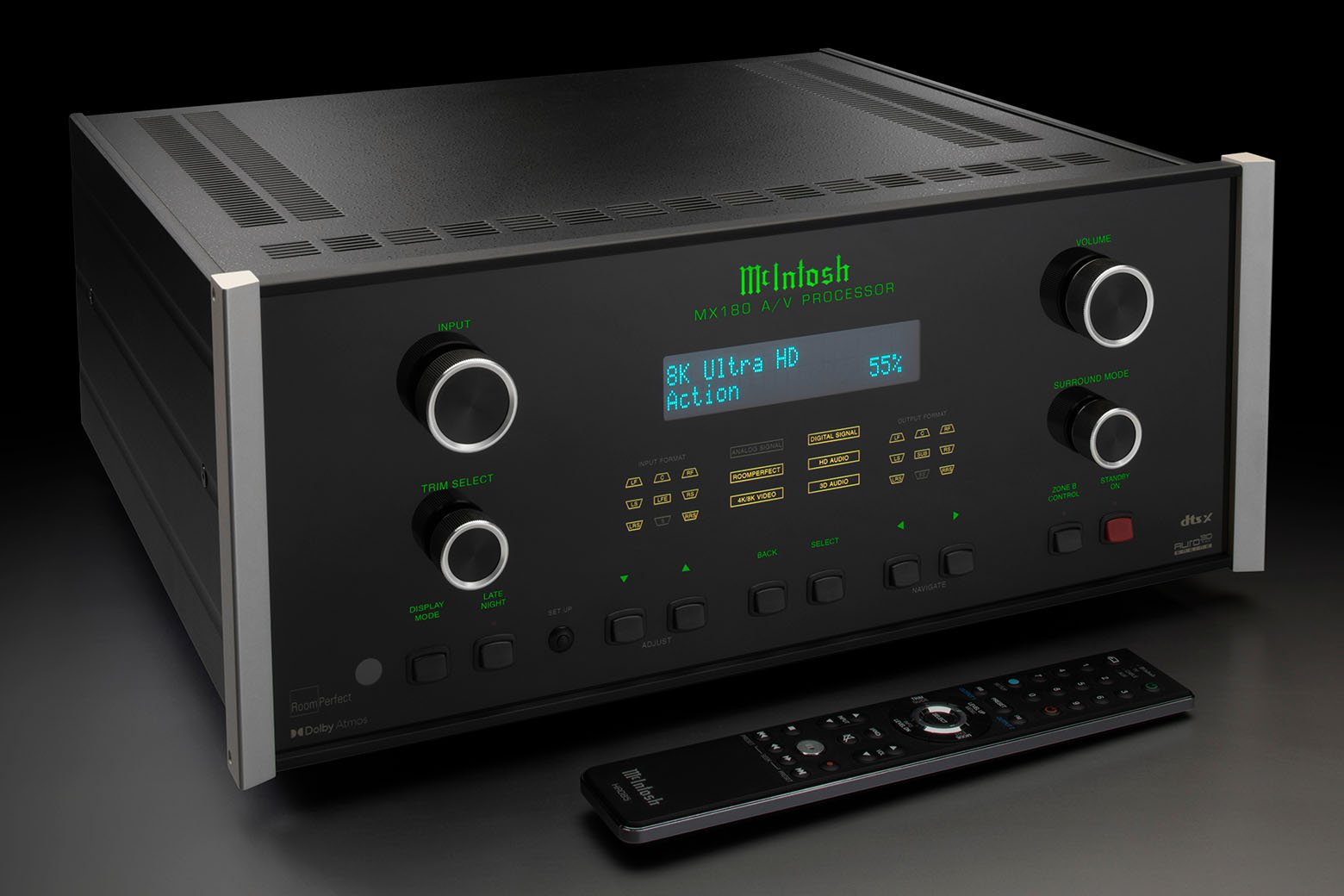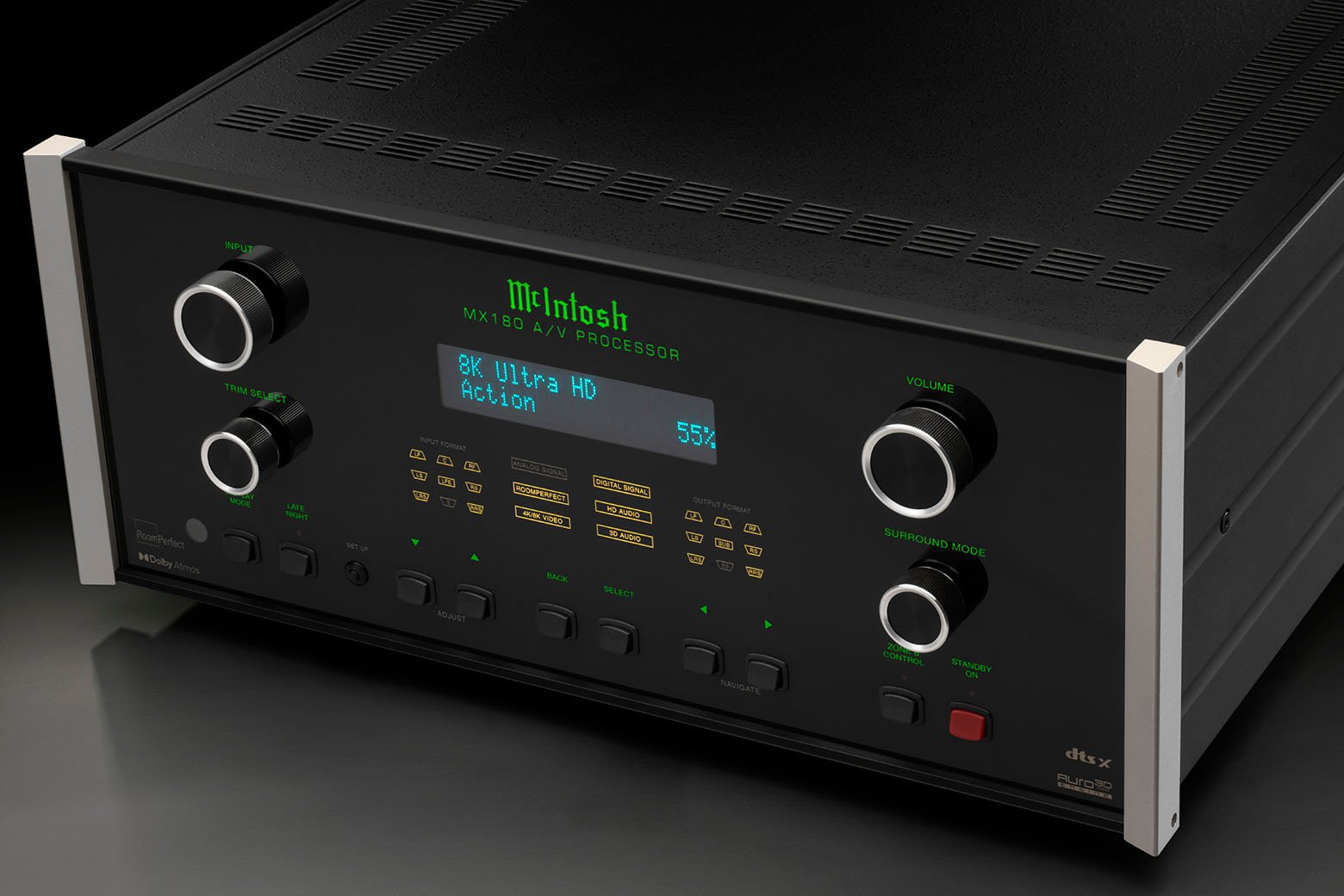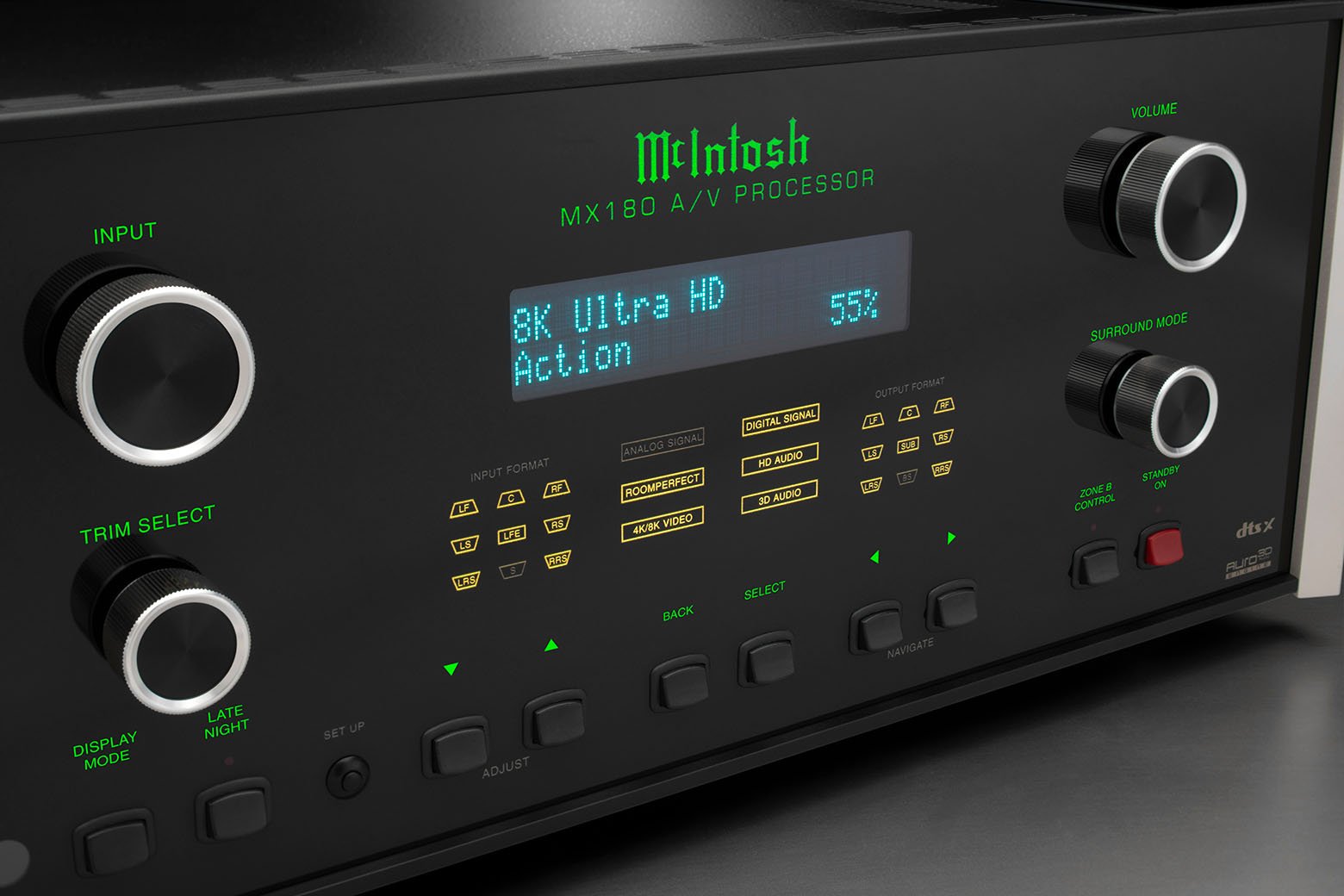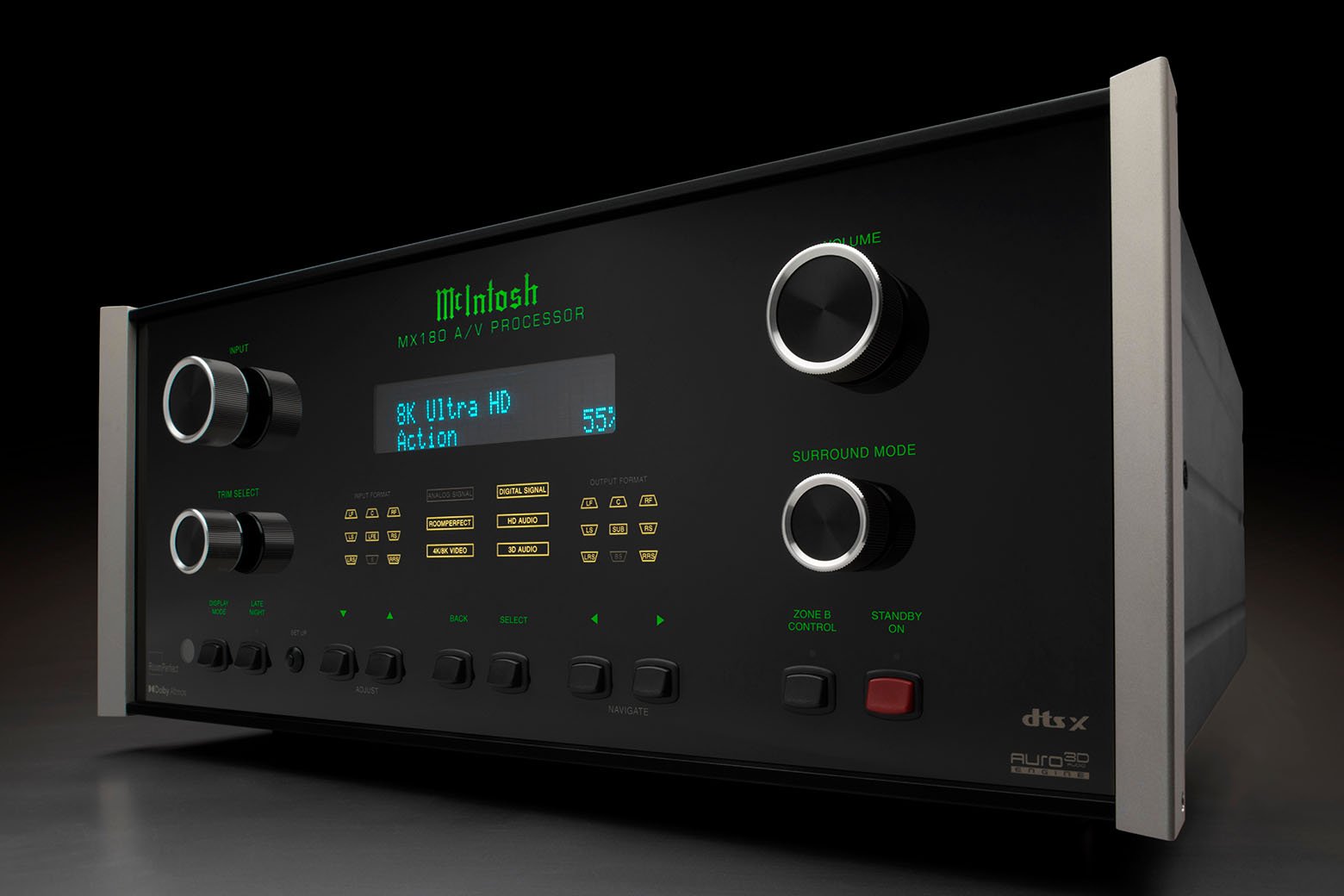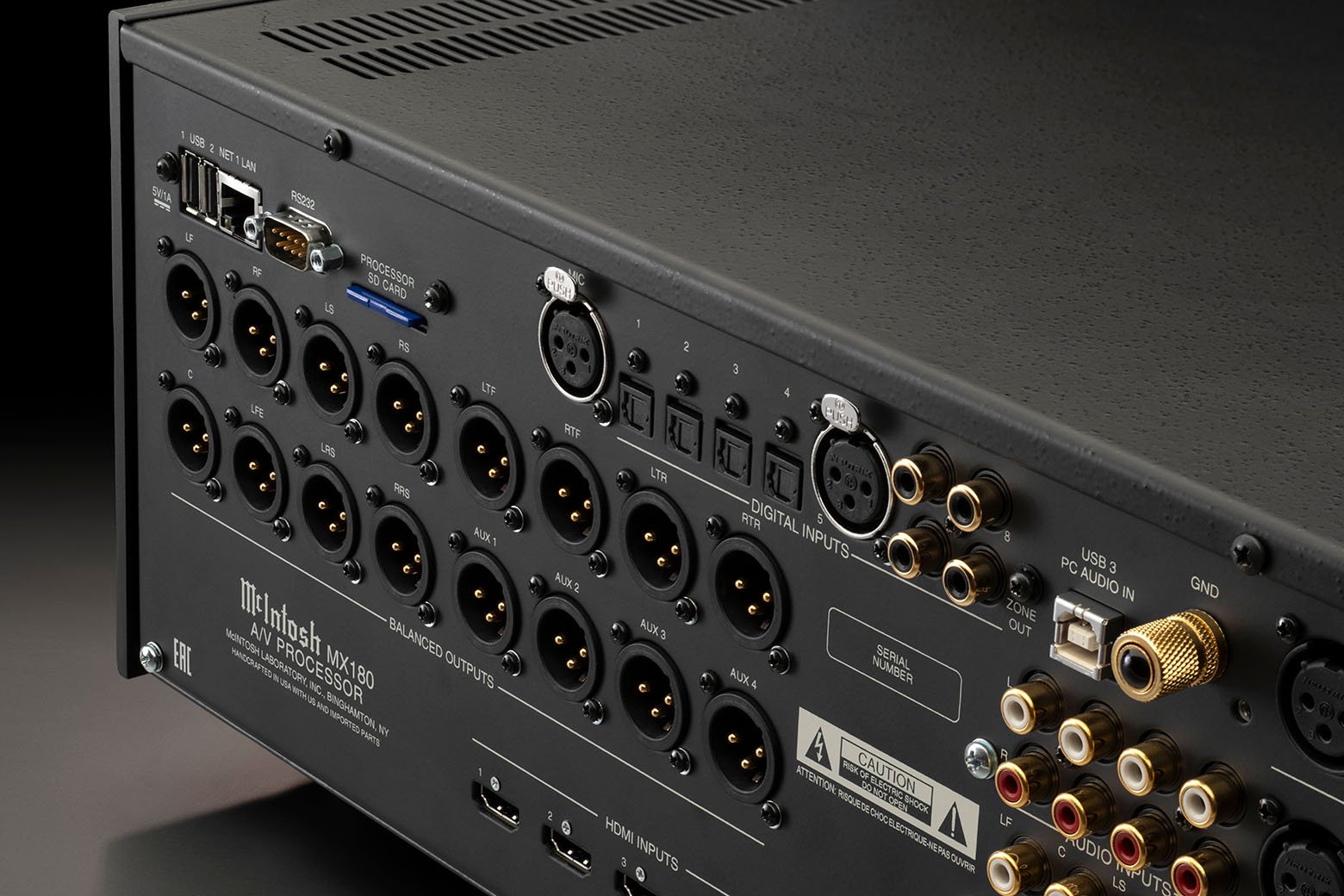 McIntosh MX180 A/V Processor (In-Store Purchases Only & USD Pricing)
FREE Ground shipping on any order over $600.00! (Some exceptions apply)
If item is in stock, it will ship within 2 business days, please contact the store to ensure availability.
905-881-7109
Info@audioexcellence.ca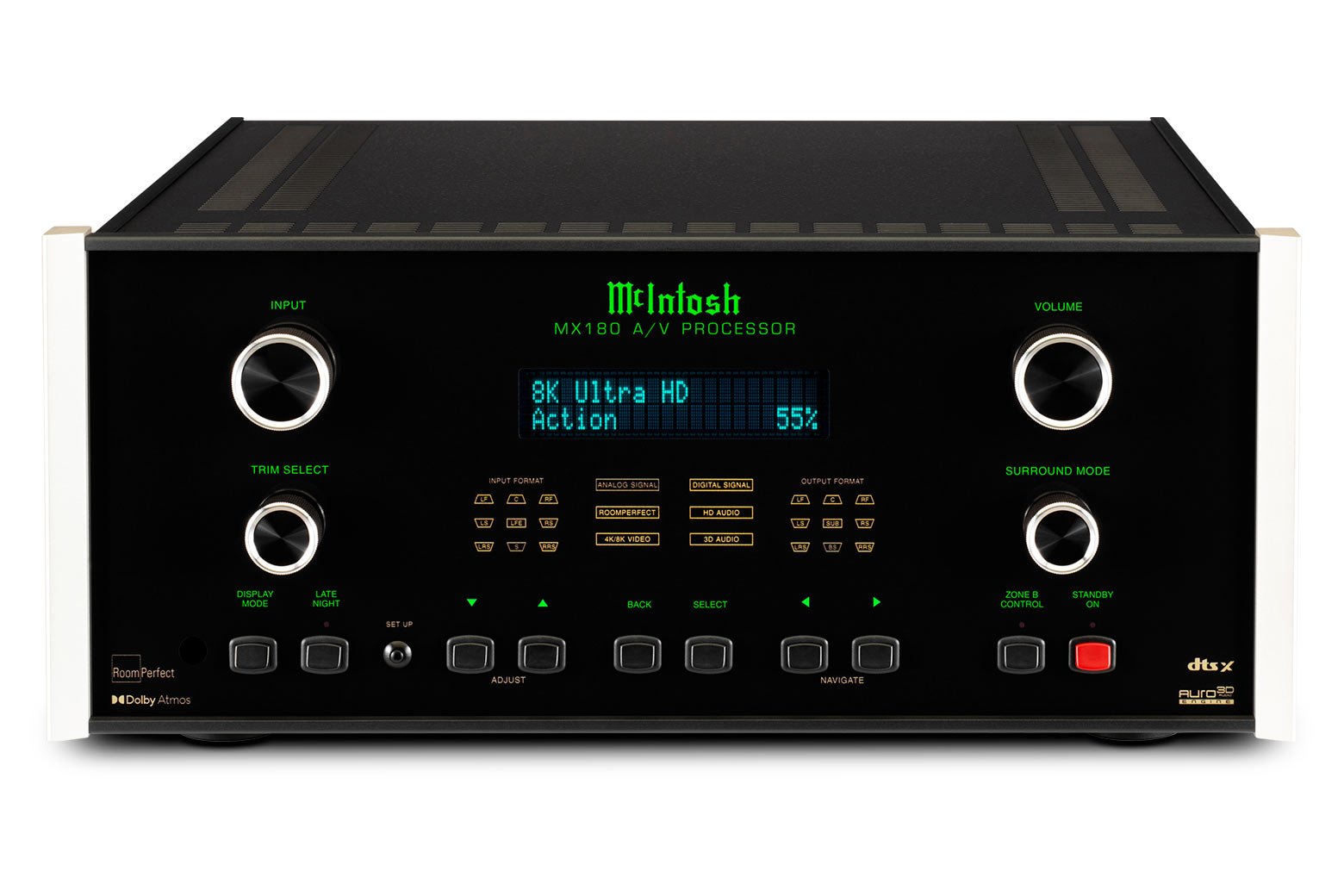 McIntosh MX180 A/V Processor (In-Store Purchases Only)
THE PRICE SHOWN IS IN USD.

Step into the future of home theater with the McIntosh MX180 A/V Processor. Designed to deliver a truly immersive cinematic experience, this advanced processor supports breathtaking 8K/60Hz and 4K/120Hz video resolutions, while offering compatibility with leading surround sound formats such as Dolby Atmos, DTS:X Pro, and Auro-3D. With its powerful processing capabilities and extensive customization options, the MX180 ensures that you can fully enjoy both current and future home theater content.

Equipped with 7 Ultra High Speed HDMI ports, the MX180 supports HDCP 2.3, 4:4:4 Color, Rec. 2020, and Dynamic Lip-sync, delivering exceptional video performance. The HDMI outputs can simultaneously display the same source material on two separate screens or output different content from two different sources to individual screens. Embrace high dynamic range technology with support for HDR formats like HDR10+, HLG, and Dolby Vision, allowing for precise control over depth, brightness, contrast, and color on a scene-by-scene basis.

Enhanced HDMI video features, including Auto Low Latency Mode, Quick Frame Transport, and Variable Refresh Rate, enhance gaming performance by reducing lag, stutter, and frame tearing, resulting in smooth and immersive gameplay experiences. Immerse yourself in lifelike sound with compatibility for Dolby Atmos, DTS:X Pro, and Auro-3D, creating a captivating audio environment that places you at the center of the action. Benefit from Audio Return Channel (ARC) and Enhanced Audio Return Channel (eARC) functionality, enabling high-resolution audio formats to be transmitted through the HDMI cable for superior sound quality.

The MX180 offers a comprehensive range of digital and analog inputs, including optical, coaxial, USB, balanced (AES/EBU), and analog audio inputs. It supports up to 16 channels of discrete decoding and features balanced outputs for popular surround sound configurations. Experience optimized audio performance with RoomPerfect room correction technology, which adjusts the audio output based on the acoustic properties of your space. Customizable naming, volume matching, and bass and treble controls provide further audio refinement.

With its sleek black glass front panel, illuminated logo, and custom aluminum end caps, the MX180 exudes timeless McIntosh style. It runs cool thanks to advanced processing power and features an intuitive setup program for easy customization. Pair it with McIntosh amplifiers and speakers to create a complete home theater system that delivers uncompromising audio and video performance.

Experience the ultimate in home theater entertainment with the McIntosh MX180 A/V Processor.
Features
CONNECTIVITY
Multi-Channel Outputs Balanced
15.1
Multi-Channel Inputs Unbalanced
7.1
Multi-Channel Outputs Unbalanced
0
Stereo Inputs Balanced
2
Stereo Inputs Unbalanced
5
(including 1 Moving Magnet Phono)
Stereo Outputs Unbalanced
1 (Zone B)
Digital Coaxial Input
3
Digital Coaxial Output
1 (Zone B)
Digital Optical Input
4
AES/EBU Balanced Input
1
HDMI Input
5
HDMI Output
2
USB
2 Type A
1 Type B for digital audio (2.0, 24-bit/192kHz Asynchronous)
Component Input
0
Component Output
0
Composite Input
0
Composite Output
0
Subwoofer 2 Output
4 auxiliary outputs
Network Connection
1
Max # of audio channels in Zone A
16
Additional Zone Outputs
Zone B: Analog and digital audio outputs
Advanced Connections
Ethernet Web interface and firmware update, IP-based control
HDMI FEATURES
Resolution and Refresh Rates
8K/60Hz and 4K/120Hz
HDCP
2.3
4:4:4 Color
Yes
Rec. 2020 (BT.2020)
Yes
3D video pass-through
Yes
Dynamic Lip-sync
Yes
ARC
Yes (on 1 output)
eARC
Yes (on 1 output)
Video Scaling
No
High Dynamic Range (HDR)
HDR (static HDR), Dynamic HDR, HDR10+, HLG, Dolby Vision (including low latency)
Quick Media Switching (QMS)
Yes
Auto Low Latency Mode (ALLM)
Yes
Quick Frame Transport (QFT)
Yes
Variable Refresh Rate (VRR)
Yes
PROCESSING
Total Harmonic Distortion (DSP Bypass)
0.005%
Dolby Processing
Dolby Atmos, Dolby Surround Upmixer
DTS Processing
DTS-X Pro, Neural:X Surround Upmixer
Auro Processing
Auro 3D, Auro-Matic, Auro 9.1, 10.1, 11.1
Pure Stereo DSP Bypass Mode
No
MPEG-H Audio
No
360 Reality Audio
No
IMAX Enhanced
No
Room Correction
RoomPerfect
CONTROL
Third Party Control
RS232, Web IP, IR Input
Tone Controls
Bass and Treble with adjustable frequency
OSD Overlay on HDMI Output
No
Input-Output Format Indicators
9 in and 9 out
Control of McIntosh Sources
Yes, wired with data cables
GENERAL SPECIFICATIONS
Channel Formats
15.1, 11.1 (7.1.4), 7.1, 5.1, Stereo
Microphone and stand included
Yes
Network Features
Ethernet Control and Setup
Unique Crossover Frequency, Each Speaker
Yes
Special Features
Up to 64 input capability, 4 assignable auxiliary channels
Specifications
7 HDMI ports: 8K/60Hz & 4K/120Hz; HDCP 2.3; Rec. 2020; 4:4:4 color spacing; Dynamic Lip-sync
HDR (static HDR); Dynamic HDR; HDR10+; HLG; Dolby Vision
Quick Media Switching; Auto Low Latency Mode; Quick Frame Transport; Variable Refresh Rate
15.1 Audio Channels; eARC/ARC
Dolby Atmos; DTS:X Pro; Auro-3D
RoomPerfect Room Correction
Up to 64 input capability
Weight & Dimensions
Unit Dimensions (W x H x D)
17-1/2" (44.45cm) x 7-5/8" (19.4cm) x 16-1/2" (41.9cm)
Unit Weight
30 lbs (13.6 kg)
Shipping Weight
54 lbs (24.5 kg)