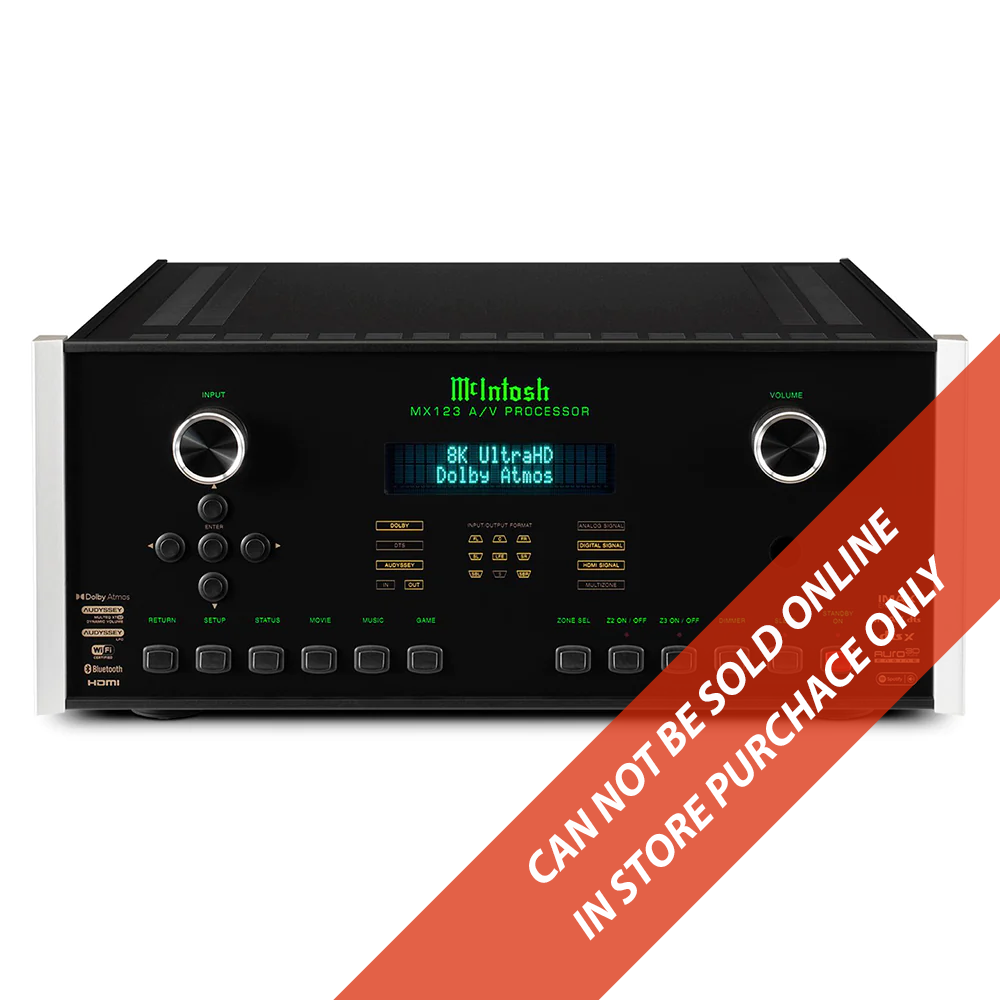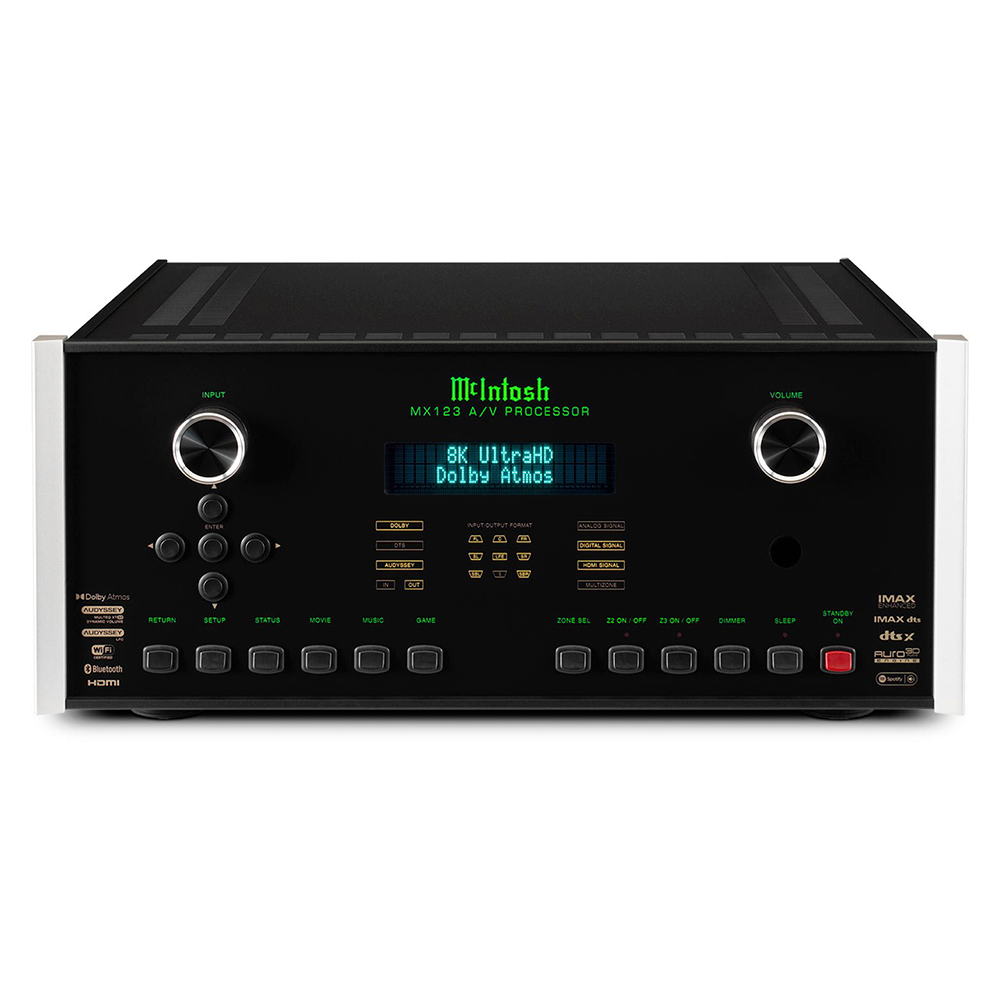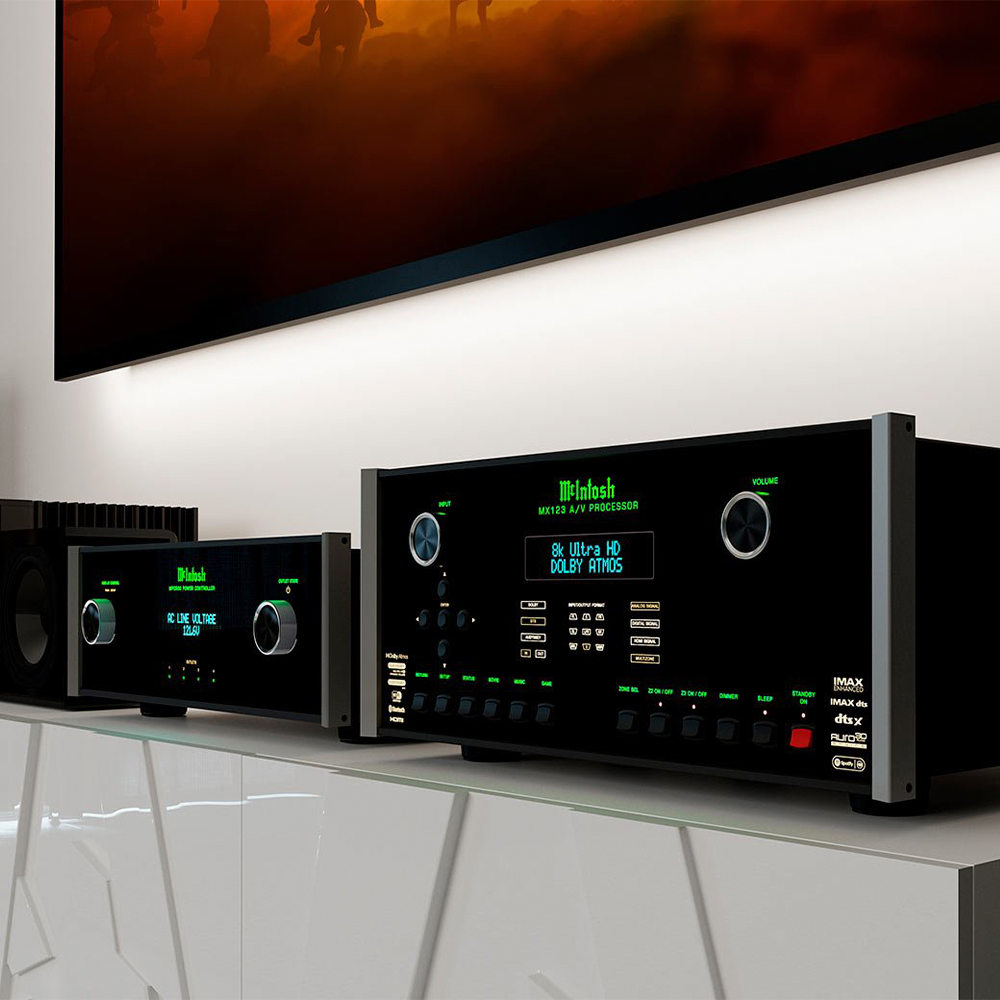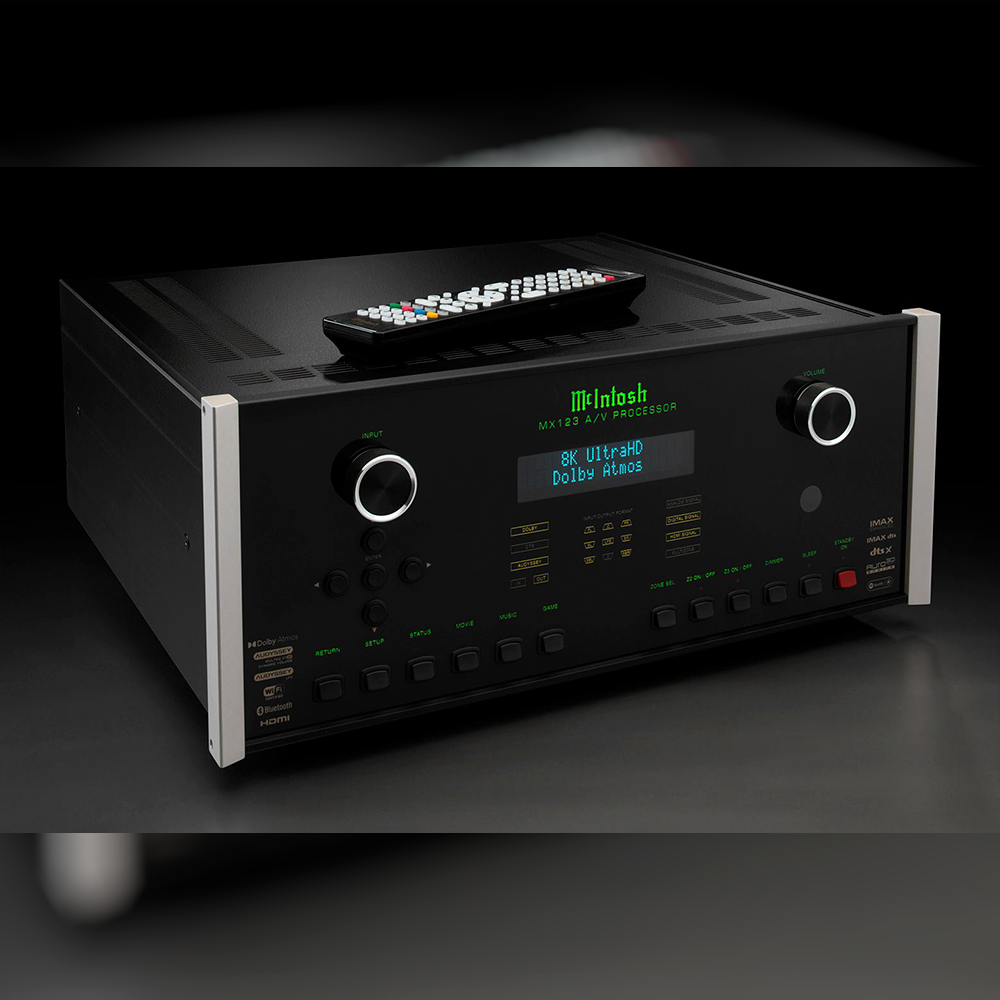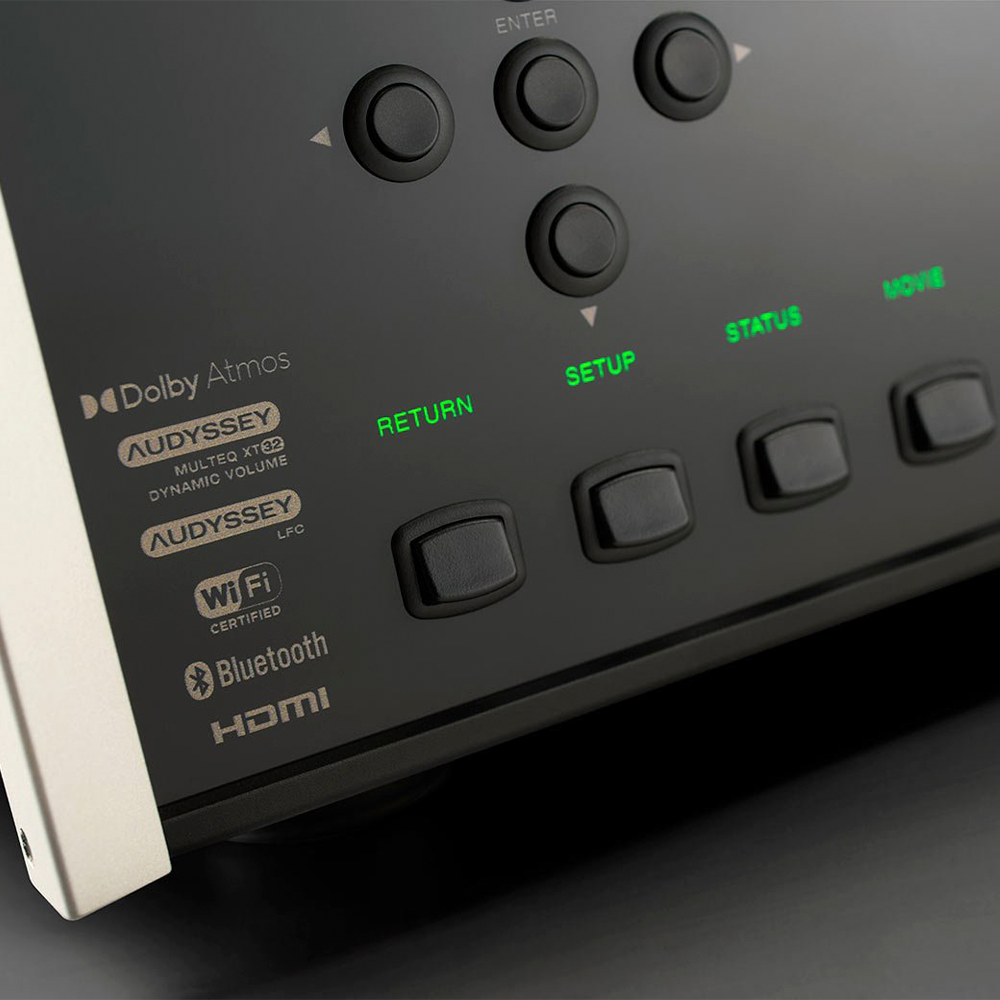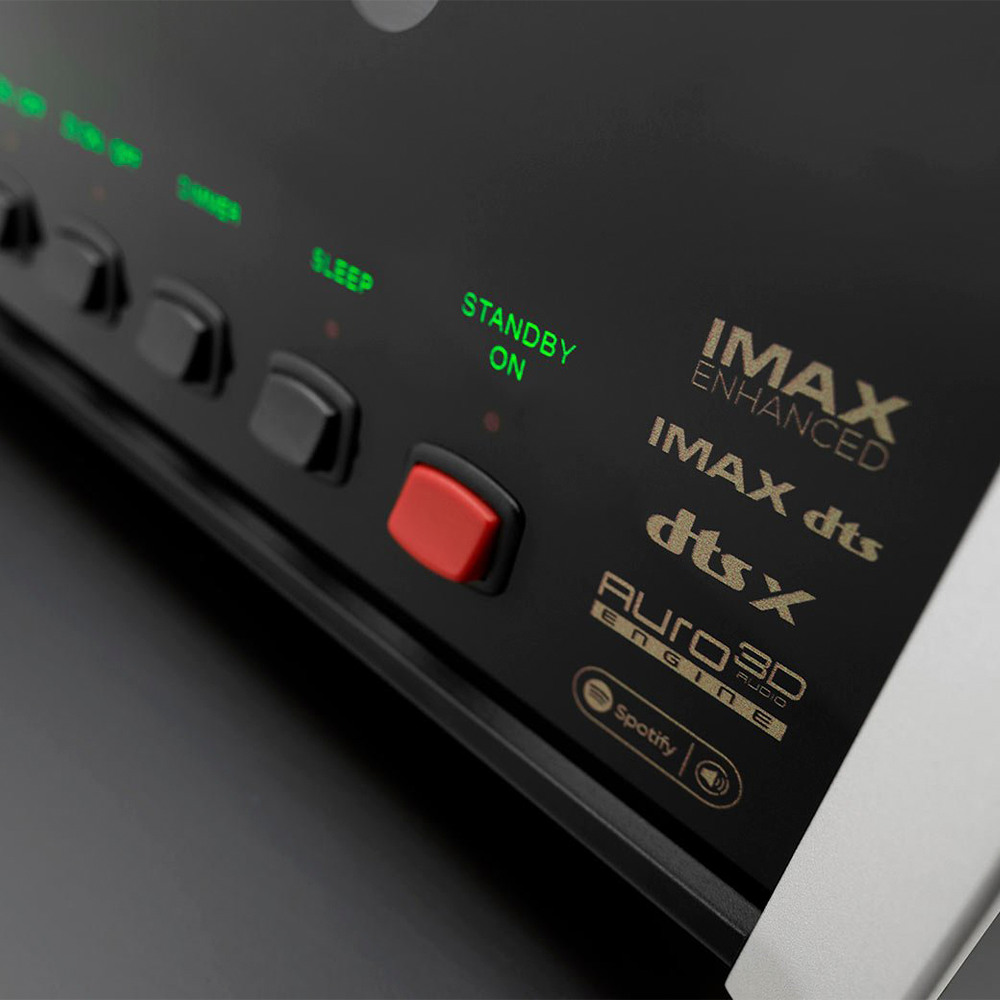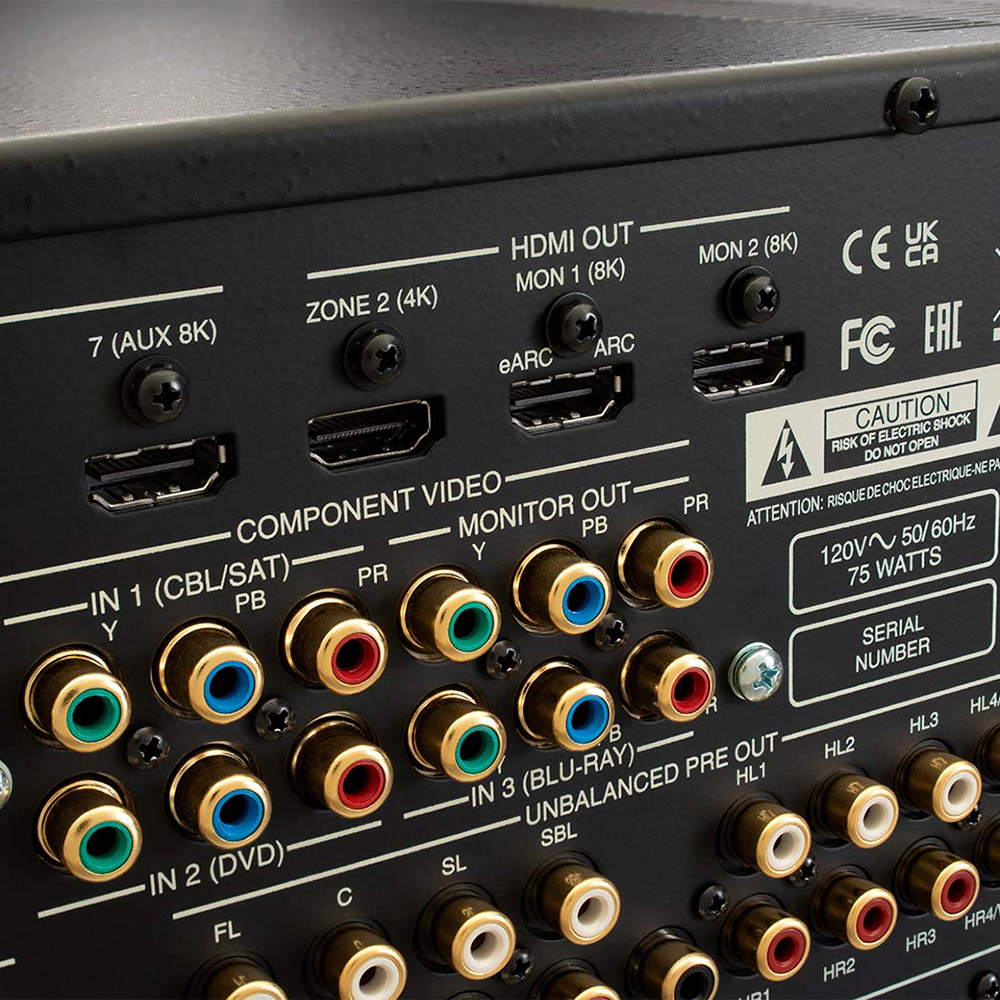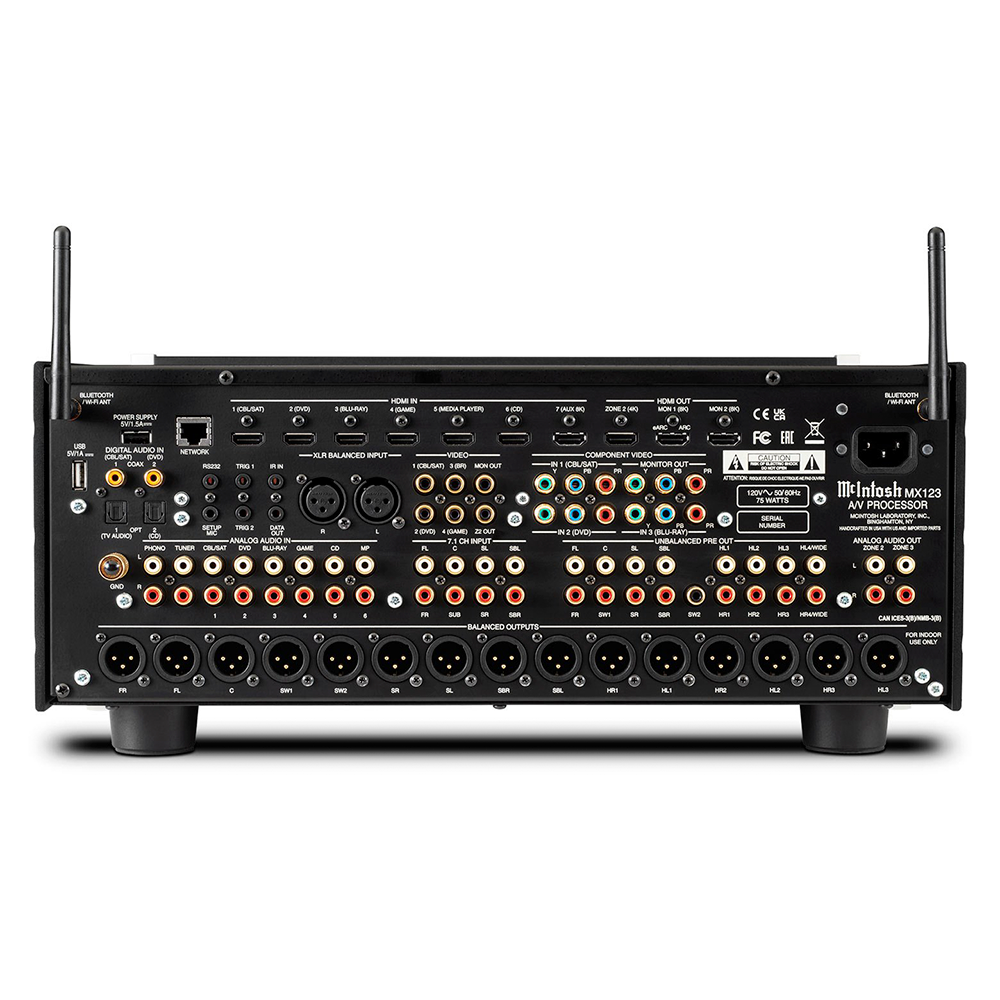 McIntosh MX123 A/V Processor (In-Store Purchase Only & USD Pricing)
FREE Ground shipping on any order over $600.00! (Some exceptions apply)
If item is in stock, it will ship within 2 business days, please contact the store to ensure availability.
905-881-7109
Info@audioexcellence.ca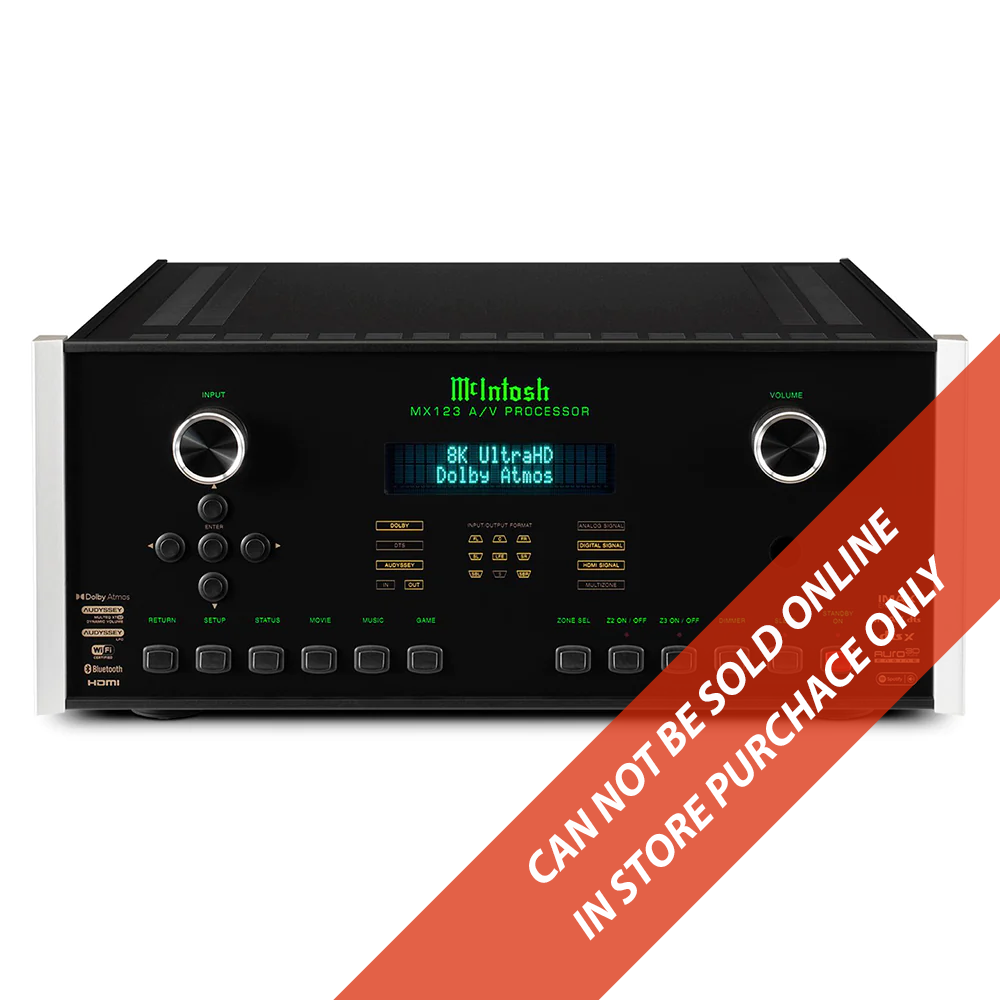 McIntosh MX123 A/V Processor
PLEASE NOTE THAT THE PRICE IS IN USD.

The MX123 A/V Processor marries a long tradition of uncompromising McIntosh sound quality with the latest home theater technologies to bring you an unsurpassed luxury home entertainment experience. As of September 2021, the MX123 supports 8K/60Hz and 4K/120Hz resolutions and refresh rates. It can also upscale lower resolutions to 8K to produce the best possible picture quality.

To satisfy the video needs of your home cinema, the MX123 has 7 HDMI inputs and 3 HDMI outputs. All HDMI inputs and outputs support HDCP 2.3; Rec. 2020; 4:4:4 color spacing; Dynamic Lip-sync; and 3D Video pass-through. To create the most life-like and realistic picture possible, all MX123 HDMI ports support a myriad of high dynamic range formats: HDR (static HDR); Dynamic HDR; HDR10+; HLG; and Dolby Vision (including low latency). These technologies will ensure every moment of a video is displayed at its ideal values for depth, detail, brightness, contrast, and color – on a scene-by-scene or even a frame-by-frame basis.

Of the 10 HDMI ports, 1 input and 2 outputs are 8K/60Hz and 4K/120Hz compatible1 with the rest supporting 4K/60Hz.

The 3 HDMI ports that are 8K/60Hz and 4K/120Hz compatible offer many other advanced features:
---•Quick Media Switching (QMS) that eliminates the delay that can result in blank screens before content is displayed.
---•Enhanced HDMI video features to improve gameplay performance by bringing an added level of smooth and seamless motion and transitions, including:
--------••Auto Low Latency Mode (ALLM) that allows the ideal latency setting to automatically be set allowing for smooth, lag free and uninterrupted viewing and interactivity.
--------••Quick Frame Transport (QFT) that reduces latency for smoother no lag gaming, and real time interactive virtual reality.
--------••Variable Refresh Rate (VRR) that reduces or eliminates lag, stutter and frame tearing for more fluid and better detailed gameplay.

The MX123 is also fully compatible with all the leading home theater surround sound and object-based 3D audio formats such as Dolby® Atmos (including Dolby Atmos Height Virtualizer); DTS:X® Pro; Auro-3D®; Sony's 360 Reality Audio.

Additional connections include: 4 digital audio inputs; 1 balanced and 8 unbalanced analog stereo audio inputs (including 1 dedicated as a Moving Magnet phono input to connect a turntable); an unbalanced 7.1 multi-channel audio input; 3 component and 4 composite video inputs; 1 USB Type A input; 2 unbalanced analog stereo outputs; 2 composite video outputs; and 1 component video output.

The MX123 is IMAX® Enhanced compatible. IMAX Enhanced is a set of stringent performance standards established by IMAX and DTS® to create a consistent and higher bar for image and sound performance on premium devices. It utilizes a sophisticated, advanced algorithm designed to produce the highest-quality, sharpest 4K HDR images. IMAX and DTS will also partner with award-winning Hollywood sound mixers to use a special variant of the DTS:X codec technology included in the MX123 to deliver an IMAX signature sound experience in your home theater.

Music streaming options3 on the MX123 includes Apple® AirPlay 2® along with Bluetooth® and Spotify® Connect for easy streaming from your mobile devices. AirPlay 2 is an Apple technology designed to control home audio systems and speakers in any room – with a tap or by just asking Siri – right from an iPhone®, iPad®, HomePod™, or Apple TV®. It offers multiroom audio, Siri voice control, and enhanced playback. TuneIn is also included for further music streaming options. To assist with wireless streaming performance and reliability, it includes 2.4/5GHz dual band support. An ethernet port that lets you make a hardwired connection to your network is also included to aid in producing the best possible music streaming experience.

Audyssey MultEQ® XT32 is included and will calibrate the MX123 to your home theater's unique acoustical properties, letting it deliver the clearest and most balanced earth-shattering sound possible. Each discrete audio channel has its own 32-bit premium Digital-to-Analog Converter (DAC) to produce the best audio quality. Bass and treble tone controls plus a 9-band equalizer offer additional fine-tuning. The MX123 also gives you the flexibility to create 2 additional zones in your house and send select audio and/or video to each zone.
Features
•10 HDMI ports: 4K/60Hz; HDCP 2.3; Rec. 2020; 4:4:4 color spacing; Dynamic Lip-sync
•8K/60Hz & 4K/120Hz on 1 HDMI input & 2 HDMI outputs
•HDR (static HDR); Dynamic HDR; HDR10+; HLG; Dolby Vision
•Quick Media Switching; Auto Low Latency Mode; Quick Frame Transport; Variable Refresh Rate
•13.2 Audio Channels; eARC/ARC; Apple AirPlay 2; Bluetooth; Spotify Connect
•Dolby Atmos; DTS:X Pro; Auro-3D; IMAX Enhanced; 360 Reality Audio; MPEG-H Audio
•Connects with Control4 Certification; Works with Crestron Home Certification
•Audyssey MultEQ XT32
Specifications
HDMI Features:
Resolution and Refresh Rates: 8K/60Hz and 4K/120Hz on 1 HDMI input and 2 HDMI outputs (4K/60Hz on all other ports)
HDCP: 2.3
4:4:4 Color: Yes
Rec. 2020 (BT.2020): Yes
3D video pass-through: Yes
Dynamic Lip-sync: Yes
ARC: Yes (on 1 output)
eARC: Yes (on 1 output)
Video Scaling: 8K Upconversion
High Dynamic Range (HDR): HDR (static HDR), Dynamic HDR, HDR10+, HLG, Dolby Vision (including low latency)
Quick Media Switching (QMS): Yes (on 8K/60Hz and 4K/120Hz ports)
Auto Low Latency Mode (ALLM): Yes (on 8K/60Hz and 4K/120Hz ports)
Quick Frame Transport (QFT): Yes (on 8K/60Hz and 4K/120Hz ports)
Variable Refresh Rate (VRR): Yes (on 8K/60Hz and 4K/120Hz ports)
-
Processing:
Total Harmonic Distortion (DSP Bypass): 0.005%
Dolby Processing: Dolby Atmos, Dolby Surround Upmixer
DTS Processing: DTS-X, Neural:X Surround Upmixer, DTS Virtual:X
Auro Processing: Auro 3D, Auro-Matic, Auro 9.1, 10.1
Pure Stereo DSP Bypass Mode: Yes
MPEG-H Audio: Yes
360 Reality Audio: Yes
IMAX Enhanced: Yes
Room Correction: Audyssey MultEQ XT32, Dynamic EQ / Dynamic Volume, DSX
-
General Specifications:
Tone Controls: 9 Band Equalizer, Bass and Treble
Channel Formats: 13.2, 7.1, 5.1, Stereo
Microphone and stand included: Yes
Network Features: Wi-Fi dual band 2.4/5GHz, Apple AirPlay 2, Bluetooth, Spotify Connect
Unique Crossover Frequency, Each Speaker: Yes
Special Features: Rear Panel USB-Apple Dock, HDMI in standby, Apple AirPlay 2, Bluetooth, Spotify Connect
Weight & Dimensions
17.5" x 7 5/8" x 19.5"
44.45cm x 19.37cm 49.53cm

31lbs/14kg
Connectivity
Multi-Channel Outputs Balanced: 13.2
Multi-Channel Inputs Unbalanced: 7.1
Multi-Channel Outputs Unbalanced: 15.2
Stereo Inputs Balanced: 1
Stereo Inputs Unbalanced: 8 (including 1 Moving Magnet Phono)
Stereo Outputs Unbalanced: 2
Digital Coaxial Input: 2
Digital Optical Input: 2
HDMI Input: 7
HDMI Output: 3
USB: 1 Type A
Component Input: 3
Component Output: 1
Composite Input: 4
Composite Output: 2
Subwoofer 2 Output: Yes (discrete signal from subwoofer 1)
Network Connection: 1
Max # of audio channels in Zone A: 15
Additional Zone Outputs: Zone 2: HDMI audio/video, component video, composite video, analog stereo audio
Zone 3: Analog stereo audio
Advanced Connections: Ethernet Web interface and firmware update, IP-based control, Web Data Streaming, Apple AirPlay 2, Bluetooth, Spotify Connect