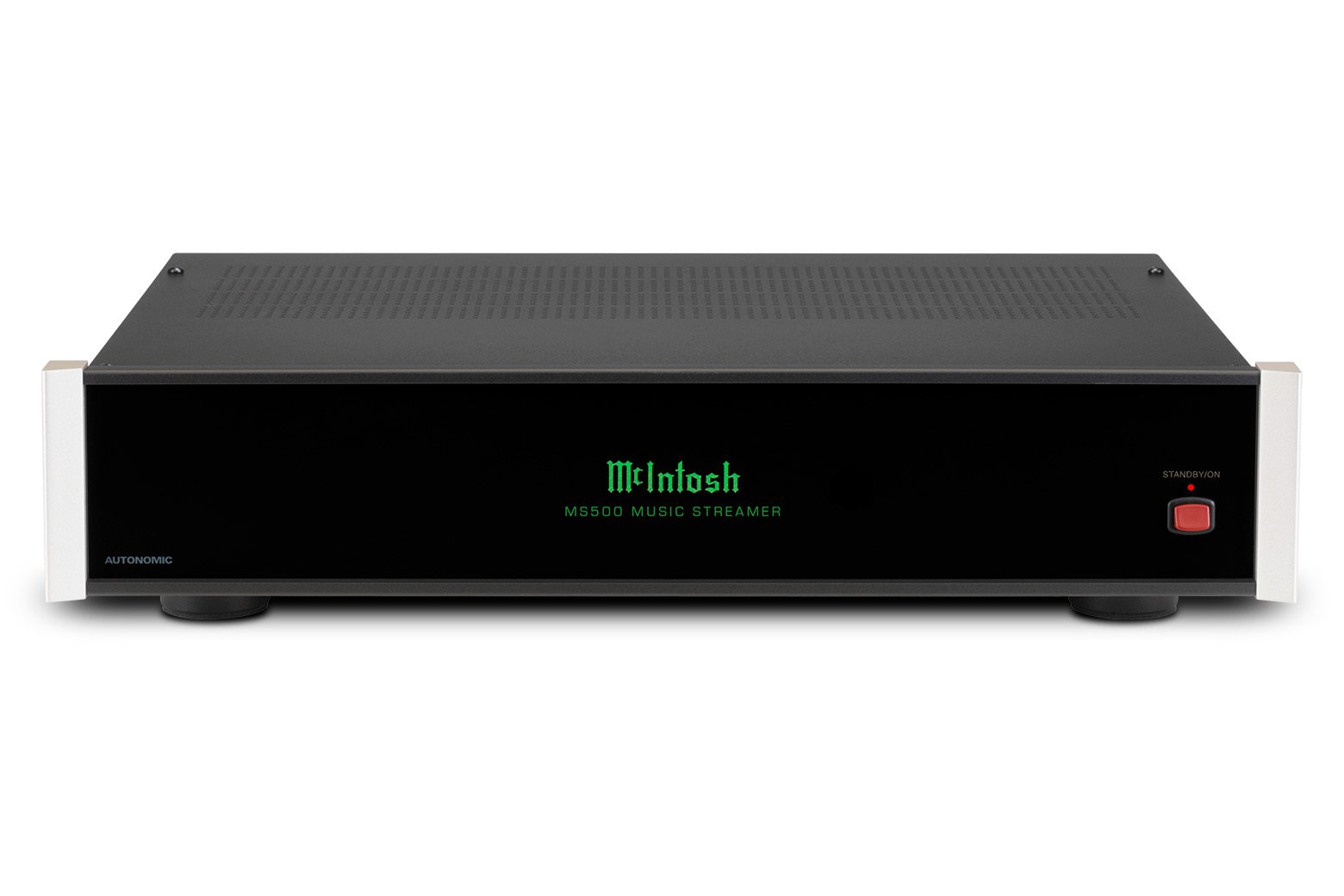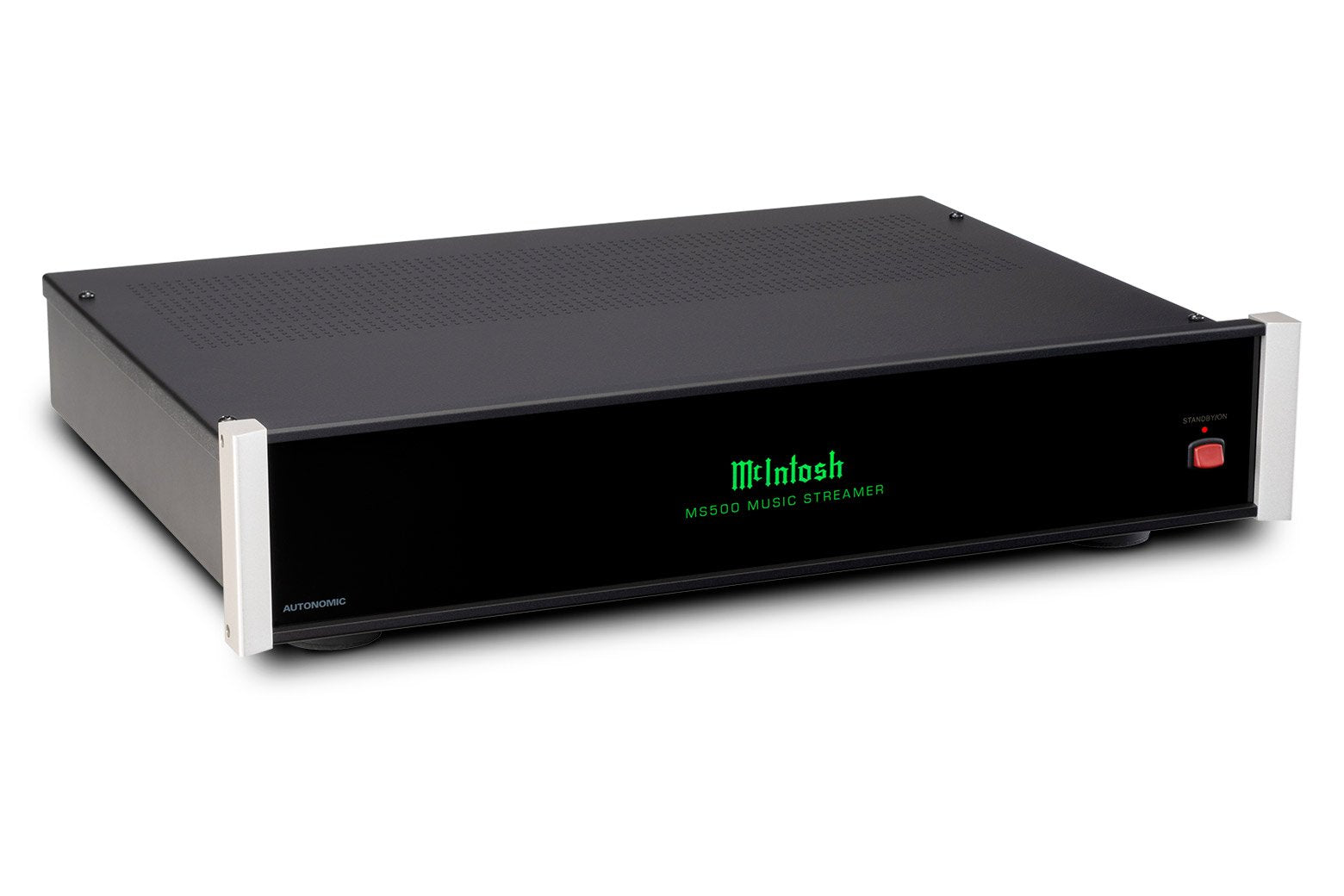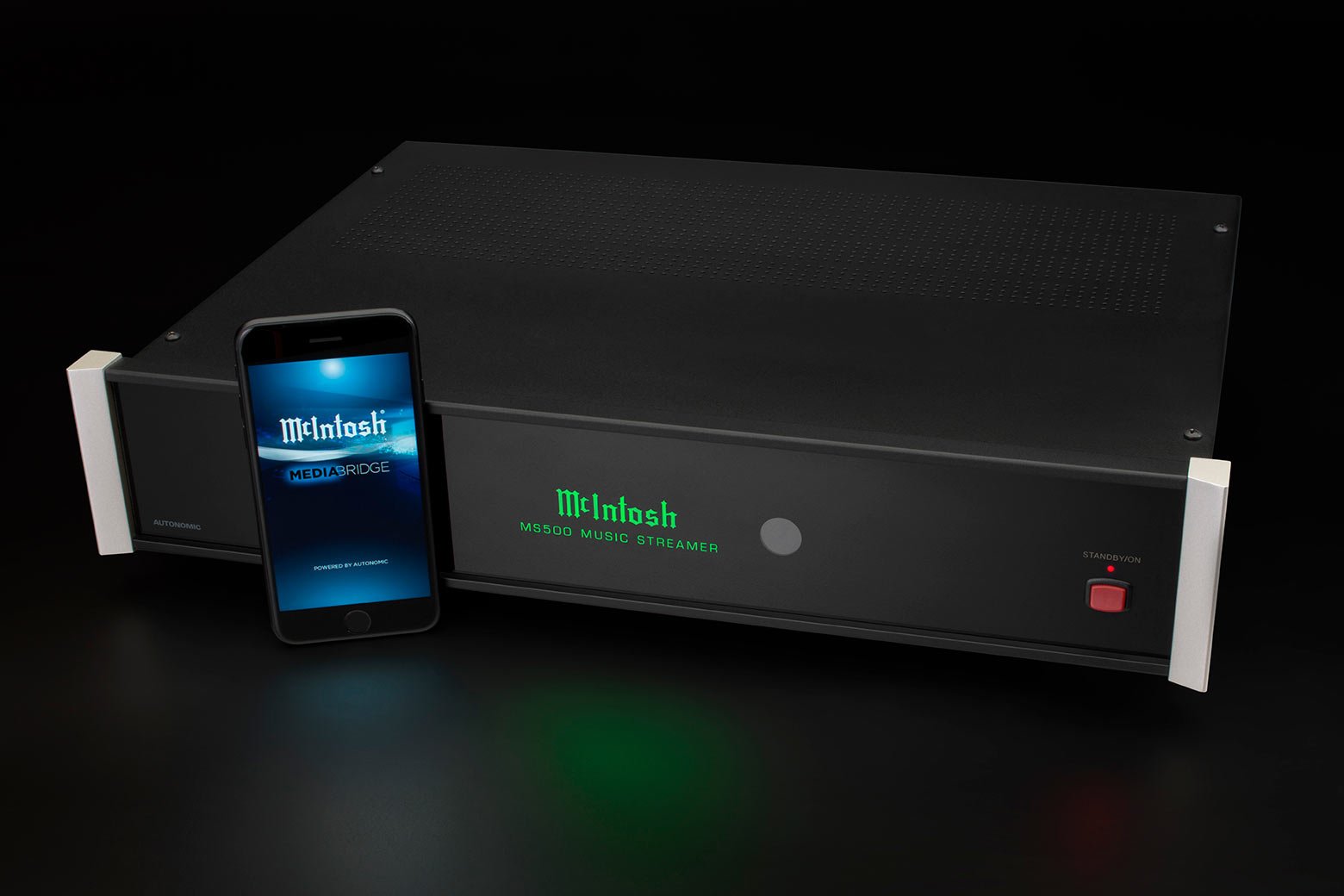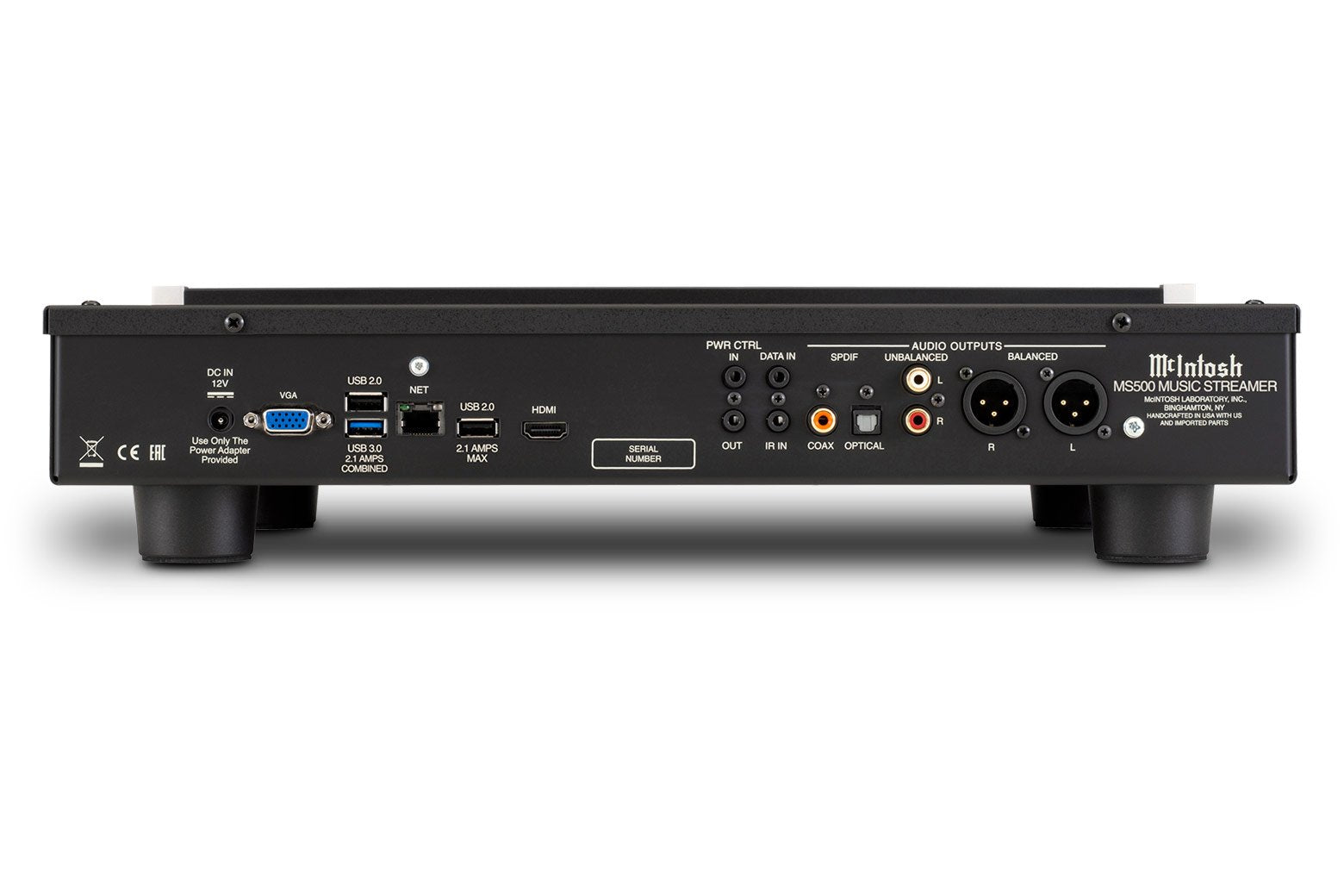 McIntosh MS500 Music Streamer (In-Store Purchases Only & USD Pricing)
FREE Ground shipping on any order over $600.00! (Some exceptions apply)
If item is in stock, it will ship within 2 business days, please contact the store to ensure availability.
905-881-7109
Info@audioexcellence.ca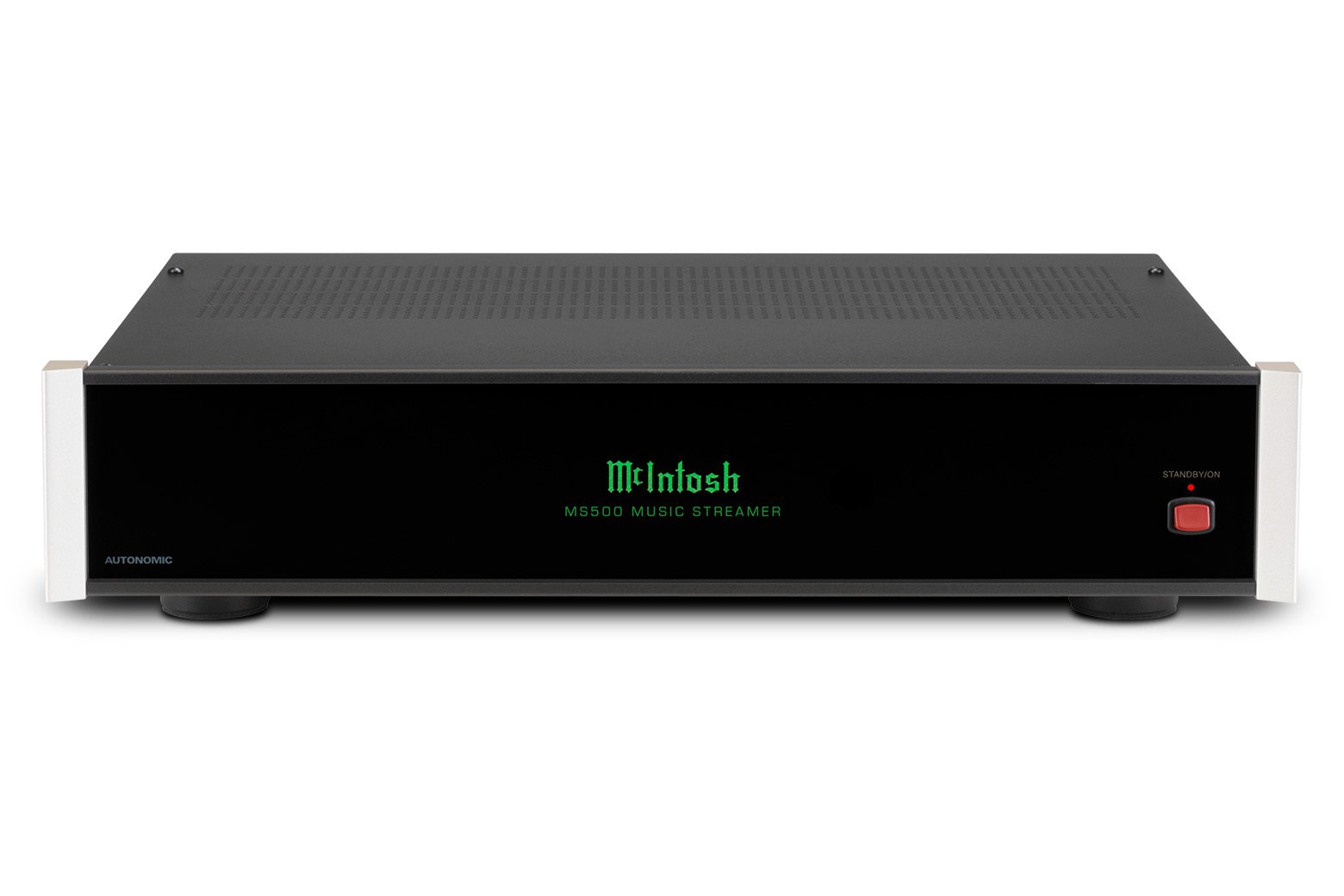 McIntosh MS500 Music Streamer (In-Store Purchases Only)
NOTE THAT THE PRICE IS IN USD.

Integrate your internet-based streaming music and locally stored digital music seamlessly with the sophisticated yet user-friendly McIntosh MS500 Music Streamer. Experience legendary McIntosh audio standards as it effortlessly handles uncompressed, lossless files up to 24-bit/192kHz resolution, ensuring the highest quality playback of your digital library.

As a central hub for all your digital music, the MS500 boasts extensive onboard storage and external connection capabilities. Its high-speed network port connects you to leading streaming services like Deezer, Pandora, Spotify, TIDAL, and more, providing instant access to your favorite streaming music. Three USB ports allow for easy connectivity of external mass storage or flash drives, expanding your music library even further.

With a focus on quiet operation, the MS500 features a durable 500GB solid-state drive (SSD) with no moving parts, ensuring silent performance. Coupled with a fanless processor and improved ventilation, the MS500 eliminates the need for noisy cooling fans, creating a noise-free environment for pure music enjoyment.

The MS500 simplifies content synchronization by automatically accessing and playing the music stored on your networked computers. Additionally, you can back up your entire music collection to popular cloud services like Amazon Cloud Drive, Apple iCloud, or Google Drive, providing easy access across multiple locations when multiple MS500 units are installed. New music purchases from these cloud services can be seamlessly added to your library for convenient playback.

Connect the MS500 to your audio components via its balanced and unbalanced analog outputs or two digital outputs. The high-quality digital-to-analog converter (DAC) is isolated from the motherboard, guaranteeing precise and elegant music reproduction through the analog outputs. You can also utilize one of the USB ports to connect an external component with a built-in DAC, creating an additional independent audio zone when paired with select McIntosh products.

Operating on a Linux-based system, the MS500 delivers stability and responsiveness. Control the unit effortlessly using the included remote control, a web browser, or free apps for iPhone, iPad, or Android devices. The MS500 is compatible with popular home automation systems, enabling seamless integration into your existing setup. Its timeless black glass front panel, illuminated logo, and aluminum end caps make it a visually stunning addition to any audio system and room décor.

Experience the ultimate music streaming solution with the McIntosh MS500 Music Streamer. Enjoy your digital music collection with unparalleled audio quality and convenience.
Features
Total Harmonic Distortion
0.005%
Frequency Response
2Hz to 22,000Hz
Maximum Volts Out (Balanced / Unbalanced)
4/2 V RMS
Signal To Noise Ratio
102dB
Output Impedance
600 ohms Unbalanced and Balanced
Dynamic Range
96dB
CONNECTIVITY
Balanced Input
0
Balanced Output
1
Unbalanced Input
0
Unbalanced Output
1
Digital Coaxial Input
0
Digital Coaxial Output
1
Digital Optical Input
0
Digital Optical Output
1
Digital USB Input
3 (2 USB 2.0 / 1 USB 3.0)
Digital USB Audio Output
3 (only 1 can be used at a time)
Network Connection
1 (10/100/1000)
DVI Output
0
HDMI Output
1 (for GUI only)
VGA Output
1 (for GUI only)
eSata Input
0
DIGITAL AUDIO SPECIFICATIONS
Digital Input Format
N/A
Digital Input Sample Rate
N/A
Digital Output Format
SPDIF (PCM)
Digital Output Sample Rate
Up to 24-Bit/192kHz
CONTROL
Power Control Input
1
Power Control Output
1
Rear Panel Data Input
1
Rear Panel IR Sensor Input
1
Specifications
Seamlessly controls your internet based streaming music and your locally stored digital music
Interfaces to leading streaming services including Pandora®, Rhapsody®, SiriusXM®, Spotify®, TIDAL and TuneIn
Internal solid state drive for local storage
Weight & Dimensions
Unit Dimensions (W x H x D)
17.5" (44.45cm) x 3-7/8" (9.8cm) x 16" (40.64cm)
Unit Weight
13.5 lbs (6.1kg)
Shipping Weight
28 lbs (12.7kg)