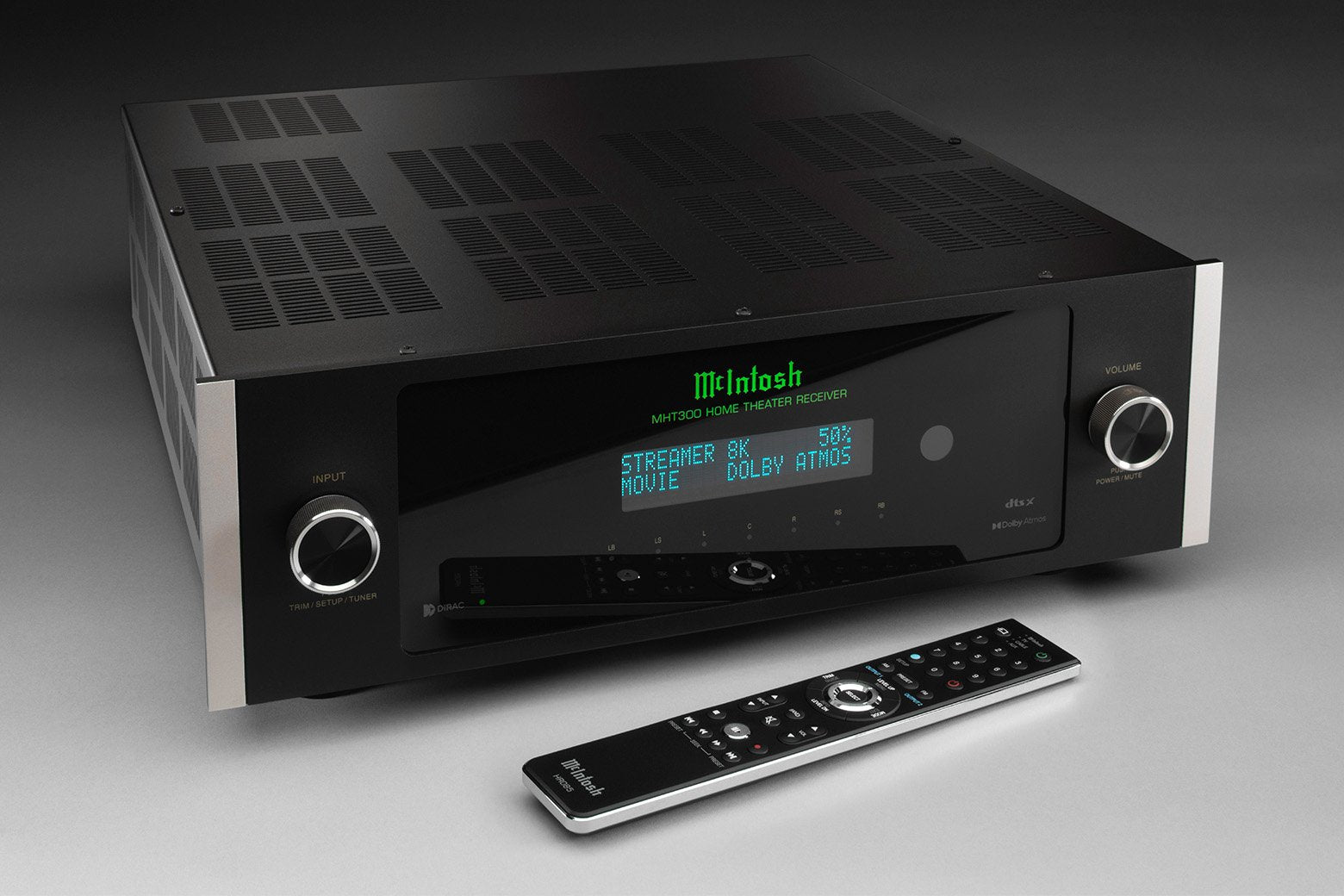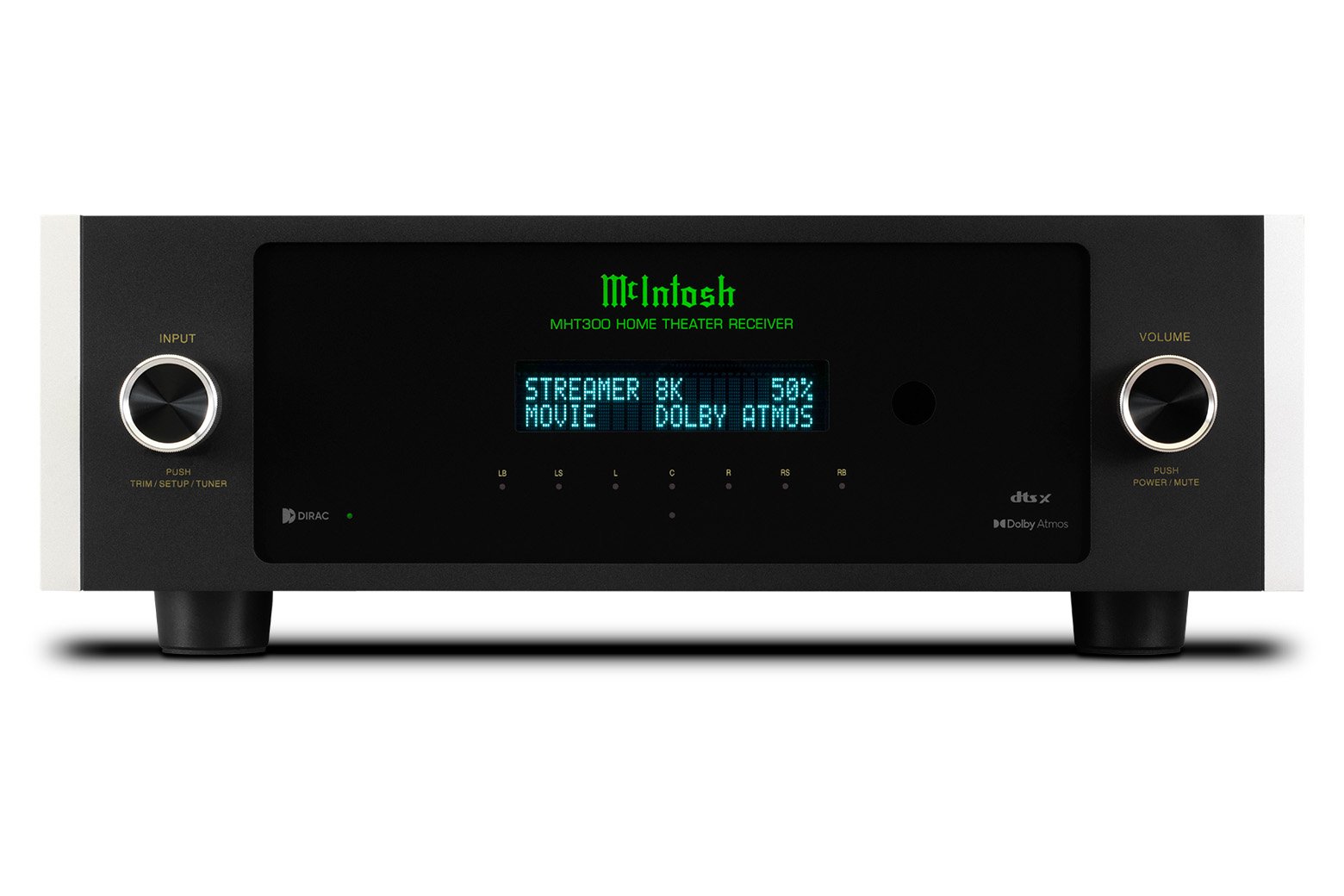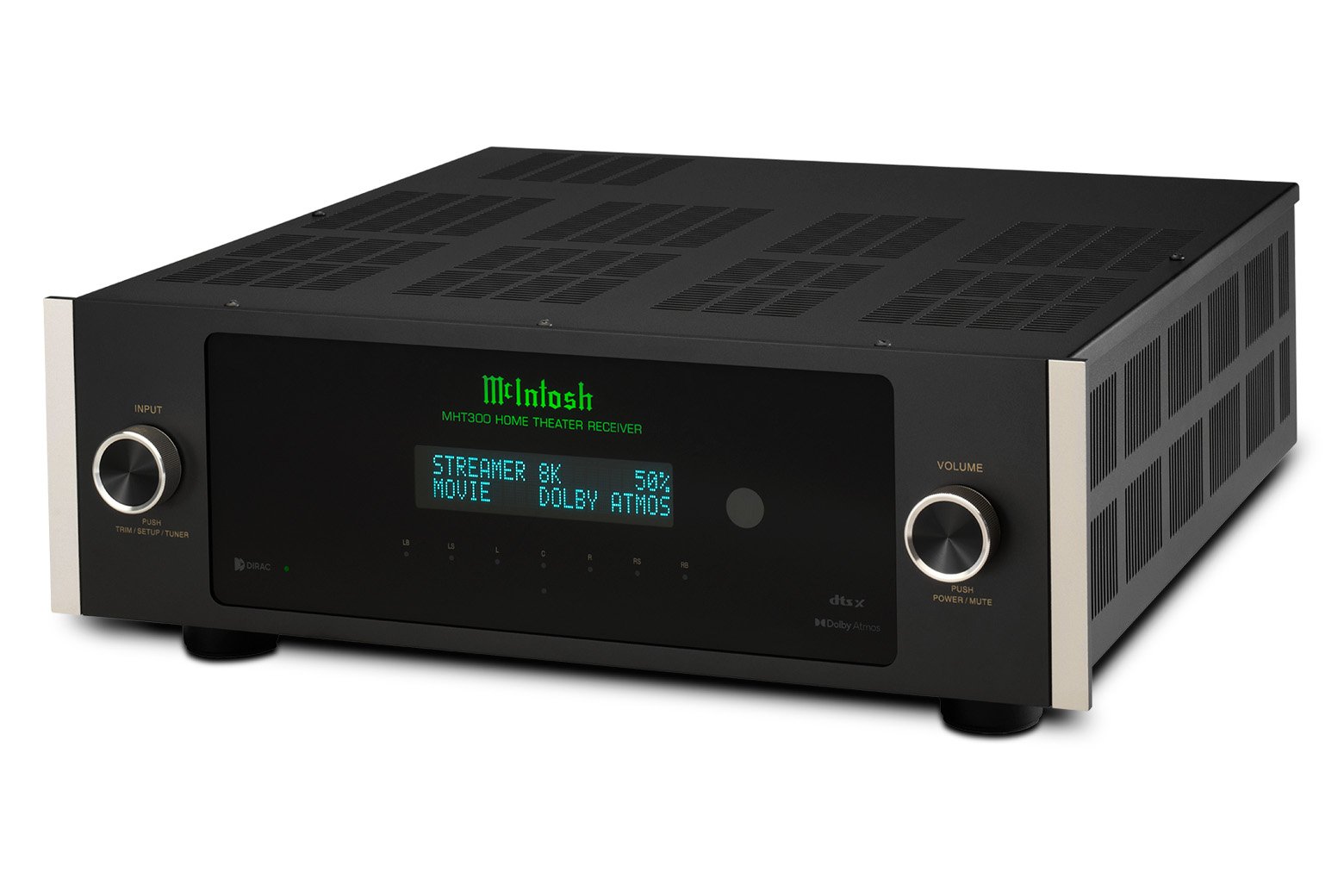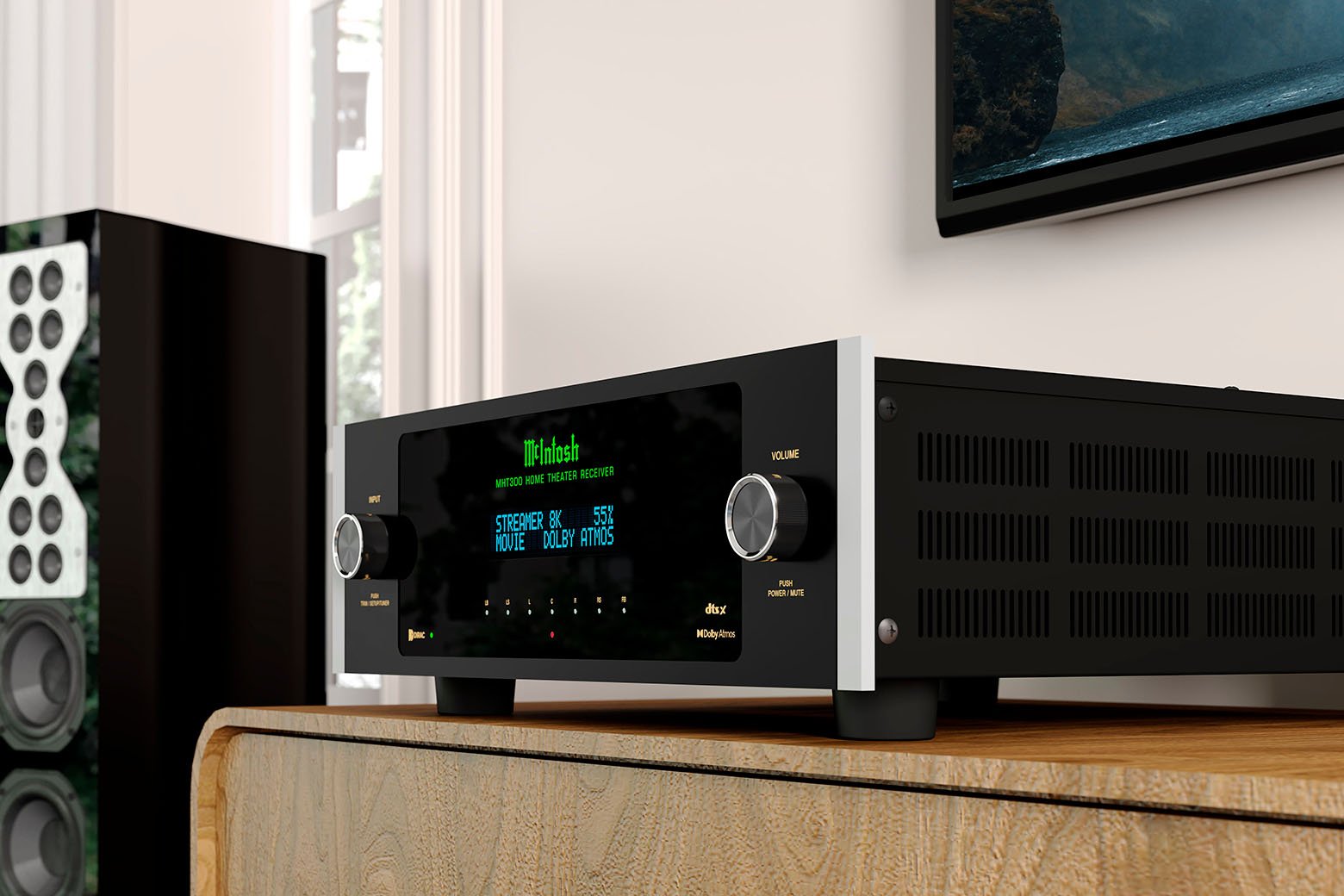 McIntosh MHT300 Home Theater Receiver (In-Store Purchases Only & USD Pricing)
FREE Ground shipping on any order over $600.00! (Some exceptions apply)
If item is in stock, it will ship within 2 business days, please contact the store to ensure availability.
905-881-7109
Info@audioexcellence.ca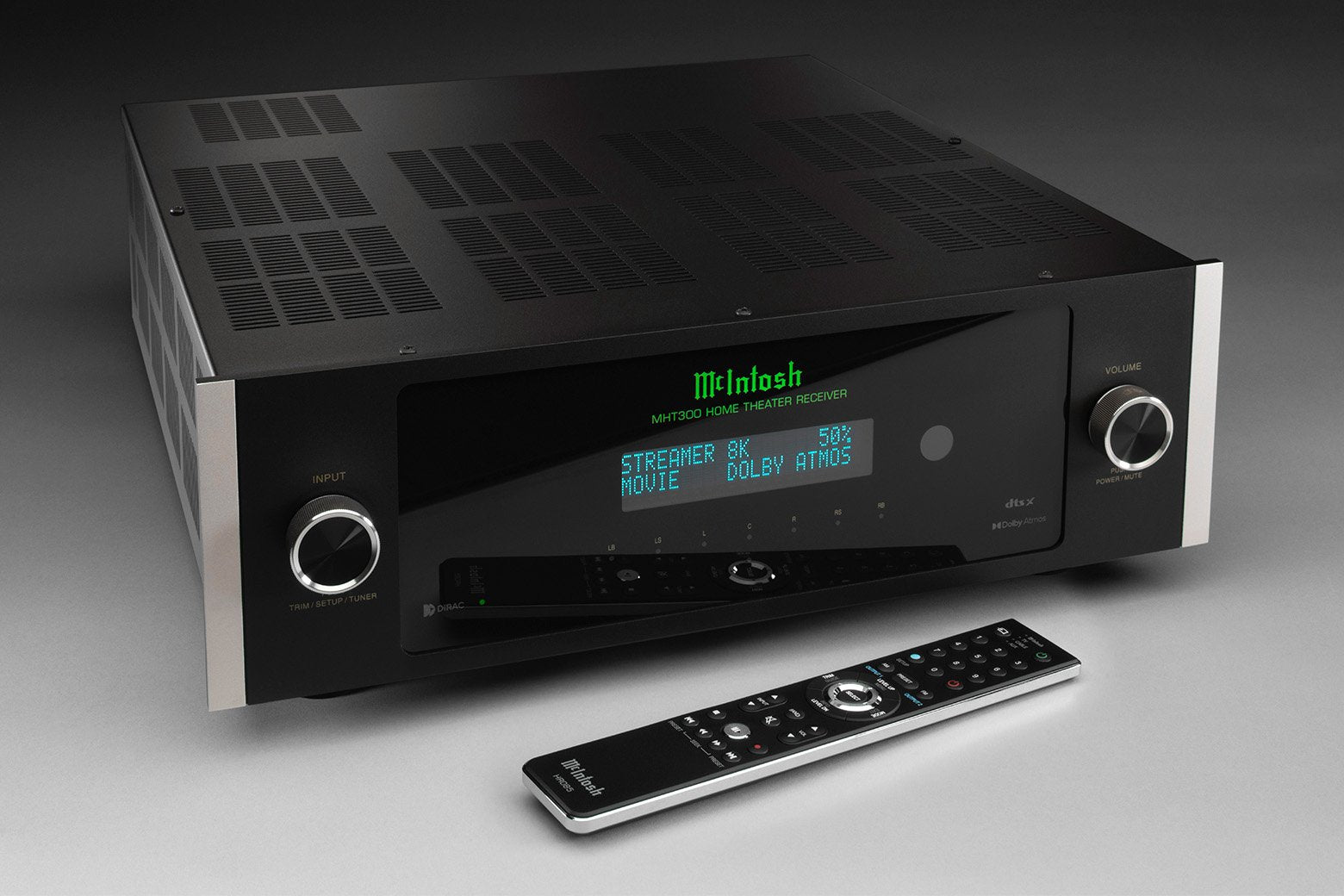 McIntosh MHT300 Home Theater Receiver (In-Store Purchases Only)
NOTE THAT THE PRICE IS IN USD.

Unleash the power of your home theater with the McIntosh MHT300 Home Theater Receiver. This formidable 7.2 (or 5.2.2) channel AV receiver offers unrivaled performance, supporting stunning 8K/60Hz and 4K/120Hz video resolutions, as well as Dolby Atmos and DTS:X surround sound formats. With a commanding 120-150 Watts of legendary McIntosh power delivered to your speakers, the MHT300 guarantees an immersive cinematic experience that will bring your favorite movies and video content to life.

Unlike many other AV receivers, the MHT300 provides full power to all seven channels simultaneously. Every 4 Ohm speaker receives an impressive 150 Watts, while every 8 Ohm speaker benefits from 120 Watts of heart-pounding McIntosh power. Whether it's explosive action sequences, adrenaline-pumping car chases, or the cheers of a victorious crowd, every audio detail is faithfully reproduced across all your speakers. With the MHT300, you can finally ensure that each speaker receives the full power it deserves.

The MHT300 is highly flexible and can adapt to your evolving home theater setup. Its individual amplifier modules can be configured to accommodate additional channels beyond the standard seven. By connecting external amplifiers to the Height 1 and Height 2 audio outputs, you can expand the MHT300 into a 7.2.4 channel AVR. For even greater power, you can integrate an external stereo amplifier or a higher-powered mono amplifier to drive specific channels, enabling you to fine-tune your system according to your preferences.

Experience optimal sound quality with the MHT300's advanced room correction capabilities powered by Dirac Live Room Correction. This state-of-the-art solution optimizes your sound system and mitigates unwanted room effects. Dirac Live utilizes innovative audio algorithms and mixed-phase filter technology, providing unparalleled room correction and precise time domain correction. Trusted by top-tier hi-fi and home theater manufacturers, Dirac Live has revolutionized audio fidelity across a wide range of listening environments.

Connectivity is effortless with the MHT300, featuring 4 HDMI inputs and 1 HDMI output. All HDMI ports are HDCP 2.3 compliant and support 8K/60Hz and 4K/120Hz resolutions. With 40Gbps bandwidth and compatibility with HDR formats like Dolby Vision, HDR10, and HLG, as well as 4:4:4 color spacing and Rec. 2020, you'll enjoy stunning visual clarity. The enhanced Audio Return Channel (eARC) functionality enables high-resolution audio formats like DTS-HD Master Audio, DTS:X, Dolby TrueHD, and Dolby Atmos to be transmitted through the HDMI cable, ensuring the utmost audio fidelity. Additional connectivity options include coaxial and optical digital audio inputs, as well as dual subwoofer outputs for customizable bass reproduction.

The MHT300 boasts premium 32-bit Digital-to-Analog Converters (DACs) for audiophile-grade sound processing. Bass and treble tone controls allow you to fine-tune the audio to your personal preferences, while the sturdy 5-way speaker binding posts ensure secure connections. Configuration and setup are straightforward, with an intuitive computer interface and the option to pre-configure the unit or backup configuration files for convenient installation and experimentation. The MHT300 can be controlled via the included remote or easily integrated into your home automation system using the RS232 control protocol.

With its elegant design and included rack mounting brackets, the MHT300 is a true work of art that can take center stage in your home theater or seamlessly blend into an AV equipment rack. Elevate your home theater experience with the McIntosh MHT300 Home Theater Receiver and enjoy blockbuster power, uncompromising performance, and exquisite craftsmanship.
Features
Multi-Channel Outputs Balanced
0
Multi-Channel Inputs Unbalanced
0
Multi-Channel Outputs Unbalanced
11.2
Stereo Inputs Balanced
0
Stereo Inputs Unbalanced
0
Stereo Outputs Unbalanced
0
Digital Coaxial Input
2
Digital Coaxial Output
0
Digital Optical Input
2
AES/EBU Balanced Input
0
HDMI Input
4
HDMI Output
1
USB
1 Type A
Component Input
0
Component Output
0
Composite Input
0
Composite Output
0
Subwoofer 2 Output
Yes
(discrete signal from subwoofer 1)
Network Connection
1
Max # of audio channels in Zone A
11.2
Additional Zone Outputs
0
Advanced Connections
Ethernet Web interface and firmware update, IP-based control
HDMI FEATURES
Resolution and Refresh Rates
8K/60Hz and 4K/120Hz
HDCP
2.3
4:4:4 Color
Yes
Rec. 2020 (BT.2020)
Yes
3D video pass-through
Yes
Dynamic Lip-sync
No
ARC
Yes
eARC
Yes
Video Scaling
No
High Dynamic Range (HDR)
Dolby Vision, HDR10+ and HLG
Quick Media Switching (QMS)
No
Auto Low Latency Mode (ALLM)
No
Quick Frame Transport (QFT)
No
Variable Refresh Rate (VRR)
No
PROCESSING
Total Harmonic Distortion (DSP Bypass)
0.05%
Dolby Processing
Dolby Atmos, Dolby Surround Upmixer
DTS Processing
DTS-X, Neural:X Surround Upmixer
Auro Processing
No
Pure Stereo DSP Bypass Mode
No
MPEG-H Audio
No
360 Reality Audio
No
IMAX Enhanced
No
Room Correction
Dirac Live
ELECTRONIC SPECIFICATIONS
Power Output per Channel
150 Watts into 4 Ohms with ALL Channels Driven
120 Watts into 8 Ohms with ALL Channels Driven
Number of Channels
7.2 (expandable to 7.2.4)
Total Harmonic Distortion
0.05%
S/N below rated output
85dB (95dB below rated output)
Dynamic Headroom
4dB
Damping Factor
8 Ohms: >100
4 Ohms: >50
Rated Power Band
20Hz to 20kHz
Frequency Response
+0, -0.5dB from 20Hz to 20kHz
CONTROL
Third Party Control
RS232, Web IP, IR Input
Tone Controls
Bass and Treble
OSD Overlay on HDMI Output
Volume Only
Input-Output Format Indicators
0
Control of McIntosh Sources
Yes, by handheld remote, 1 Data Out, 2 Power Control Trigger jacks
GENERAL SPECIFICATIONS
Channel Formats
7.2 (5.2.2), 7.1, 5.1, Stereo (expandable to 7.2.4)
Microphone and stand included
Yes
Network Features
Ethernet Setup
Unique Crossover Frequency, Each Speaker
Yes
Special Features
FM Tuner
Rear panel USB for firmware updating
Circuit Configuration
Closed loop digital switching
Circuit Design
Digital
Output Type
Direct Coupled
BTU Rating
1000 BTU/h
Specifications
7.2 channel AVR (expandable to 7.2.4)
150 Watts per channel into 4 Ohms/120 Watts per channel into 8 Ohms (ALL 7 channels driven)
4 HDMI inputs & 1 HDMI output: 8K/60Hz & 4K/120Hz; HDCP 2.3; 40Gbps; Rec. 2020; 4:4:4 Color; eARC/ARC
Dolby Atmos; DTS:X
Dirac Live Room Correction
Dolby Vision; HDR10+; HLG
3U rack mountable
Perfect for Custom Installed systems or sitting out on display
Weight & Dimensions
Unit Dimensions (W x H x D)
17-1/2" (44.45cm) x 6-3/16" (15.7cm) x 20" (50.8cm)
Unit Weight
27 lbs (12.2 kg)
Shipping Weight
43.5 lbs (19.7 kg)