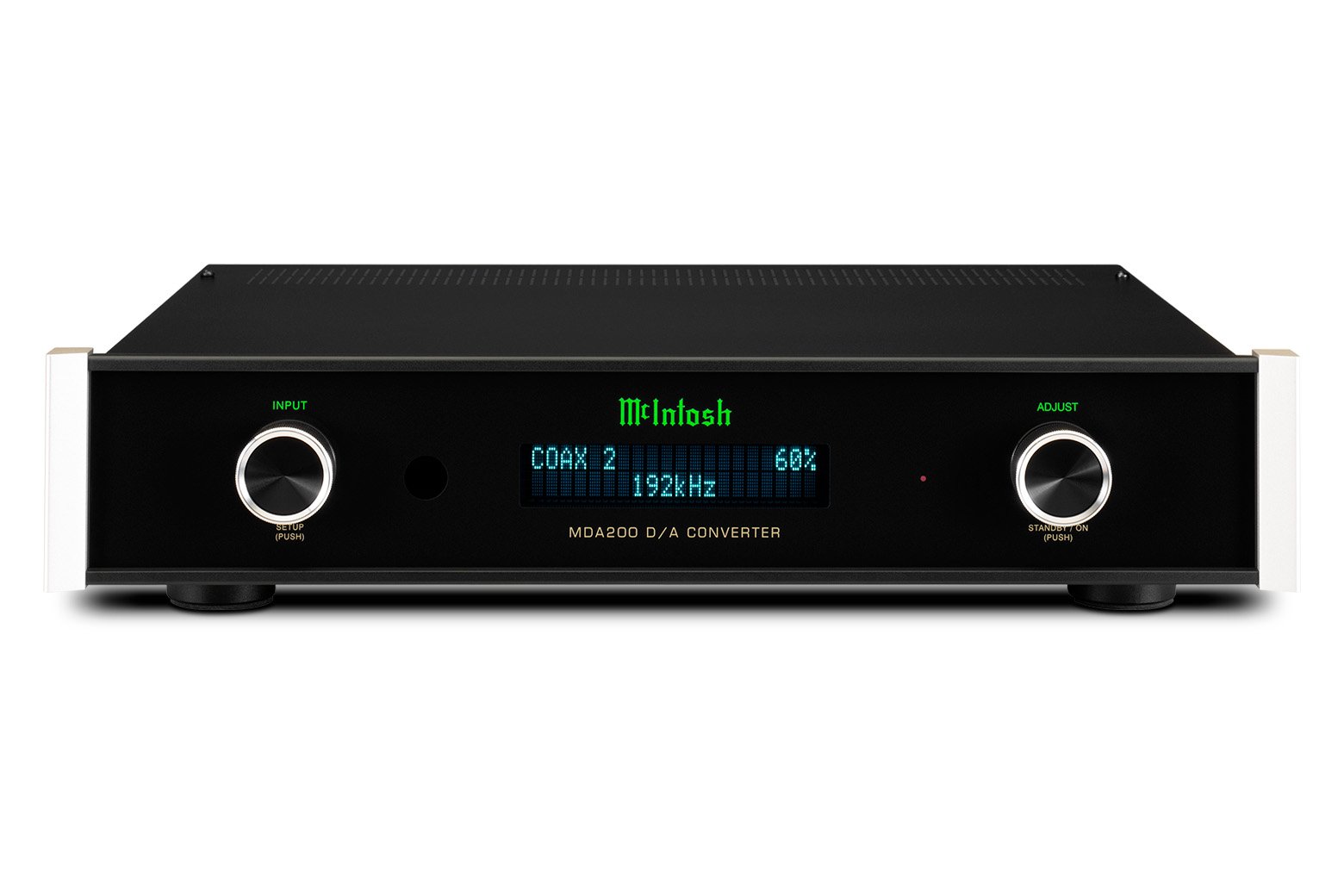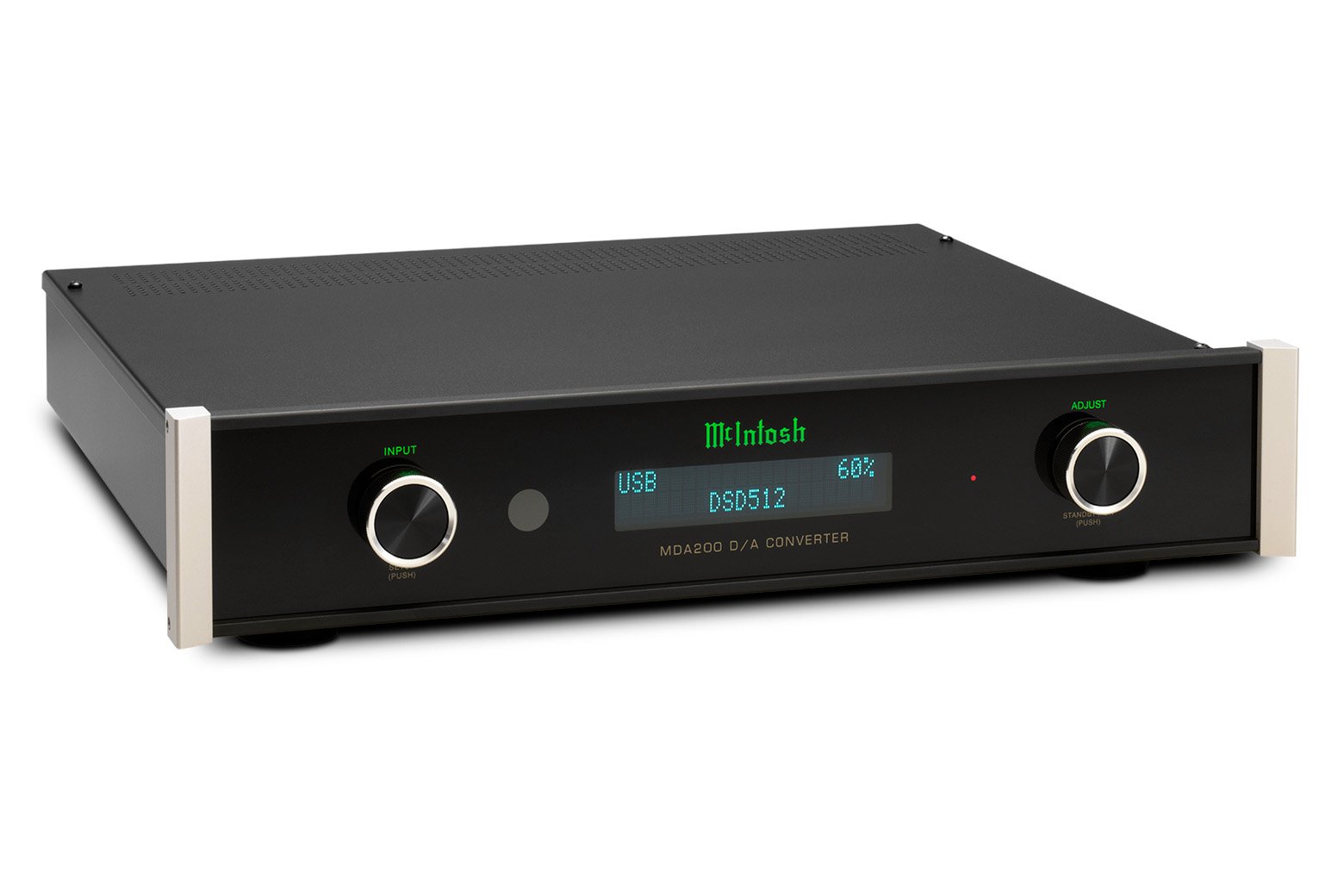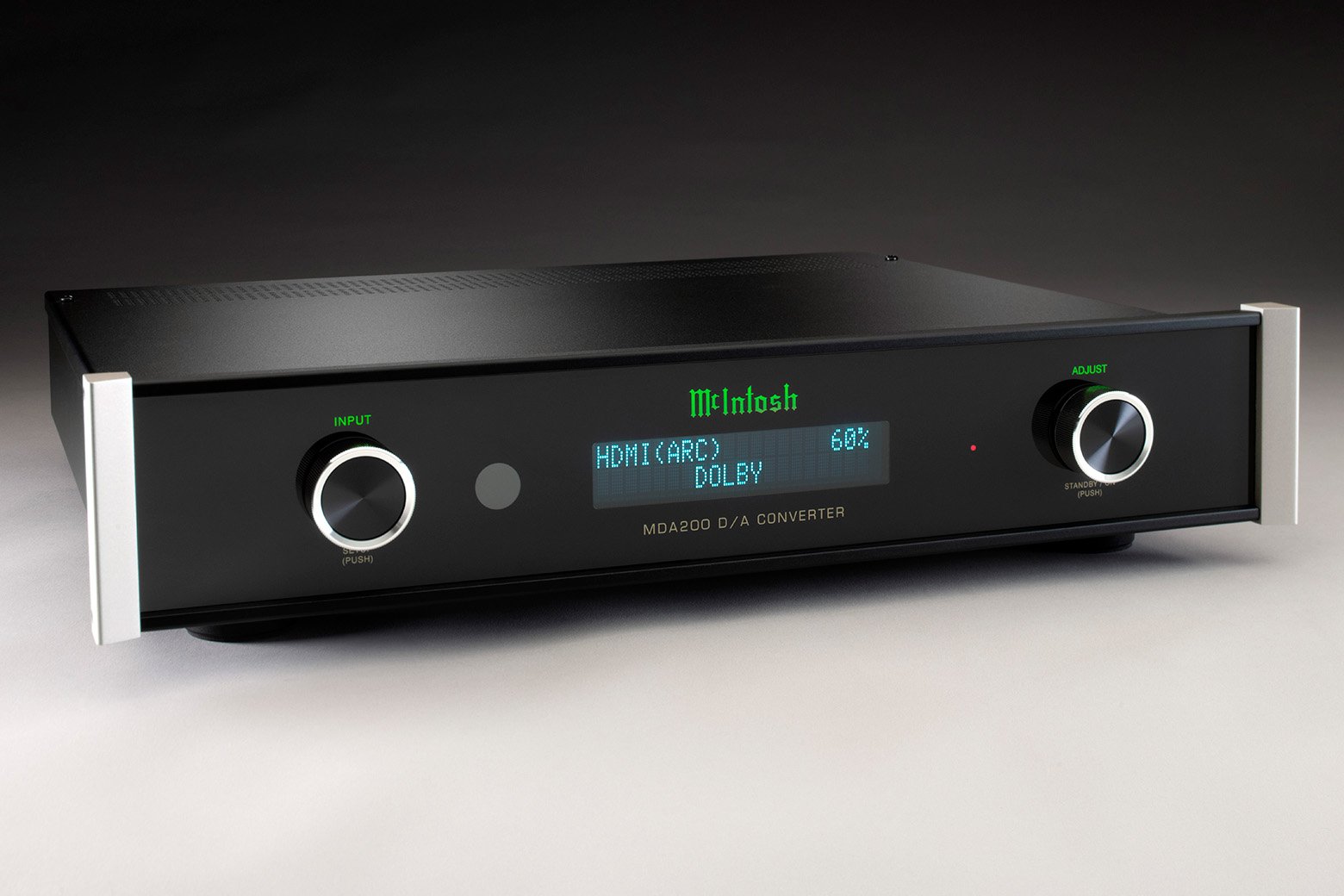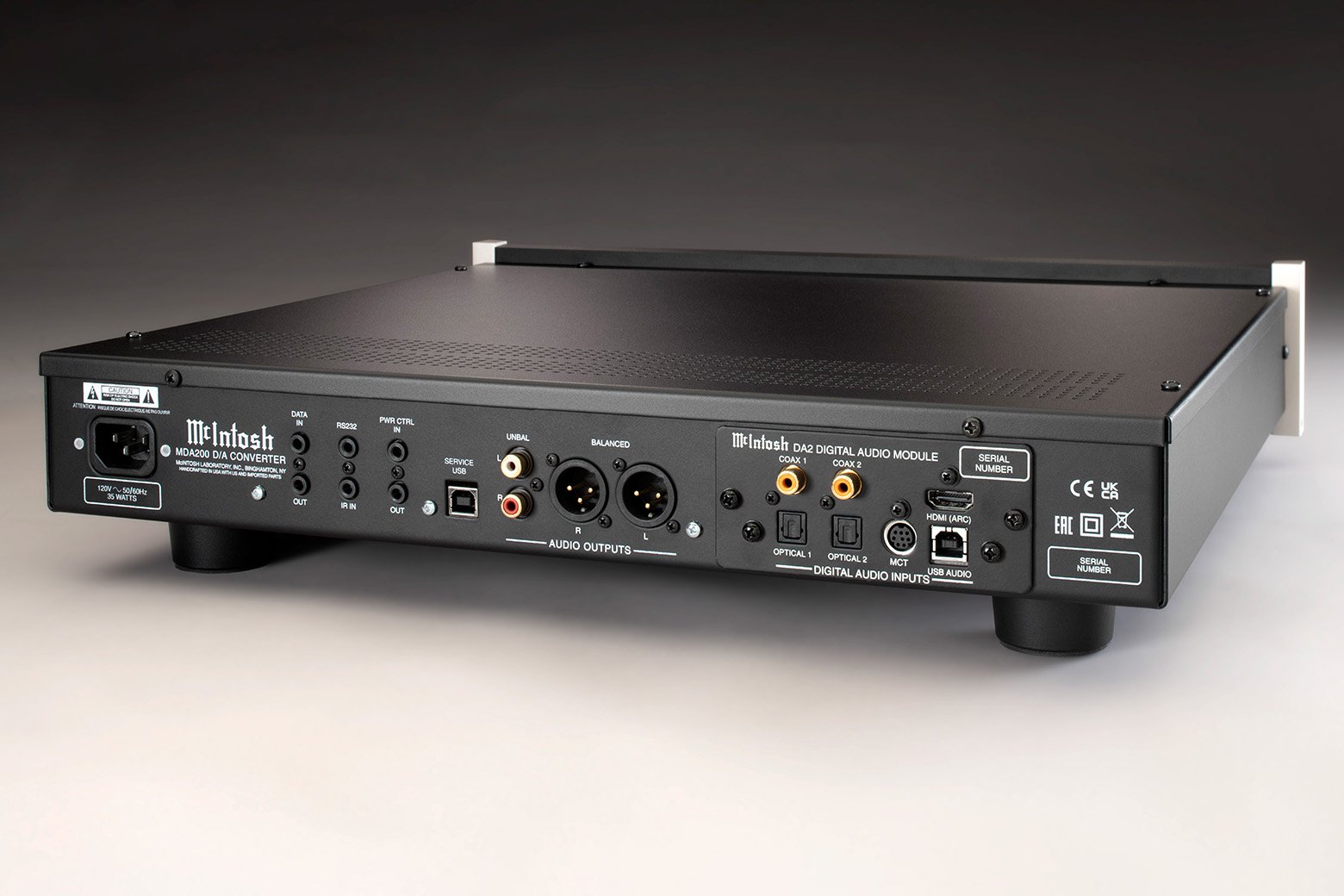 McIntosh MDA200 D/A Converters (In-Store Purchases Only & USD Pricing)
FREE Ground shipping on any order over $600.00! (Some exceptions apply)
If item is in stock, it will ship within 2 business days, please contact the store to ensure availability.
905-881-7109
Info@audioexcellence.ca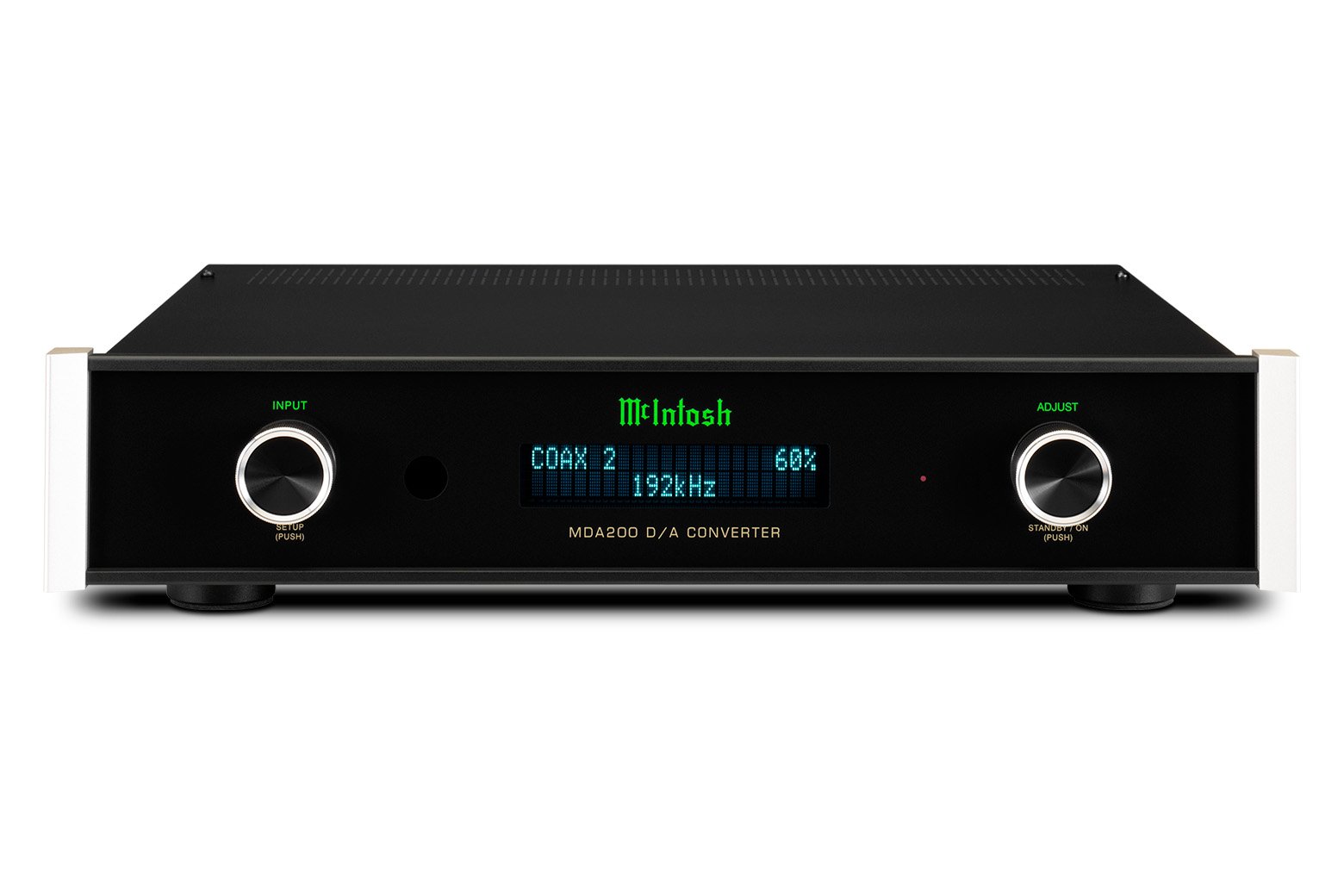 McIntosh MDA200 D/A Converters (In-Store Purchases Only)
NOTE THAT THE PRICE SHOWN IS IN USD.

Experience premium digital music capabilities with the McIntosh MDA200 D/A Converter. Upgrade your analog home audio system or replace an outdated D/A Converter for enhanced playback performance and cutting-edge features. This stand-alone, outboard converter seamlessly integrates into audio systems of all sizes and configurations.

With the McIntosh DA2 Digital Audio Module at its core, the MDA200 offers an array of digital inputs, including coaxial, optical, USB, MCT, and an audio-only HDMI ARC connection. Powered by a next-generation Quad Balanced, 8-channel, 32-bit DAC, this audiophile-grade converter delivers improved dynamic range and reduced harmonic distortion. Immerse yourself in high-resolution digital audio playback, supporting native playback of up to DSD512 and DXD 384kHz via USB, and up to 24-bit/192kHz decoding through coaxial and optical inputs.

Elevate your TV and movie audio experience with the HDMI ARC input, which enables seamless connection to compatible TVs for unrivaled performance that surpasses TV speakers and soundbars. Enjoy expertly converted 2-channel audio from popular multi-channel audio formats, such as Dolby and DTS.

As a proud Roon Tested partner, the MDA200 has received Roon Labs' seal of approval. Benefit from seamless integration with Roon's comprehensive music library management and playback software, perfect for enthusiasts with extensive digital music libraries. Rest assured, McIntosh's commitment to quality extends to future upgrades, allowing you to replace the DA2 module with potential newer versions, safeguarding your investment and ensuring long-term enjoyment.

Connect the MDA200 to your preamplifier or integrated amplifier using the balanced and unbalanced analog outputs. McIntosh provides high-quality cables for seamless integration into your setup. Choose between fixed or variable output modes, giving you the flexibility to directly connect the MDA200 to a power amplifier for a simplified audio system. Adjust volume effortlessly with the front panel ADJUST knob or the included remote control.

Unlock the full potential of your digital music collection with the McIntosh MDA200 D/A Converter. Experience premium digital performance and elevate your home entertainment system for years to come.
Features
ELECTRONIC SPECIFICATIONS:
- Number of Channels: 2
- Total Harmonic Distortion: 0.005%
- Frequency Response:
- +0, -0.5dB from 20Hz to 20kHz
- +0, -3dB from 5Hz to 60kHz (Source dependent)
- Maximum Volts Out (Balanced / Unbalanced):
- 4.0V RMS / 2V RMS (Fixed Output)
- 0-16V RMS / 0-8V RMS (Adjustable Output)
- Signal To Noise Ratio: 100dB
- Dynamic Range: 100dB
- Output Impedance: 100 Ohms (Balanced and Unbalanced)

CONNECTIVITY:
- Digital Coaxial Input: 2
- Digital Optical Input: 2
- Digital MCT Input: 1
- Digital USB Input: 1
- HDMI (ARC) Input: 1
- Balanced Output: 1
- Unbalanced Output: 1

CONTROL:
- Data Input: 1
- Data Output: 1
- Power Control Input: 1
- Power Control Output: 1
- Rear Panel IR Sensor Input: Yes
- RS232 Control Input: Yes

GENERAL SPECIFICATIONS:
- Output Meters: No
- Vacuum Tube or Solid State: Solid State
- Power Consumption (On): 35 Watts
Specifications
Premium Digital Performance
Add digital music playback to an all analog system or replace an older, outdated converter
Comes with DA2 Digital Audio Module installed
Supports up to DSD512 and 24-bit/192kHz
7 digital inputs: 2 coax, 2 optical, 1 USB, 1 MCT, 1 HDMI (ARC)
Balanced and unbalanced analog outputs
Weight & Dimensions
Unit Dimensions (W x H x D)
17-1/2" (44.45cm) x 3-7/8" (9.8cm) x 15-11/16" (39.95cm)
Unit Weight
13.5 lbs (6.1 kg)
Shipping Weight
28 lbs (12.7 kg)