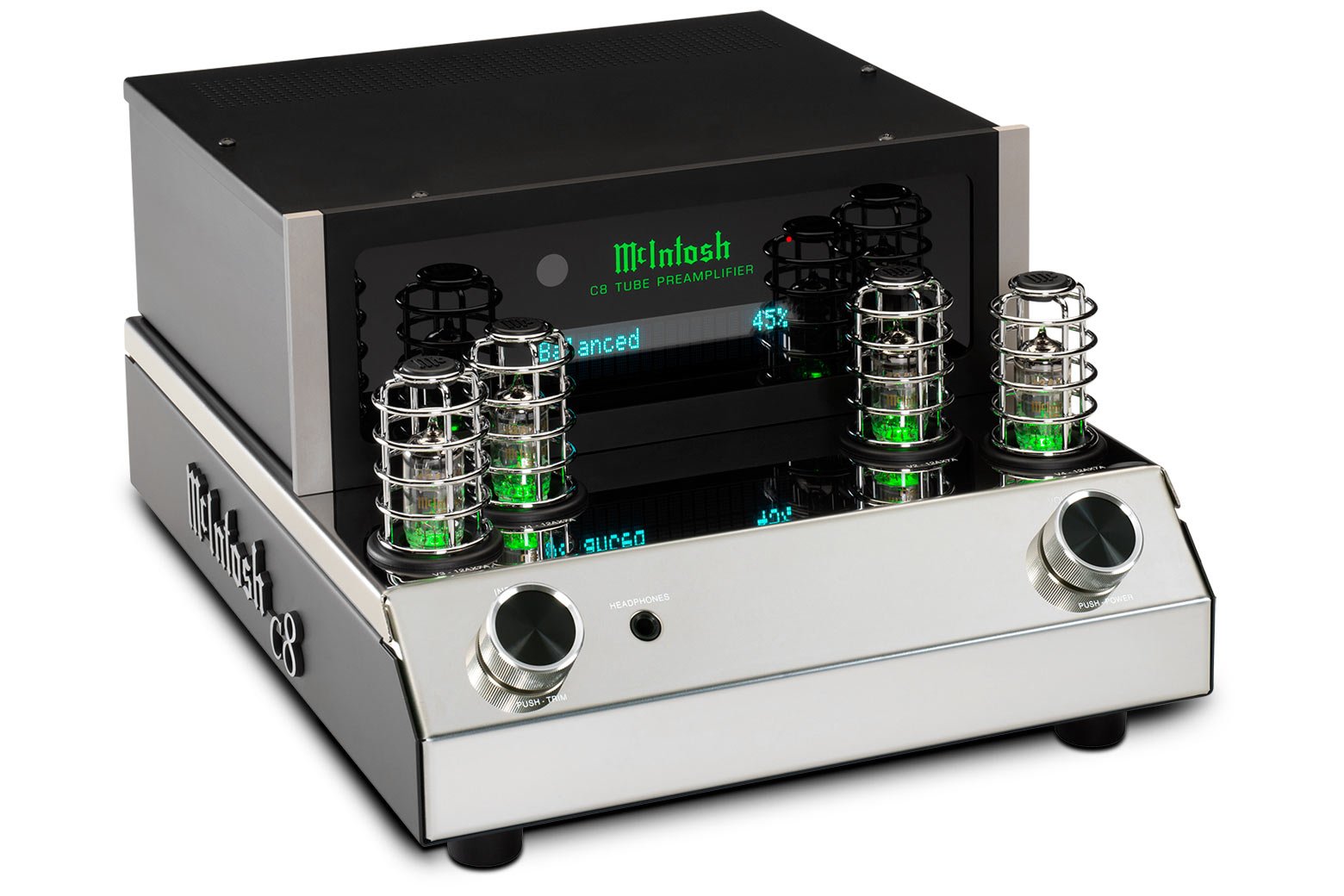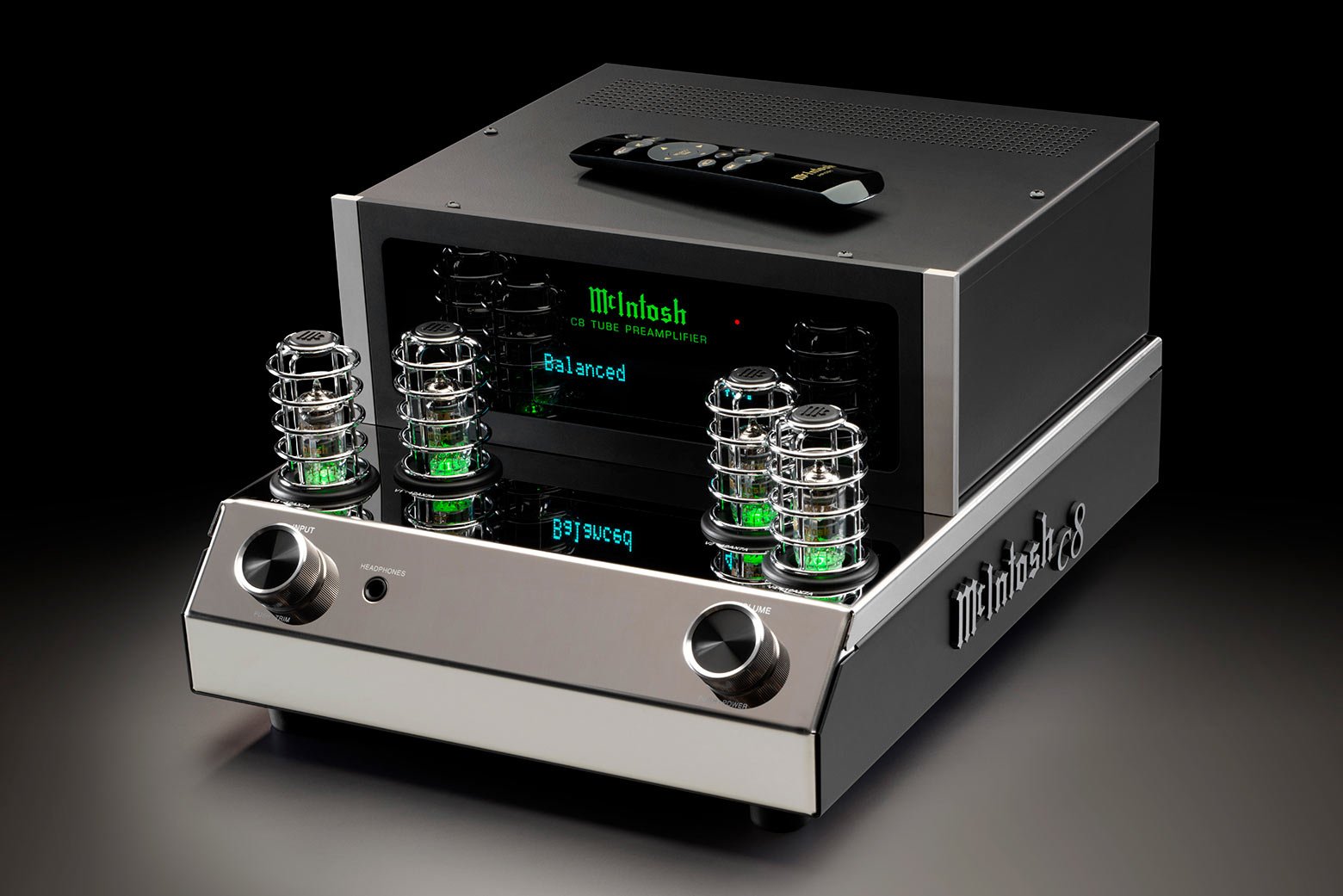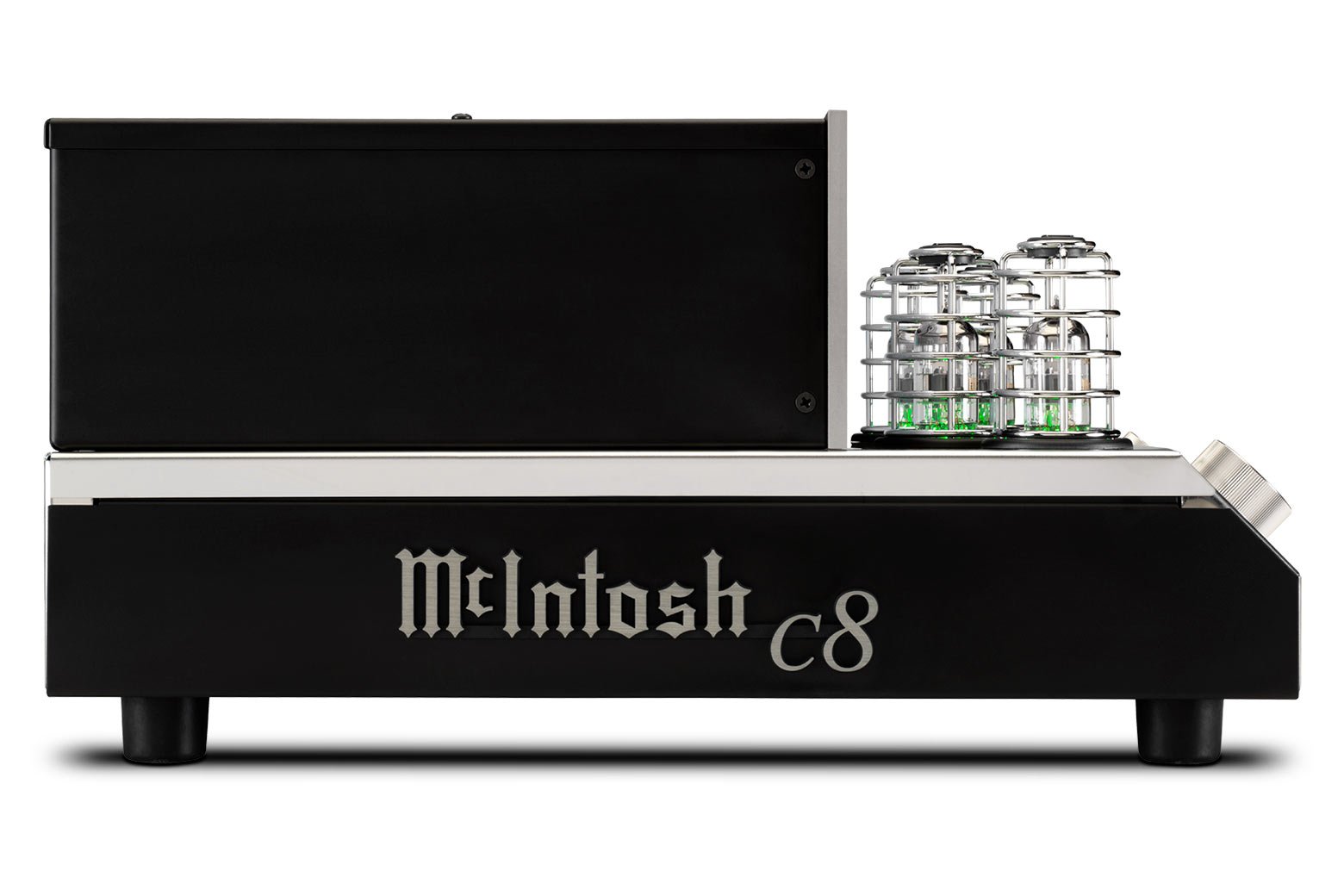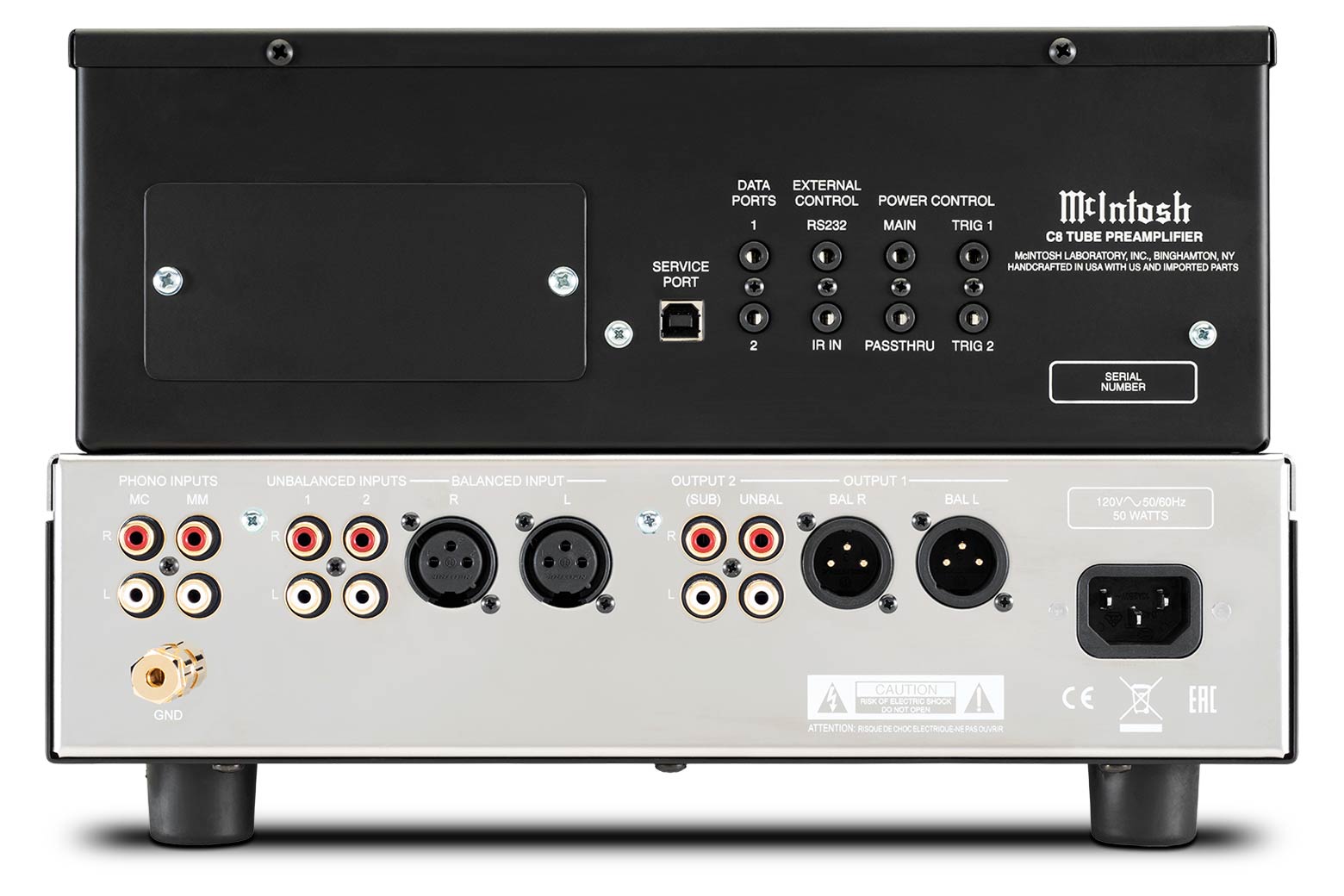 McIntosh C8 Stereo Preamplifier (In-Store Purchases Only & USD Pricing)
FREE Ground shipping on any order over $600.00! (Some exceptions apply)
If item is in stock, it will ship within 2 business days, please contact the store to ensure availability.
905-881-7109
Info@audioexcellence.ca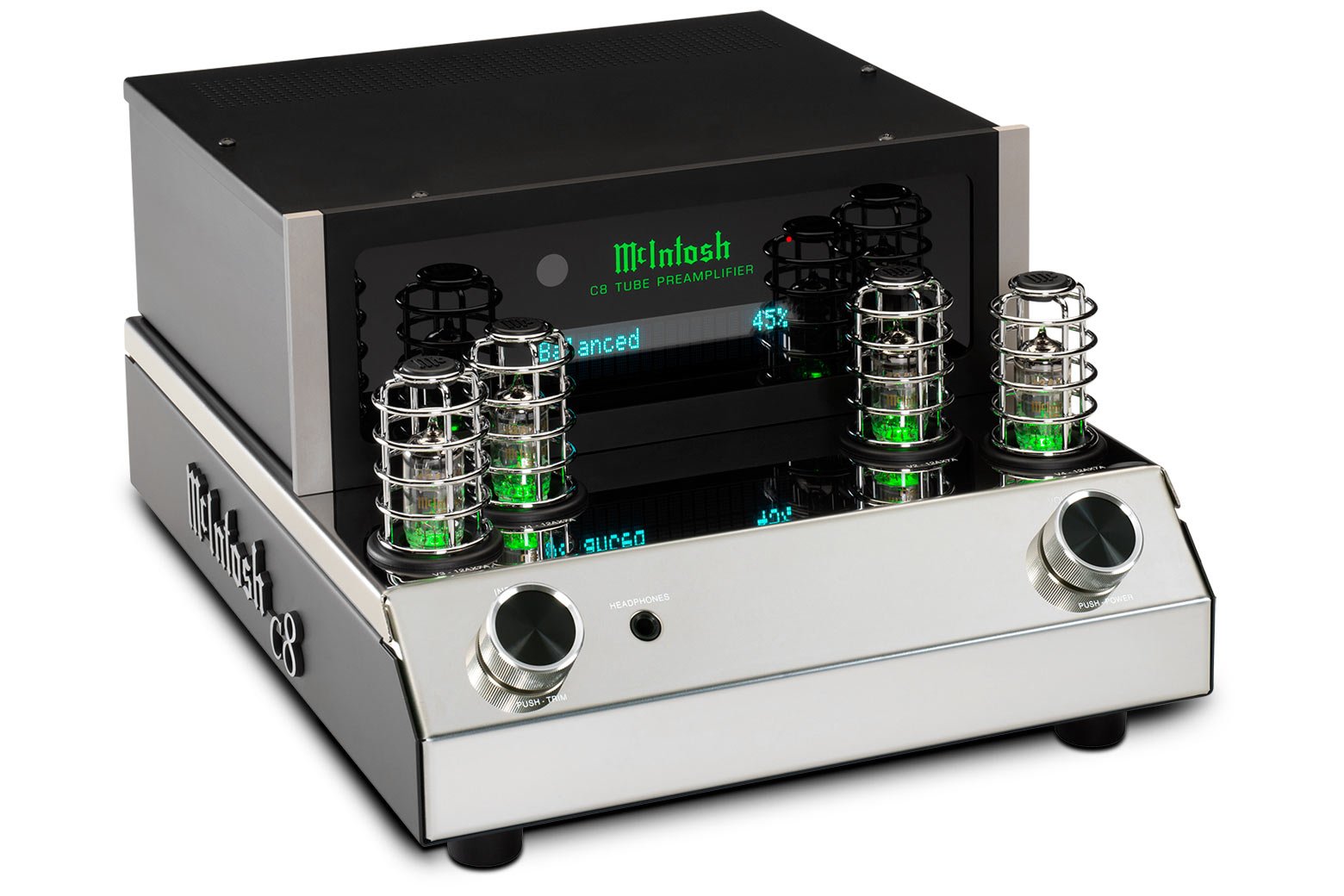 McIntosh C8 Stereo Preamplifier (In-Store Purchases Only)
NOTE THAT THE PRICE SHOWN IS IN USD.

Experience lifelike audio with the McIntosh C8 Vacuum Tube Preamplifier. Featuring an open chassis industrial design reminiscent of our iconic amplifiers, this preamplifier pairs beautifully with the MC830 Amplifier and source components like turntables and CD players. Powered by four 12AX7a vacuum tubes, it offers adjustable loading for both Moving Coil and Moving Magnet phono inputs, as well as user-friendly named inputs. Fine-tune your music with bass and treble tone controls, and enjoy versatile connectivity with balanced and unbalanced outputs, including a configurable subwoofer output. Upgrade to the optional DA2 Digital Audio Module for enhanced digital input capabilities. With High Drive headphone amplifier, Power Control ports, and Home Theater Pass Through, the C8 offers a seamless and immersive audio experience. Discover the McIntosh legacy today.
Features
Here are the electronic specifications in list form:

- Number of Channels: 2
- Total Harmonic Distortion: 0.08%
- Frequency Response:
- +0, -0.5dB from 20Hz to 20kHz
- +0, -3dB from 15Hz to 100kHz
- Maximum Volts Out (Balanced / Unbalanced): 16V RMS / 8V RMS
- Sensitivity High Level (Balanced / Unbalanced): 900mV / 450mV
- Sensitivity Phono (Moving Coil): 0.45mV
- Sensitivity Phono (Moving Magnet): 4.5mV
- Signal To Noise Ratio (High Level): 95dB
- Signal To Noise Ratio (Moving Coil): 75dB
- Signal To Noise Ratio (Moving Magnet): 80dB
- Voltage Gain (High Level): 15dB
- Voltage Gain (Moving Coil): 75dB
- Voltage Gain (Moving Magnet): 55dB
- Input Impedance (Balanced / Unbalanced): 44K ohm / 22K ohm

Connectivity:

- Balanced Input: 1
- Unbalanced Input: 2
- Phono Input Moving Coil: 1 (adjustable)
- Phono Input Moving Magnet: 1 (adjustable)
- Upgradeable Digital Audio Module: Yes (DA2 can be installed)
- Digital Coaxial Input: 0
- Digital Optical Input: 0
- Digital MCT Input: 0
- Digital USB Input: 0
- HDMI (ARC) Input: 0
- Digital AES/EBU Input: 0
- Balanced Fixed Output: 0
- Balanced Variable Output: 1
- Unbalanced Fixed Output: 0
- Unbalanced Variable Output: 2
- Headphone Output: 1/4" High Drive
- Input Level Match: Yes, +/- 6dB
- Home Theater PassThru: Yes
- Unbalanced Analog Connector Type: Standard
- Service Port: 1

Control:

- Tone Controls: Bass and Treble
- Tone Bypass and Input Assign: Yes
- RS232 Control Input: Yes
- Power Control Output: 1 Main, 2 Trigger
- Rear Panel Data Port: 2
- Rear Panel IR Sensor Input: Yes

General Specifications:

- Multi-Chassis or Single: Single
- Output Meters: No
- Vacuum Tube or Solid State: Vacuum Tube
- Power Consumption (On): 50 Watts
Specifications
5 analog inputs (1 balanced, 2 unbalanced, 2 phono)
(4) 12AX7a vacuum tubes
High Drive headphone amplifier
Optional dealer installed upgrade to DA2 Digital Audio Module available
Weight & Dimensions
Unit Dimensions (W x H x D)
12-9/32" (31.2cm) x 7-5/8" (19.4cm) x 16-1/4" (41.3cm)
Unit Weight
18 lbs (8.2 kg)
Shipping Weight
25 lbs (11.3 kg)