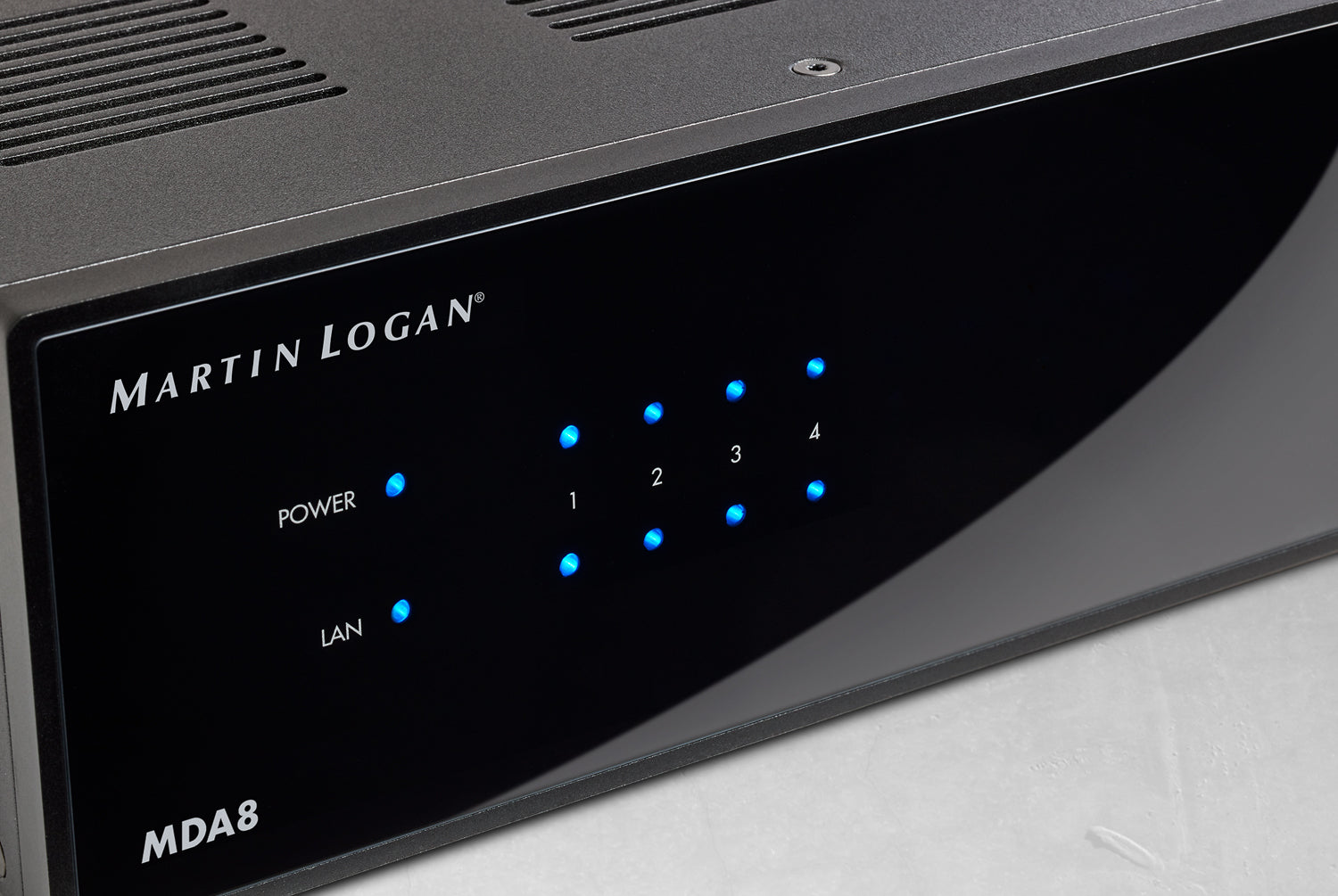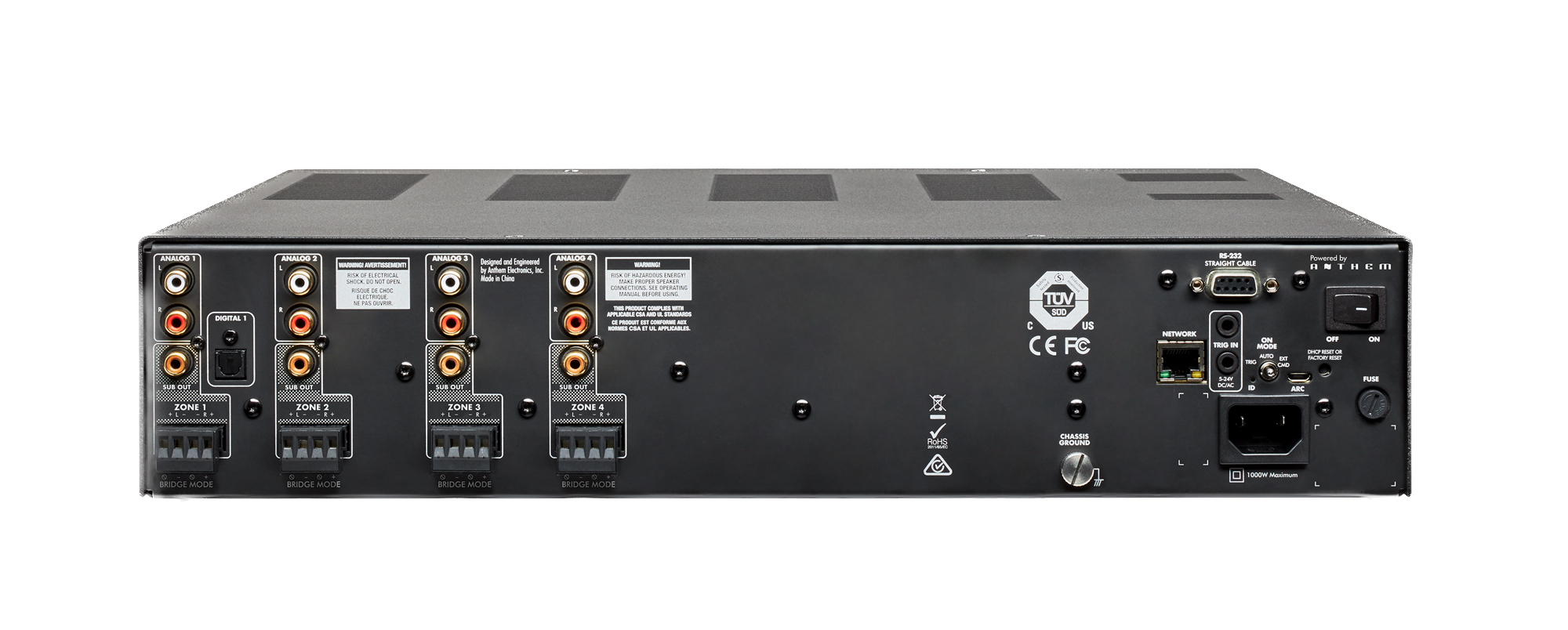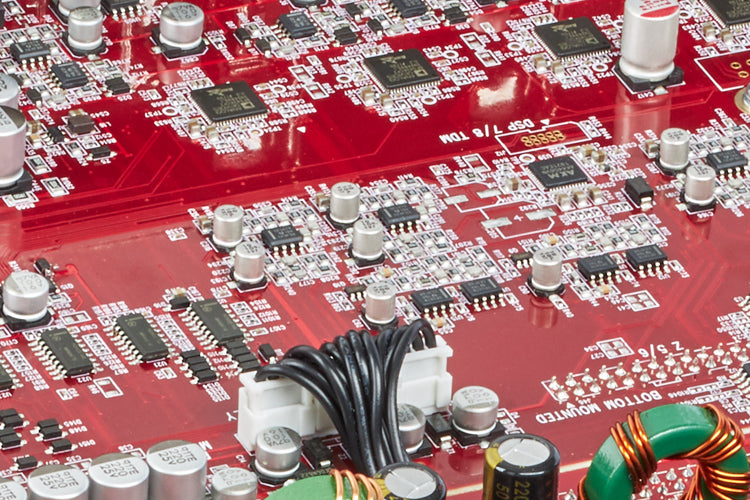 Martin Logan MDA8 (Please call/In-Store Only)
FREE Ground shipping on any order over $600.00! (Some exceptions apply)
If item is in stock, it will ship within 2 business days, please contact the store to ensure availability.
905-881-7109
Info@audioexcellence.ca

MDAs (Multi-Distribution Amplifiers) represent the pinnacle of flexibility and adaptability in audio distribution systems. Designed to excel in any room, they deliver unparalleled performance that will impress even the most discerning listeners.

Enjoy the freedom to connect analog and digital inputs with full matrix switching capabilities, allowing you to customize your audio setup to your preferences. Each zone benefits from independent room correction through ARC® Genesis, ensuring that the audio reproduction is optimized for the unique acoustic characteristics of every listening space. Say goodbye to deviations from an ideal response as these advanced technologies intelligently adjust and enhance the audio output.

Whether it's for a residential or commercial setting, MDAs offer a robust solution for distributing high-quality audio throughout your space. Experience exceptional performance and audio fidelity in every room, allowing you to immerse yourself in a captivating audio experience tailored to your specific environment.

Upgrade your audio distribution system with MDAs and unleash the full potential of your audio setup. Benefit from their cutting-edge technologies, which go beyond conventional solutions, and enjoy the transformative power of precise room correction that ensures an optimal listening experience in every zone. With MDAs, you can create an audio system that adapts to your needs and delivers outstanding performance in any room or environment.
Features
Channels / Zones
8 channels / Up to 4 zones

Power Output RMS per Channel (8 Ohm)
60 Watts

Power Output RMS per Channel (4 Ohm)
120 Watts

High Output Mode (Bridged) RMS per Channel (8 Ohm)
200 Watts

Digital-to-Analog Converter
PCM up to 24 bit/192 kHz

Inputs (analog)
4x RCA pairs (left/right)

Inputs (digital S/PDIF)
1x Optical

Inputs (network)
RJ-45 10Base-T/100
Base-TX ethernet port (female)

Inputs (trigger)
1x 3.5mm (5 – 24V DC/AC)

Outputs (speaker level)
4x removable Phoenix style (left/right) accommodate wire up to 12AWG

Outputs (subwoofer)
4x RCA (with bass management and room correction)
Outputs (other)
1x 3.5mm 12V trigger

Audio In-Out Matrix
Yes

Advanced Load Monitoring
Yes

Controls (via web-based UI)
Bass level: ±6dB for each zone;
Trebel level: ±6dB for each zone;
Level balancing: ±10dB for each zone

Controls (back panel)
Power Mode: Auto, Trigger,
External Command;
Network Reset (pinhole);
Factory Reset (pinhole);
Main Power: On /Off

Microphone (for room correction)
Included dual input microphone
(3.5mm and mini-USB)

Setup
Web-based user interface

IP Control (via IP or RS-232)
Drivers for Control4, Crestron, Savant, URC, Elan and RTI(coming soon)

AC Voltage
120V~50/60Hz

Rack Mount Ears / Feet
Included

Rack Space (feet removed)
2U

Dimensions (H x W x D, with feet)
3.9" x 17" x 17" (9.9 x 43.2 x 43.2 cm)

Frequency Response
10Hz – 20kHz ±0.5dB

Room Correction
Anthem Room Correction (ARC®)

Inputs (Other)
Micro-USB (for ARC); RS-232
Weight & Dimensions
Dimensions (H x W x D, with feet)
3.9" x 17" x 17" (9.9 x 43.2 x 43.2 cm)

Weight
21 lbs. (9.5kg)