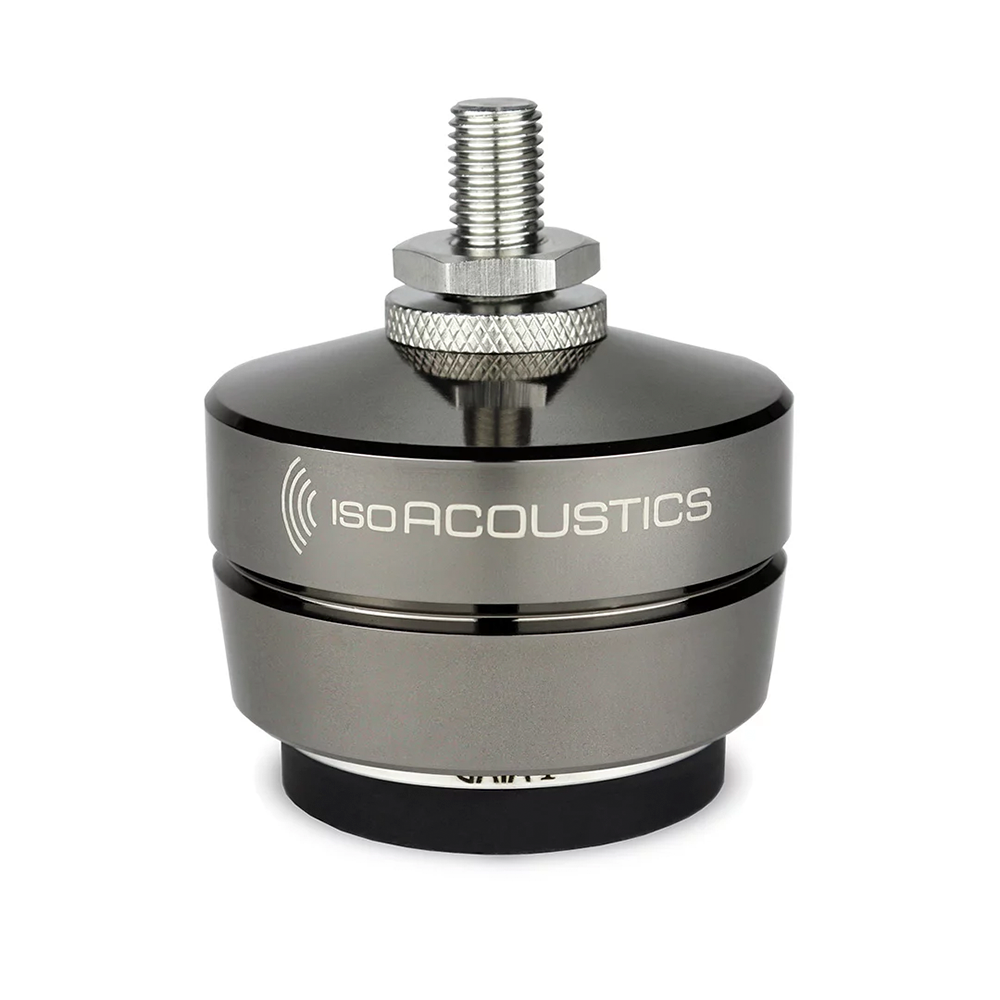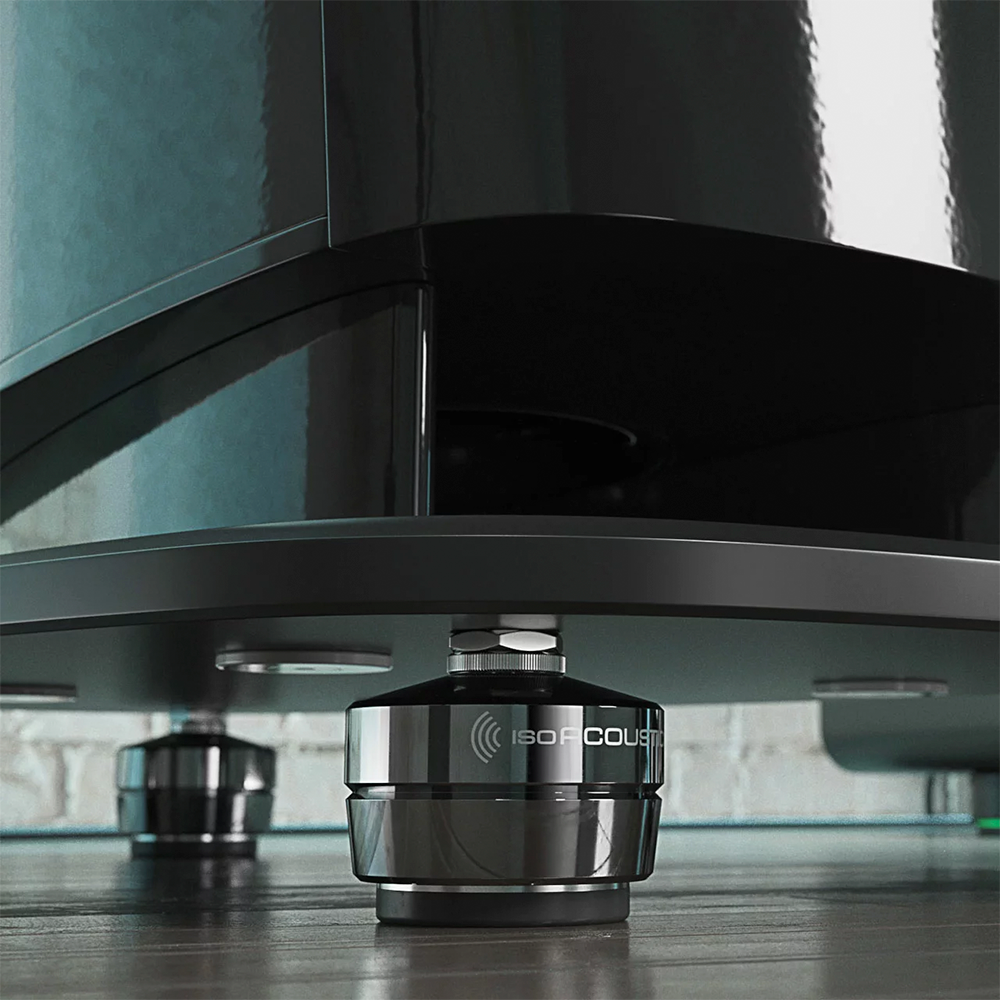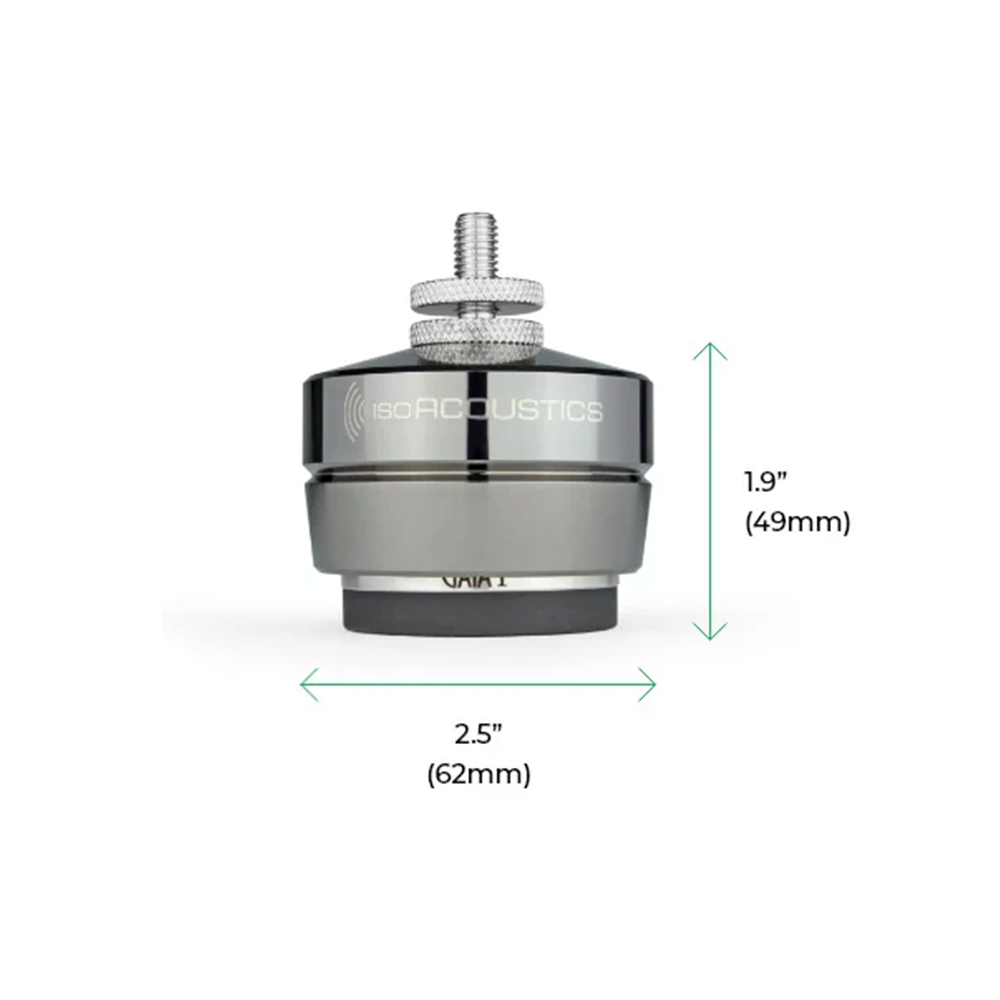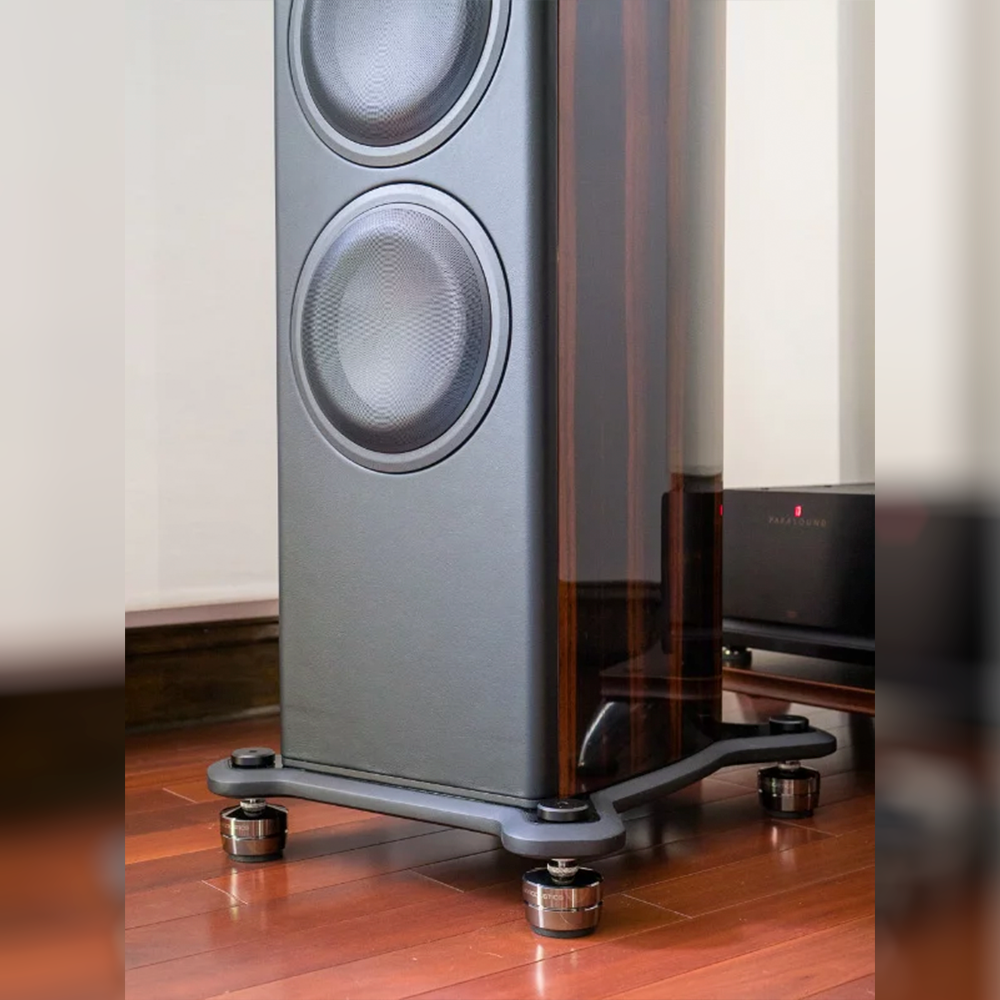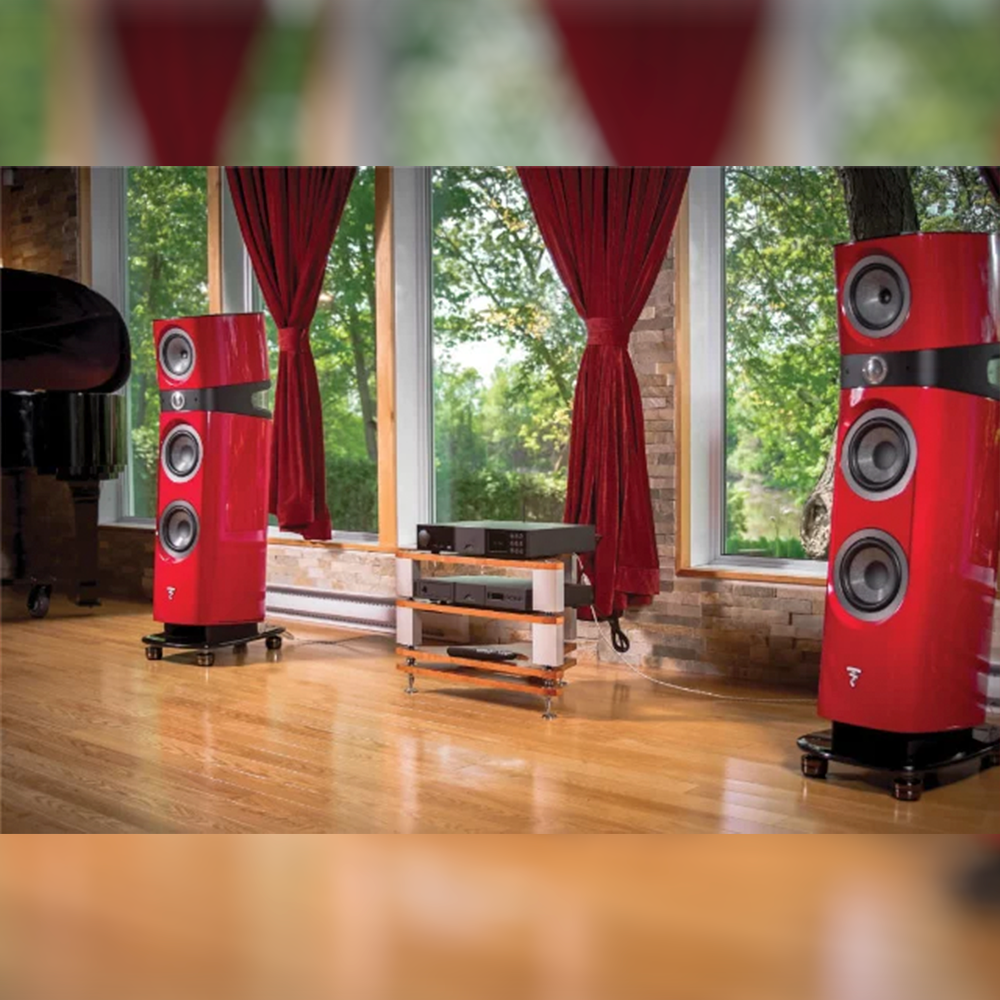 IsoAcoustics GAIA I Speaker Isolators
FREE Ground shipping on any order over $600.00! (Some exceptions apply)
If item is in stock, it will ship within 2 business days, please contact the store to ensure availability.
905-881-7109
Info@audioexcellence.ca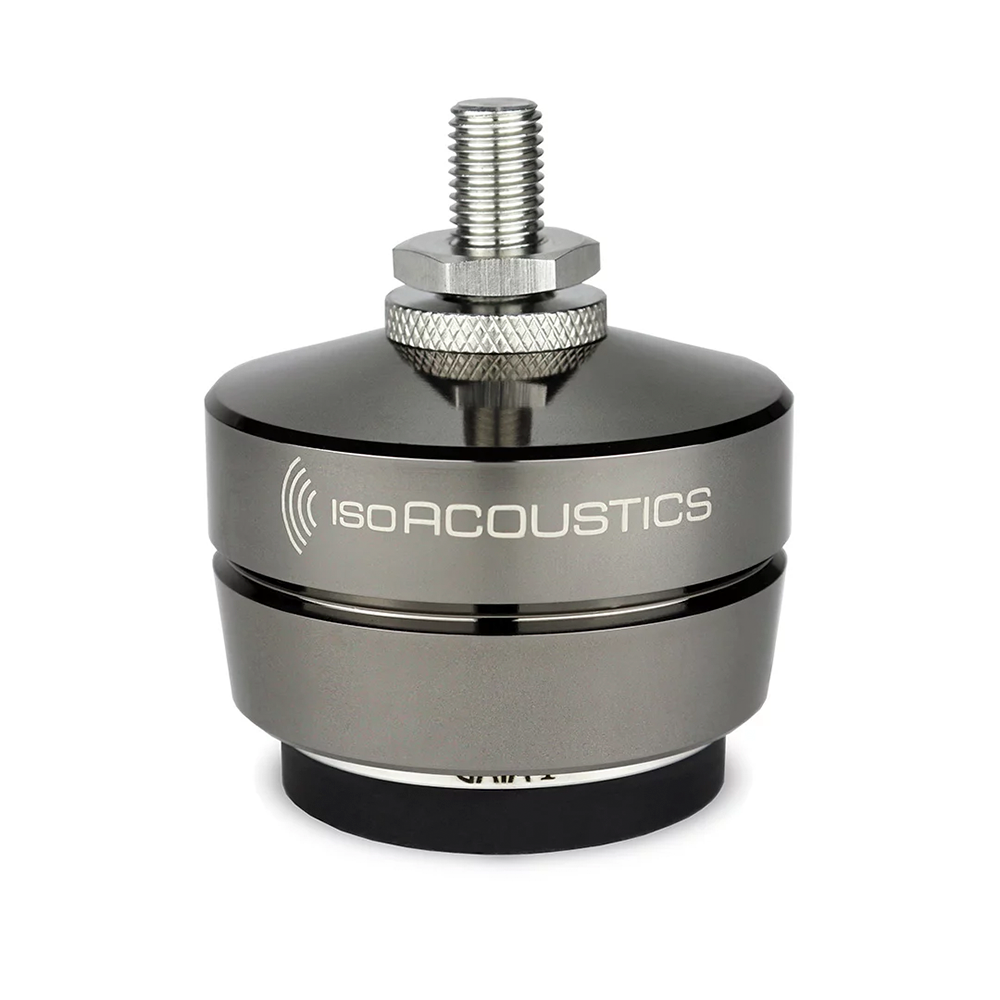 IsoAcoustics GAIA Series Speaker Isolators
ISOGAIA I is supplied with threaded studs for M8, M12 and 1/4-20.

Your speakers may require different studs which Isoacoustics will supply for free. Please click here to find out which you need:
https://calculator.isoacoustics.com/

Improved sound clarity and openness for floor standing speakers.

About GAIA speaker isolators:

The GAIA isolators consist of acoustic isolators contained within an elegant machined dark chrome metal housing. Incorporating IsoAcoustics patented design principles, the GAIA's provides a high degree of isolation while resisting lateral movement and oscillations to maintain alignment with the listening position. Internal reflections from the hard-supporting surface are attenuated resulting in greater sound clarity and openness. The GAIA's will reveal clarity and openness from your speakers like you've never heard.
Features
- THREAD SIZES FOR ALL SPEAKERS
GAIA isolators come with thread adaptors for the 3 most common thread sizes which fit the majority of speakers. Alternative thread sizes are available upon request through IsoAcoustics distributors.

- PATENTED ISOLATION TECHNOLOGY
GAIA isolators are made from a high quality stainless steel construction, incorporating the IsoAcoustics design philosophy that combines precision and a passion to deliver extraordinary acoustic results.

The effectiveness of the isolation is a result of the shape, thickness, durometer and characteristics of their proprietary isolation material and the way the top and bottom isolators function together with the internal insert to manage vibrations.

- Connection to speaker and supporting surface
IsoAcoustics products are designed to connect to the base of the speaker and to the supporting surface so that the energy is effectively managed by the internal isolators. The shape of the isolators creates a suction cup effect on smooth surfaces or provides a strong friction grip if the surface is textured.

IsoAcoustics offers a variety of models, each tuned for different weight ranges. The weight limits specified by IsoAcoustics are based on the performance curve. The performance of the isolation is declining as the weight approaches the specified weight limits and performance decreases more the further the weight limit is exceeded.
Weight & Dimensions
- GAIA I
For floor standing speakers and subwoofers weighing 220 lbs (100KG) or less.
Size: 2.5" / 62mm (W) x 1.9" / 49mm (H)
Thread: M8-1.25, M12-1.25, ¼"-20
Machined: Stainless Steel