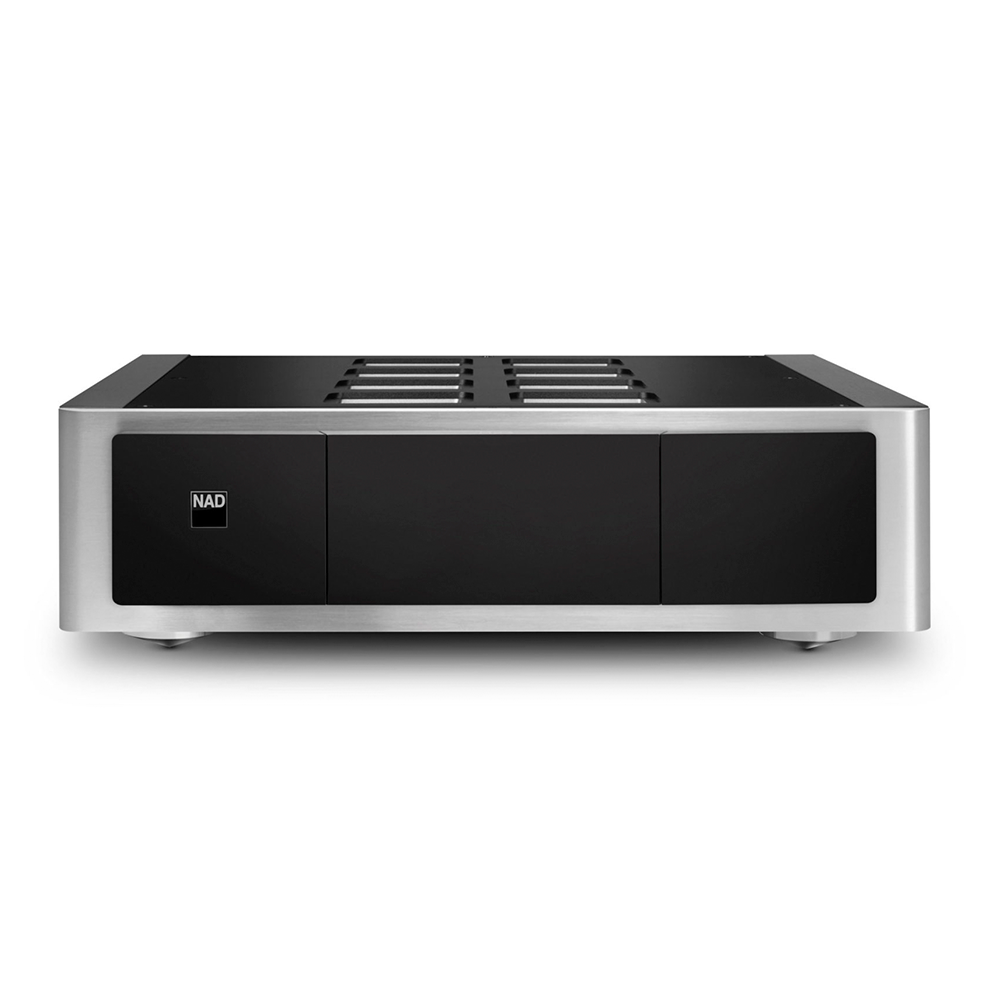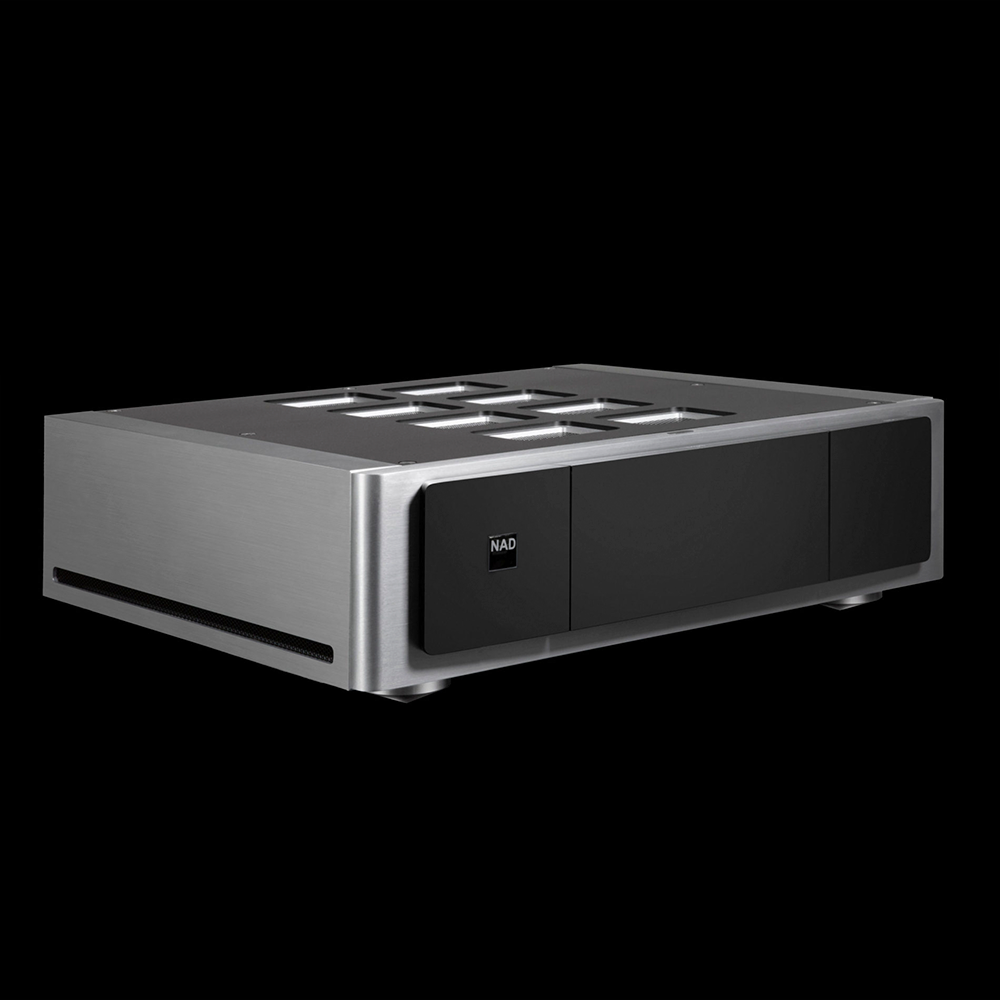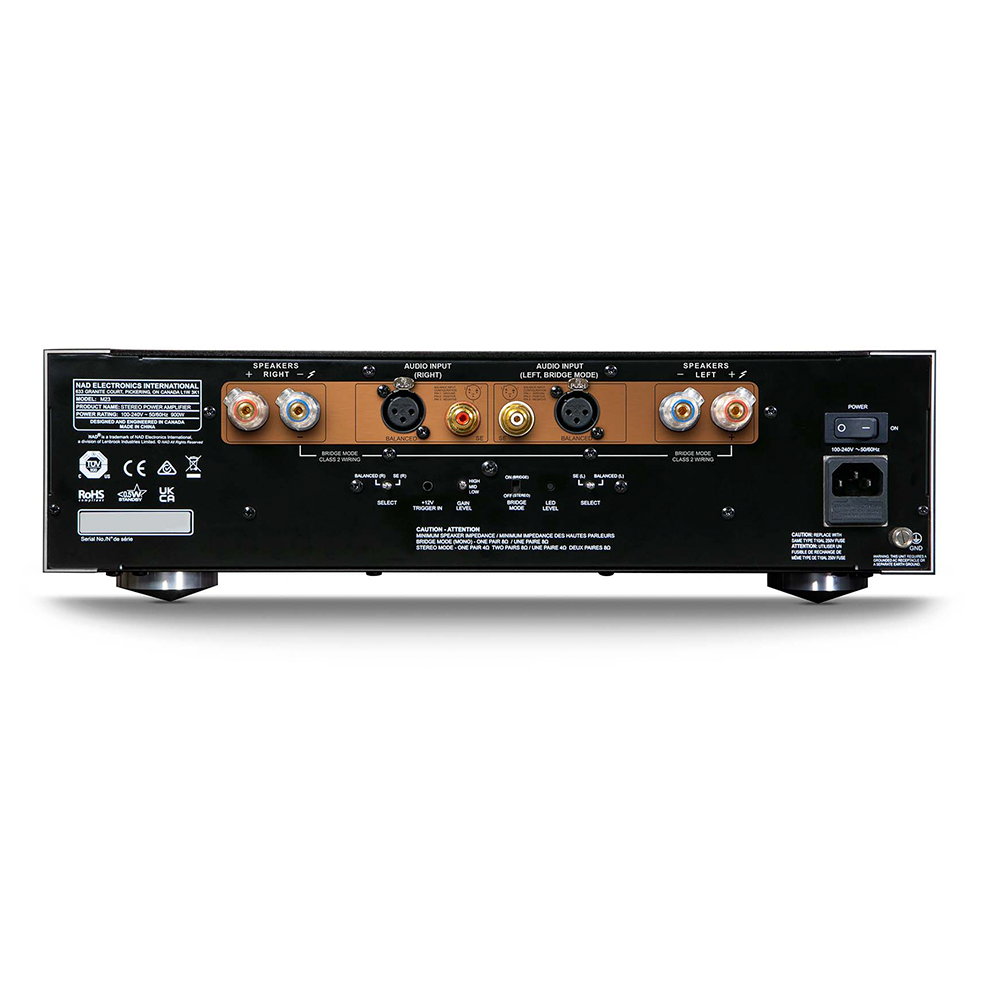 NAD Masters M23 Power Amplifier
FREE Ground shipping on any order over $600.00! (Some exceptions apply)
If item is in stock, it will ship within 2 business days, please contact the store to ensure availability.
905-881-7109
Info@audioexcellence.ca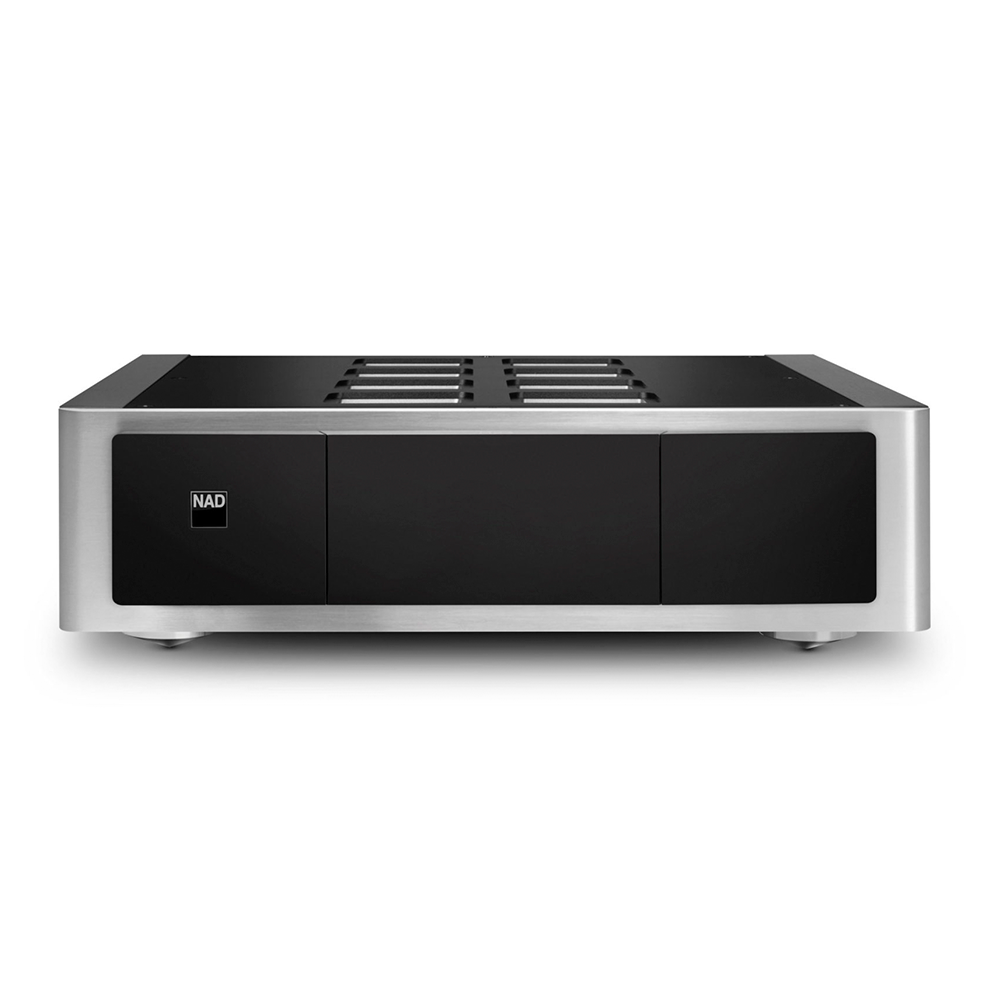 NAD Masters M23 Power Amplifier
Building on NAD's long tradition of identifying and developing cutting-edge amplification technology, the M23 HybridDigital Stereo Power Amplifier features Purifi Audio's Eigentakt™ design, a once-in-a-decade innovation that virtually eliminates harmonic and intermodulation distortion. Noise is inaudible, for a completely black background and exquisite micro-detail. Conservatively rated at 2x200W continuous into 8 ohms and 2x380W into 4 ohms, the M23 can deliver live performance levels through any loudspeaker. With its unique combination of features, performance, and value, the M23 represents the new benchmark for the stereo power amplifier.

Pure Power
The M23 employs Eigentakt™ class-D amplifier modules manufactured by NAD under license from Denmark's Purifi Audio. Purifi's load-invariant design provides wide, flat frequency response, even into challenging loudspeaker loads. Noise, harmonic distortion, and IM distortion are virtually unmeasurable at all frequencies and output levels. Another benefit of the Eigentakt™ design is extremely low output impedance and correspondingly high damping factor, for iron-clad control of the loudspeaker output. NAD combines the Eigentakt™ design with our own sophisticated switched-mode power supply, which can provide additional reserves of current when needed. Amazingly powerful and transparent, the M23 can deliver 2x260W of peak power into 8 ohms and 2x520W into 4 ohms.

With its elegant all-alloy casework, the Masters M23 HybridDigital Stereo Power Amplifier is as pleasing to the eye as it is thrilling to the ears. The M23 has the same quality of construction for which NAD's Masters Series is renowned. Rigid panels and magnetic iso-point feet provide a rock-solid foundation for the M23's multi-layer circuit boards and intricate internal construction. Truly the M23 represents a new pinnacle in power amplifier design.
Features
•HybridDigital Purifi Eigentakt™ amplifier technology
•Continuous Power Output: 2x200W into 8 ohms; 2x380W into 4 ohms
•Dynamic Power Output: 2x260W into 8 ohms; 2x520W into 4 ohms
•Bridged Power Output: 700W mono continuous into 8 ohms
•Three-position adjustable gain control
Specifications
Input impedance (R and C): Single-ended: 56 kohms + 200 pF; Balanced: 56 kohms +200 pF
Frequency response (1W into 8 Ohms): ±0.06dB (20-20kHz)
Rated output power: (Stereo) >200W into 8 Ohm; >380W into 4 Ohm
Rated output power (Bridged): >700W into 8 Ohm
THD (20 Hz – 20 kHz): <0.00069% (XLR), <0.0013% (RCA)
S/N Ratio: >101.7 dB (1W into 8 Ohm); >127 dB (200W into 8 Ohm)
Clipping power (Stereo mode, at 1 kHz 0.1 % THD): >210 W (0.1 % THD 1 kHz 8 ohms)
Clipping power (Bridge mode, at 1 kHz 0.1 % THD): > 770W
IHF dynamic power (Stereo mode, at 1 kHz): 8 ohms: 260 W; 4 ohms: 520 W
IHF dynamic power (Bridge mode, at 1 kHz): 1017W
Peak output current: >25 A (in 1 ohm, 1 ms)
Damping factor: >800 (ref. 8 ohms, 20 Hz to 6.5 kHz)
Weight & Dimensions
Gross dimensions (W x H x D)
435 x 133 x 396 mm
17 1/8" x 5 1/4" x 15 5/8"

Net Weight
9.7 kgs / 21.4 lbs